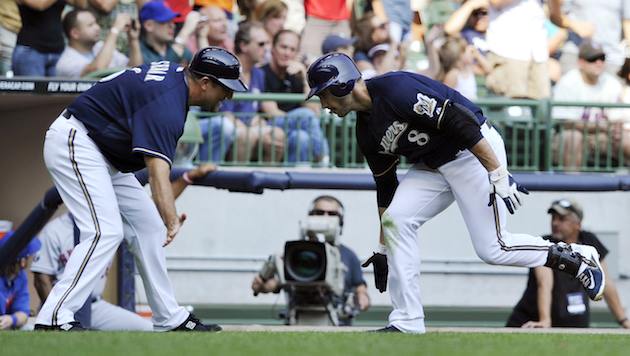 Ryan Braun celebrates his 40th home run of the season. (AP)
Like just about every day from here on out, Sunday was chock full of playoff implications and exciting baseball, so let's get to it…
Full Sunday scoreboard with box scores and recaps for all games





3 UP
Ryan Braun, Brewers: Braun hit two homers on Sunday, giving him 201 for his career and a career-high 40 this season. Only four active players have reached 200 homers in fewer games than Braun's 867 -- Ryan Howard (658), Albert Pujols (788), Adam Dunn (822) and Alex Rodriguez (826).
Anthony Rizzo, Cubs: The rookie first baseman had a career day, slugging two homers -- a two-run shot in the fifth and a grand slam in the sixth, giving him six RBI in his first career multihomer game. The Cubs won 13-9, their seventh victory in their last nine -- including five wins over the Pirates.
Yonder Alonso, Padres: His fourth hit of Sunday's game scored Everth Cabrera from second, giving San Diego a 12-11 walk-off win. San Diego had led Colorado 5-2 and 11-5 before giving up those leads. Alonso reached base a total of five times, adding a walk to his double and three singles.
3 DOWN

Ryan Vogelsong, Giants: After striking out five of the first nine Diamondbacks he faced, Vogelsong fell apart from there, giving up two runs in the third and five more in the fourth, recording just an out in the fourth, giving up a three-run triple to Arizona starter Patrick Corbin, who picked up his first RBIs in the big leagues and just his third hit.
Shane Victorino, Dodgers: The Dodgers' leadoff man went 0 for 6 in the team's 5-2, 12-inning loss to the Cardinals. Victorino left five men on base and failed to score the potential winning run in the 10th inning. With Mark Ellis on third and one out, he couldn't get the ball past a drawn-in infield as his grounder to second resulted in a rundown that retired Ellis for the second out of the inning. Since joining the Dodogers, Victorino is hitting just .234/.303/.311 with one homer.
Jarrod Dyson, Royals: Put in the game as a pinch runner for Mike Moustakas with one out in the ninth inning, Dyson attempted to steal second and beat the throw, but then slid past the bag. He was called safe initially and then out after he was tagged beyond the bag. Jeff Francoeur then flied out for the final out of a 4-3 loss to the Angels.





Make up: Usually a September makeup game draws more flies than fans, but Monday's game in Chicago isn't the usual makeup game. Last Thursday's game was rained out and both were available to make it up four days later. It's the last meeting of the season between the two teams and the Tigers trail Chicago by two games. 2:10 p.m. ET
Going for 20: R.A. Dickey has 18 wins going into Monday's start against the Phillies and is likely to have three more starts. Dickey's second in the league in victories behind Washington's Gio Gonzalez (). Wins, of course, are an overrated statistic (or at least not an accurate way to measure individual performance) and Phillies lefty Cliff Lee is a good example of that. Lee enters the season just 5-7, but with a 3.36 ERA. He hasn't been Cy Young worthy this year, but he's much better than a 5-7 pitcher. 7:10 p.m. ET
Home sweet home: After dropping five of six in a huge roadtrip to Baltimore and New York, the Rays are back home for three against the Red Sox and four more against the White Sox before finishing the season in Baltimore. Tampa Bay starter Alex Cobb hasn't lost a decision in his last eight starts, going 5-0 with a 3.31 ERA since Aug. 1. The Red Sox have lost each of Aaron Cook's last six starts. 7:10 p.m. ET
• Teddy Ballgame: I'm not sure I want to say much about John Erardi's story in Sunday's Cincinnati Enquirer -- just read it. Trust me.
• Mile high problems: The altitude in Denver has been blamed for a rise in a pitcher's ERA, but it may cause even more problems, according to several former Rockies. [Denver Post]
• Status quo: Don't expect too many headlines out of St. Louis this offseason. It appears next year's Cardinals will look a lot like this year's version. [St. Louis-Post Dispatch]
• Winning is fun: The Nationals sure are enjoying themselves this season. [Washington Post]
• The best: CBS Sunday Morning profiled Dodgers broadcaster Vin Scully, "the poet laureate of baseball."
For more baseball news, rumors and analysis, follow @EyeOnBaseball on Twitter, subscribe to the RSS feed and "like" us on Facebook.