The Lineup: Yoenis Cespedes' first career walkoff homer; Dodgers in trouble?
Rounding up all six MLB games Thursday, looking ahead to the weekend slate (like Dodgers vs. Angels!) and hitting a few links -- including a dude destroying the BBWAA for possibly not voting Roger Clemens into the Hall of Fame, even though it hasn't had the chance yet.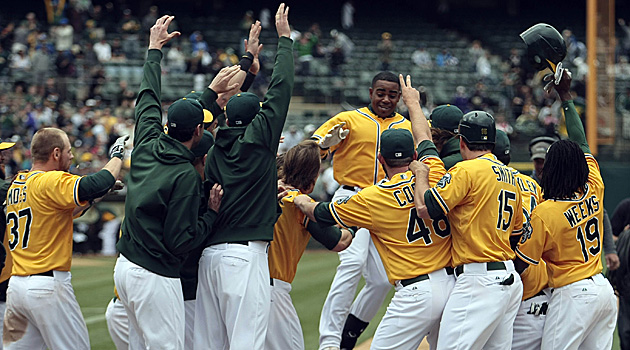 Well this was one of the days in the season with an incredibly light slate of games. We only had six total, four at night and none that started later than 7:10 p.m. ET. But that didn't mean we were light on the entertainment, especially concerning the afternoon games.
Full Thursday schedule with box scores and recaps for every game








3 UP

Yoenis Cespedes , Oakland Athletics : The Cuban import stepped to the plate in the bottom of the ninth Thursday having previously gone 0-for-3 with a strikeout in the game. Who cares about that now? Cespedes destroyed a Josh Lindblom pitch for a walkoff, three-run homer to propel the A's to a sweep of the team that entered the series with the best record in baseball. (We'll get to them in a second)

Quintin Berry , Detroit Tigers : Much like Cespedes, Berry stepped into the box for his last at-bat after having previously put together a forgettable day. He was 0-for-4 with two strikeouts when he dug in against Victor Marte of the St. Louis Cardinals in the bottom of the 10th. The game was tied, the bases were loaded and there was one out. Berry came through with a walkoff single.

James McDonald , Pittsburgh Pirates : After throwing his first career complete game -- a six-hit, one-run gem against the Minnesota Twins -- McDonald ranks fourth in the NL in ERA at 2.19. One of the three in front of him, Brandon Beachy, is out of the season. So McDonald is essentially third. And the Pirates are within two games of the Cincinnati Reds in the NL Central.

3 DOWN

Los Angeles Dodgers : They just got swept by the A's and have lost six of their past nine games. As if that's not enough to land here, check this out:
Since 1921, the #Dodgers had never finished a three-game series with eight hits or less prior to today. #A's. #MLB

— STATS LLC (@STATS_MLB) June 22, 2012

Joel Peralta , Tampa Bay Rays : Rough day. He learned he was suspended for eight games for the whole pine tar fiasco. He appealed the suspension and then went out and lost the game. Peralta entered in the sixth inning with a 2-2 tie. After recording two outs, he gave up two doubles, with an intentional walk sandwiched between. The Rays wouldn't score again, so Peralta's two earned runs were the difference.

Miami Marlins : Uh oh, Miami. Your Marlins are now 4-14 in June after going 5-23 in June last yaer. Then again, I'm guessing no one in Miami really noticed Thursday night, what with the NBA action ...








Dodgers in Trouble? As I said above, the Dodgers have lost six of nine and just got swept by the A's. Well, it's not getting any easier. It's actually going to be a really tough six game stretch now. The Dodgers face a three-game series against the Los Angeles Angels (in Anaheim) and a three-game series against the San Francisco Giants (in San Fran) before returning home. Friday, Chad Billingsley (4-5, 3.75) is tasked with holding down the Angels lineup, while the Dodgers offense squares off against Dan Haren (4-7, 3.97). 10:05 p.m. ET

Oswalt is back: Roy Oswalt hasn't pitched in the majors since the squirrel incident in last season's NLDS against the Cardinals. This time around, he'll pitch for the Texas Rangers , as they host Christian Friedrich , his 75-pitch limit and the Colorado Rockies . 8:05 p.m. ET

So is Jurrjens: Jair Jurrjens was in the discussion to be the NL starter in the All-Star Game last season. This season, he was 0-2 with a 9.37 ERA and 2.45 WHIP in four starts before being demoted to Triple-A. Jurrjens wasn't really impressive in the minors, but Brandon Beachy's season-ending injury necessitated a move from the Atlanta Braves . So Jurrjens will start Friday against a potent Boston Red Sox offense. Jon Lester (4-4, 4.53) will get the ball for Boston. 7:10 p.m. ET
Friday's probable pitchers








• Braun, Vindicated: Ryan Braun is putting up numbers very similar to this point in the season that he did last season, when he won the NL MVP. J.P. Breen of the Disciples of Uecker (which is, yes, a Milwaukee Brewers blog) writes that this season is a vindication for Braun to those who believed his MVP trophy is tainted. My personal feeling is that Braun was vindicated when he avoided the suspension, but putting up huge numbers again is pretty good gravy. On the flip-side, the crowd who didn't believe Braun will unfortunately never believe he's clean.

• The Walking Dead ... in Petco Park: Insert any easy joke about the San Diego Padres playing like a bunch of stiffs anyway, because "The Walking Dead Escape: The Apocalypse" is headed to Petco Park July 12-14. (walkingdeadescape.com)

• Attacking the BBWAA: Evan Weiner of examiner.com gets a bit nasty on the Baseball Writers Association of America, concerning Hall of Fame voting. He does so on the basis of a few writers saying Roger Clemens still won't get their Hall of Fame vote, singling out the New York Mets Daily News and Bill Madden. Shouldn't Weiner wait until the actual vote? Or has he counted the hundreds and hundreds of still-uncast ballots? I don't always agree with the vote, but I think it's ridiculous when people attack the organization as an entire voting body, considering it's comprised of individuals who vote the way they want. You can't say that all Americans are stupid every time you disagree with a presidential election. Well, I guess you can, you'd just be gravely mistaken and misguided.

• Speaking of the Rocket: My CBSSports.com colleague Will Brinson (NFL blogger here) also blogs about the Giants (baseball version) for NBC Bay Area, and he opines that Roger Clemens is dirtier than Barry Bonds. I couldn't possibly agree more -- I've believed this for years. You might say it's the "lesser of two evils," but, to at least Brinson and myself, Bonds is the "lesser" here. This is something I'll be greatly expanding upon this winter, as Bonds will be eligible to be voted into the Hall of Fame (and, yes, I support his entry into the Hall -- we can talk about it this December).

• Radical proposal: Dave Cameron of Fangraphs -- in light of the Rockies' new pitching experiment -- came up with a plan that he believes could work for a team wanting to save money on pitching and use more on position players. He believes you could use one pitcher for every three innings all season. Ideally, each pitcher could keep his arm in good shape and never get overworked. It's a very analytical idea and certainly outside the box. All in all, a good read. Sadly, I'd wager no one is ever going to try it.

For more baseball news, rumors and analysis, follow @EyeOnBaseball on Twitter, subscribe to the RSS feed and "like" us on Facebook.