The Mets ate a record number of cheesesteaks at Citizens Bank Park
The Mets combined to eat a record 103 cheesesteaks at Citizens Bank Park one day in April.
More MLB: Power Rankings | Expert Picks | Latest news & notes | Fantasy news
There are many, many, many perks to being a big leaguer, and apparently one of those perks is getting free cheesesteaks whenever you visit Philadelphia. I'm embarrassed to say how jealous I am.
Since they give away free cheesesteaks at Citizens Bank Park, the visiting clubhouse has a scoreboard for the most eaten in a single day and in a series. That's according to Mike Vorkunov of the Star-Ledger. During a trip to play the Phillies in late-April, the Mets smashed the single-day record, wolfing down 103 (!) cheesesteaks as a team. From Vorkunov:
Cheesesteaks are Philadelphia's delicacy — a greasy stuffing of beef and lining of cheese inside a sub. Visiting teams are welcome to eat as many as they want or can, with the meal made for them at the ballpark, and a scoreboard tracks their feats. There are individual and team records for a single day or series.

On April 30, over some ten hours, the Mets ate 103, they say, setting the new single-day team record. Though baseball may be a sequence of individualized events, this was the work of a collective. It was planned two cheesesteaks per person, or more for those that were willing to help out where other teammates could not eat their share.
According to Vorkunov, the previous record was in the 80s. New York's two bullpen catchers did most of the heavy lifting, but the players ate plenty themselves. Luckily for them, that day's game was postponed due to rain. I can't imagine playing through a food coma is easy.
And yes, I am proud of myself for not making a Bartolo Colon joke.
(h/t For The Win)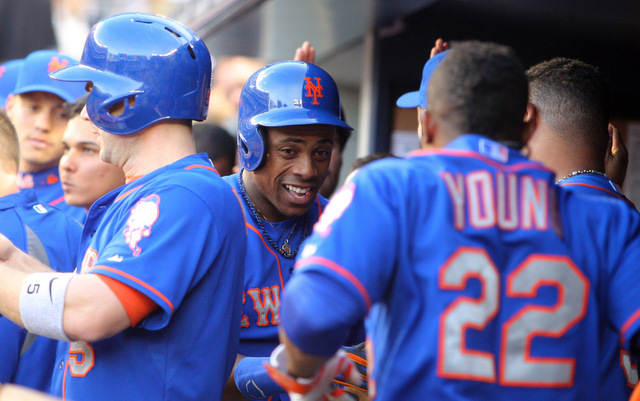 Iowa and Missouri are two programs mixing technology and analytics

Sunday's MLB roundup features the D-Backs clinching a postseason spot and the Mariners going...

The 2017 season has been, by far, the worst season of Cabrera's career
The Mariners were eliminated from postseason contention with Sunday's loss

Maxwell became the first MLB player to kneel during the national anthem Saturday

The Blue Jays are not expected to bring Bautista back next season