The news is too bad to say, but Santana's diagnosis could end career
Johan Santana is in New York mulling whether to have surgery to repair a probable re-tear of his shoulder capsule. Santana is the ultimate competitor, but this is a lot to overcome.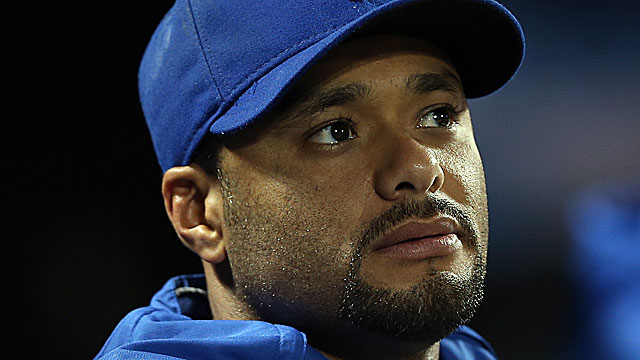 Johan Santana pitched some of the more memorable games in recent baseball history, and he posted some of the most memorable seasons. Now, sadly, there is a distinct possibility that Santana's wonderful but all-too-brief career will be but a memory.
In one of the sadder conference calls in Mets history, Mets general manager Sandy Alderson glumly announced that after studying a new MRI doctors believe Santana has suffered a re-tear of the capsule in his left shoulder. Alderson spoke haltingly and carefully, but the stated diagnosis alone left little doubt that the great Santana's pitching future is clearly in jeopardy.
More on Mets' Santana
Related links
More MLB coverage
Nobody believed Santana, only 34, was going to be able to pitch soon -- even he had recently suggested he might have to put the ball down for six weeks -- but Mets people still held hope they'd have him back by June to go back to being the heart of their rotation. Santana is such a competitor, the fight never burns out.
With him it's easy to believe the impossible is possible -- though not so much now.
After issuing the disclaimer that he isn't a doctor or medical historian, Alderson allowed, "These injuries are very difficult to recover from after one surgery. I'm not sure what the history of recovery is from a second surgery. I probably shouldn't speculate."
Santana is in New York mulling his next step over the Easter weekend, Alderson said. But Alderson called a second shoulder surgery a "strong possibility." Either way, nobody can say the pitching prognosis is anything close to positive.
Nothing seems certain at this point, except the most obvious possibility that a wonderful pitcher's career may not continue. Alderson wasn't willing to admit that, saying only that if the diagnosis is correct he was "likely lost for the year."
There's no sense in Mets officials getting deep into the probabilities of Santana's career, especially since he's theirs only for one more year. This is the last of the guarantee on his contract, and of course they won't pick up next year's option.
Alderson also said he didn't wish to summarize his career, surely at the risk of sounding like he was eulogizing it. Alderson did allow that Santana has had "an exceptional career," which is fair to say.
Santana was a marvel as a Twin, leading to what at the time was a record $137.5-million contract for a pitcher. But when we got to know him in New York, we learned he combined competitiveness, resolve and personality like no one else. He was eternally upbeat, though you can imagine this moment may finally have him down.
Alderson added that they "all would like the career to continue," which was a nice thing to say though the pronouncement came off as rather hopeful under the circumstances.
Santana switched from being a position player early in his career and also rose from being a Rule V $50,000 acquisition of the Minnesota Twins to become baseball's best and highest-paid pitcher. He led the American League in ERA and strikeouts three times apiece, and won two Cy Young awards.
He also is one tough man.
Santana always acted like nothing was wrong, even when he was hurting, and in the end it's possible that incredible strength which aided his career for years may have proved to be something of a weakness. He pitched a brilliant game at the end of 2008 when he had a torn meniscus and needed knee surgery.
When the shoulder went bad, originally he claimed that it was the back, and that it was nothing. Eventually, he had to have his capsule surgically repaired. And he recovered sufficiently to pitch wonderfully for two months in 2012, culminating with a wondrous June 1 night in Queens when he threw the first no-hitter in Mets history.
True to character, he told manager Terry Collins he was finishing the no-hitter, no matter the pitch count. And so he stayed in, for 134 glorious pitches. Collins was so concerned at the time he couldn't stop second guessing himself in the days that followed, so fearful was he about Santana's pitching health.
Exactly what went wrong, and when it went wrong, was another thing the Mets may never know. Santana kept trying to pitch for weeks after he started struggling last summer, and only when it was plainly clear he wasn't getting many folks out, he was finally shut down.
Santana wasn't ready to pitch off a mound this spring, though he tried a couple times early. Then after Alderson expressed some surprise Santana wasn't ready, Santana was upset enough to surprise the Mets again, this time by trying to throw the next day, hurling from a mound to a point short of the plate.
Someone on the conference call Friday asked whether the Mets could have any legal recourse over Santana's perhaps too-hasty decision to throw before he was ready. To which Alderson responded, "That is something that does not even enter out minds at this point." [I'm not a lawyer, but while the Mets may not have scheduled the throwing session, it occurred on their fields and in their view.]
Beyond that, as Alderson suggested, they don't know when the re-injury occurred, and they likely will never know. Santana felt well enough after that session that he started to throw the ball, if lightly, first at 75 feet, and then at 90 feet. Some of those throwing sessions were even reported to be positive. But ultimately, there was "some discomfort," as Alderson put it, leading to the trip back to Mets doctor David Altchek. After Altchek diagnosed the re-tear, two more noted sports surgeons, James Andrews and Lewis Yocum, agreed with Altchek's opinion.
Now the Mets will try to figure out what to do for a rotation now. As Alderson admitted, "We are not terribly deep right now with Santana out indefinitely and [Shaun] Marcum's current situation." Alderson then mentioned that the organization does have some "exceptional talent" in the minors, not that any of the exceptional ones beyond Matt Harvey and Jonathon Niese are coming soon. That means Zack Wheeler will stay in Las Vegas for several more weeks, slowing his clock [and the team's].
The Mets are on the hook for $31 million for Santana (his $25.5 million 2013 salary plus a $5.5 million buyout on '14), and with no insurance to cover them, Alderson admitted. This was a rough day for the Mets, who will almost surely never see Santana on the mound for them again.
But this was a day mostly to think about Santana, whose career was brilliant but perhaps a lot briefer than anyone would have imagined. When the Mets sent Santana to New York, they were hoping for reassurance that there was nothing seriously wrong, and he returned with the worst news possible. Whether they'd say it or not, they all know the truth: their pitching warrior is facing a possible end to his wonderful career.
The Padres may be poised for an active winter

Yes, Bryce Harper is going to make a lot of money next winter

Outfield prospect Clint Frazier may be part of the talks
The veteran slugger spent the last eight seasons with Cleveland

Boston wants to add two big bats to their lineup, not just one

Even more relievers signed on the final day of the Winter Meetings