The next Japanese star? Tanaka will be much more Darvish than Dice-K
Masahiro Tanaka is poised to make millions as the next big thing from Japan. Notable busts aside, this righty has one already won some notably true believers.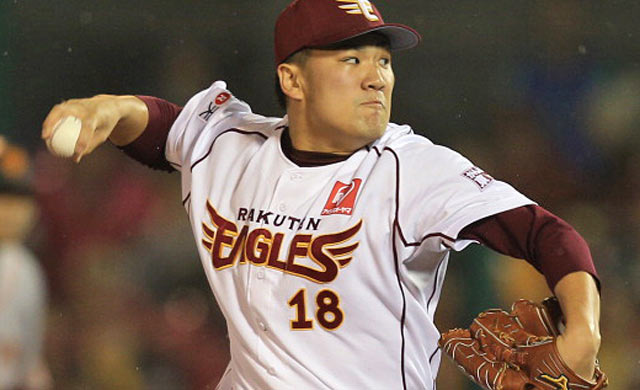 Kaz Matsui made me an atheist, someone who refused to believe in the deity of the great Japanese ballplayer. Matsui was the best player in Japanese baseball -- one of its best ever, voted that league's top shortstop of the 20th century -- when he came to the major leagues and flopped. Because of the greatness of Ichiro Suzuki, a transcendent talent who belongs in the Hall of Fame, we were eager to believe in Matsui. And he flopped. And he made me an atheist.
Daisuke Matsuzaka came next and made it worse. The Boston Red Sox paid $51 million just for the right to negotiate with him, and then gave him $52 million for six years. That was 2006, and spending $103 million for six years in 2006 was what teams did for a durable, No. 1 starter. Matsuzaka wasn't that. He was injury-prone, and then he was a bust, and I was down on him when he signed -- I called him an "arm blowout waiting to happen" -- and only got more down on him, and on the myth of The Next Great Japanese Ballplayer, as his career lurched forward.
By 2012 I was an agnostic, not caring enough about Japanese baseball to muster atheism. Yu Darvish? Fine. Whatever. The Rangers spent $51.7 million two years ago just to talk to him, then signed him for six years and $60 million. Maybe he's another Hideo Nomo. Maybe he's another Kei Igawa. Whatever he is, don't expect me in 2012 to care one way or the other. There's only so many fairy tales a man can believe, you know?
Turns out Yu Darvish was the real thing. So was Seattle's Hisashi Iwakuma, who also debuted in 2012. They went a combined 25-14 in 2012, then finished second (Darvish) and third (Iwakuma) in 2013 Cy Young voting behind Max Scherzer of Detroit.
Point being, I'm ready to believe again in The Next Great Japanese Ballplayer.
His name is Masahiro Tanaka, he's 25, and his statistics from Japan are absurd. I know win-loss records are old and busted, but in 27 starts in Japan last year Tanaka went 24-0. I've never heard of such a thing. Even great college pitchers lose. Mark Prior went 15-1 with Southern California in 2001. Stephen Strasburg was 13-1 at San Diego State in 2009. Everyone loses. But not Tanaka, and I don't care how old and busted the win-loss statistic is -- and I get it; I wrote this about the 2010 Cy Young race -- 24-0 is absurd.
And the way Tanaka did it? Absurder. He had a 1.27 ERA, which is what a great high school pitcher does to the poor little kids trying to hit 98 mph. It's not what a professional pitcher in Japan does to professional hitters. It's not even what Yu Darvish did in his best season over there, in 2011 when he had a 1.44 ERA and triggered the bidding war that I ignored the Rangers won.
And the way Tanaka did that? Absurdest. He gave up just 7.1 hits per nine innings. He struck out 7.8 batters per nine innings. He had a nearly 6-to-1 ratio of strikeouts to walks.
And honestly, he's had a better year.
Well, he has. In 2010, Tanaka had that same 1.27 ERA but allowed just 6.8 hits per nine innings, struck out 9.6 per nine innings and had a 9-to-1 ratio of strikeouts to walks. When he was 22 years old.
This is Doc Gooden stuff -- but that's Japan and this is the Major League and so, no, I don't expect Tanaka to come over here and repeat that success. Darvish didn't repeat his success from Japan, either. Not yet, anyway. As good as Darvish was last season for the Rangers, and even with some metrics (like his 11.9 strikeouts per nine innings) topping anything he did in Japan, his 2.83 ERA was nearly double his career-low ERA of 1.44 in Japan.
Baseball is harder here than Japan. Everyone knows that. But the absolute best of the best over there -- Ichiro, Darvish, Nomo, Hideki Matsui -- can leave those big leagues for these and remain stars.
Kaz Matsui and Daisuke Matsuzaka made me forget that.
Yu Darvish helped me remember.
Hurry up, 2014 season. When do pitchers and catchers report? I sure do want to watch Masahiro Tanaka, and I'm writing that with a smile on my face. Because it feels good to believe.
Here are the bullet-points of what went down Tuesday regarding MLB and the Braves' punishm...

The owners need to ratify on the new system in place, but the takeaway here is Ohtani is coming...

A preliminary report National Transportation Safety Board has shined some light on details...
John Coppolella was placed on the permanently ineligible list by MLB on Tuesday

Among other sanctions, Atlanta lost the player who was deemed the No. 1 international signing...

Among other penalties, No. 1 international prospect Kevin Maitan is now a free agent