The obvious cases for, against Roger Clemens as a Hall of Famer
Time to dig those heels in. Roger Clemens was one of the greatest pitchers in baseball history, but he also has been tied to PED use multiple times. Should he be a Hall of Famer?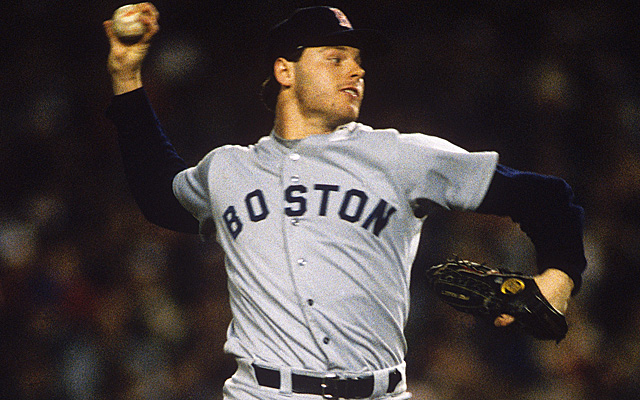 Hall of Fame cases: Luis Gonzalez | Moises Alou | Lee Smith | Fred McGriff | Don Mattingly | Jack Morris | Rafael Palmeiro | Sammy Sosa | Edgar Martinez | Jeff Kent | Alan Trammell | Larry Walker | Mark McGwire | Tom Glavine | Frank Thomas | Mike Piazza | Mike Mussina | Curt Schilling | Craig Biggio | Tim Raines | Jeff Bagwell
The vote for the 2014 BBWAA Hall of Fame class will be revealed in just one day. As we've been doing for the past several weeks with players on the ballot, we'll now take a look at the cases for and against Roger Clemens.
THE BARE ESSENTIALS
In a 24-year career, mostly with the Red Sox, Rocket went 354-184 with a 3.12 ERA (143 ERA+), 1.17 WHIP and 4672 strikeouts in 4916 2/3 innings. He had 118 complete games and 46 shutouts, too.
An 11-time All-Star, Clemens won seven Cy Youngs and an MVP. He finished in the top three of Cy Young voting 10 times.
In postseason play, Clemens went 12-8 with a 3.75 ERA, 1.22 WHIP and 173 strikeouts in 199 innings. He pitched in 24 different postseason series in 12 different postseasons. He pitched in six World Series, winning a ring with the 1999 and 2000 Yankees.
THE CASE FOR INDUCTION
Quite simply, Clemens was one of the greatest pitchers in MLB history by just about every measure imaginable.
The seven Cy Youngs are the most ever. Clemens also ranks ninth in career wins, 18th in winning percentage, third in WAR among pitchers (behind Cy Young and Walter Johnson), third in strikeouts, 11th in ERA+ and 16th in innings pitched.
Clemens led the league in wins four times, ERA seven times, WHIP three times, innings twice, strikeouts five times, complete games three times, shutouts six times and strikeout-to-walk ratio four times.
We could probably go on and on here, but is it really necessary? Clemens' Hall of Fame case isn't about what he did on the field. When you watched him, you knew you were watching a Hall of Fame player and a true all-timer. He passes every single imagineable test.
Well, almost ...
THE CASE AGAINST INDUCTION
It all comes down to one's stance on PEDs and just how hard-line a stance one has.
Clemens was named in the Mitchell Report as a steroid user, based upon testimony from his former athletic trainer Brian McNamee. Clemens name was mentioned a whopping 82 times in the Mitchell Report, in fact. Clemens has vehemently denied the testimony and filed a defamation lawsuit against McNamee -- a step few other accused PED users have taken -- though most of the suit was thrown out by a federal judge.
Clemens was also tried by Congress on six counts of perjury, false statements and obstruction of Congress, stemming from him swearing under oath that McNamee was lying in his testimony. He was eventually found not guilty on all six counts.
Known steroid users Jose Canseco and Jason Grimsley have also accused Clemens of using.
It could still be said that there isn't actual hard evidence and that Clemens never tested positive for PEDs, but many will certainly apply the "where there's smoke, there's fire" logic.
For many, this will be enough to leave Clemens off the ballot, under the integrity clause. That is, the following guideline given to BBWAA Hall of Fame voters:
Voting shall be based upon the player's record, playing ability, integrity, sportsmanship, character, and contributions to the team(s) on which the player played.
---
Clemens got just 37.6 percent of the vote last time around and the ballot is even more crowded this time around, so that initial vote didn't bode well for his chances in the short-term. He may eventually get in as the ballot eventually thins out and voters become a bit more numb to PED-tied candidates. We will not, however, see him enshrined within the next few years.
Later today: The cases for and against Barry Bonds.
The lefty starter is coming off a terrible season

After acquiring Ian Kinsler and Zack Cozart in recent days, the Angels are trending upward

Cozart's coming off a big season as the Reds' shortstop
The veteran slugger spent the last eight seasons with Cleveland

The Padres may be poised for an active winter

Yes, Bryce Harper is going to make a lot of money next winter