The 'once played college basketball' MLB all-star team
As you may have noticed, the NCAA Tournament is ongoing. So let's come up with a college-hoops-inspired MLB all-star team.
MORE: Spring Training | Scoreboard | Team previews
As the observer has likely observed, the NCAA Men's Basketball Tournament is ongoing. As the appreciator has likely appreciated, baseball's opening day is in tantalizing proximity to this very moment. 
In appreciation of these two events, let us now unveil our MLB All-Once-Played-College-Basketball team. When you surmise that these will be MLB greats or near-greats who also once upon a time played college hoops, you surmise correctly. First, know that these names are largely being chosen for their baseball excellence. In terms of basketball, all that matters is that they played at the collegiate level. That is, we're trying to assemble the best baseball team possible with a basketball "ribbon of participation" as nothing more than an organizing principle. 
With that out of the way, let us now play basketball using only a baseball and a wine glass ... 
C- Mickey Cochrane, Boston U. 
"Black Mike" stands as one of the greatest catchers in MLB history (two MVPs, 129 career OPS+), but time was when he was a five-sport athlete at BU. In fact, Cochrane's SABR bio attests that in those days he was regarded as a much better basketball and football player than baseball-ist. Things changed. 
1B - Gil Hodges, St. Joseph's of Indiana
The beloved Hodges clouted 370 career homers for the Dodgers and Mets and also managed the '69 "Miracle Mets" to the World Series title. On the hardwood, Hodges played two seasons for St. Joseph's before signing with the Dodgers in 1943. 
2B - Jackie Robinson, UCLA
Robinson lettered in four sports at UCLA: track, football, baseball and basketball. In hoops, Robinson, a forward, twice led what's now the Pac-12 in scoring. On the diamond, he was not only a towering pioneer, but he was also one hell of a ballplayer, as his exceptional 1949-54 peak will attest. If Robinson had been allowed entry into the majors at a typical age, he'd have made a run at 3,000 hits. He'd be a deserving Hall of Famer even if he weren't the sport's most important cultural figure, which he is. 
Regard!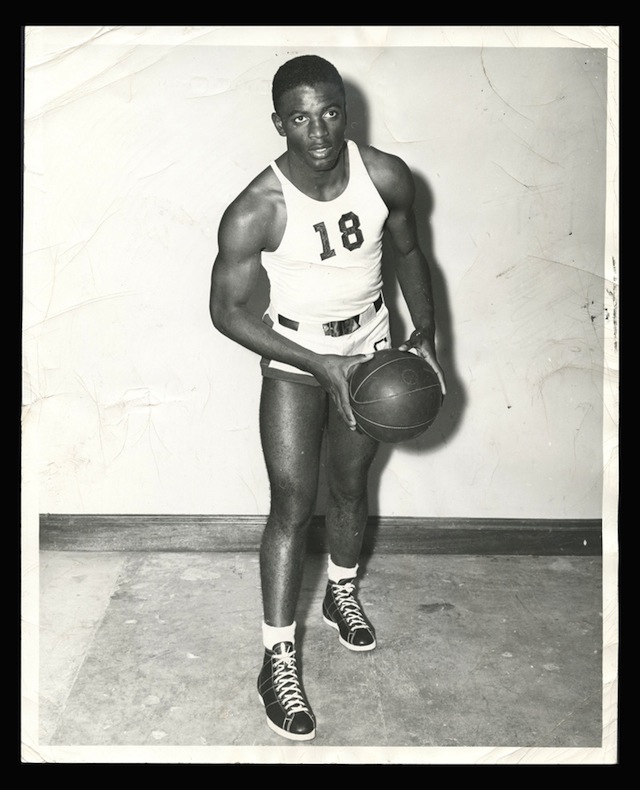 (Image: Legendary Auctions)
SS - Lou Boudreau, Illinois
Boudreau earned induction into the Hall as a seven-time All-Star and the 1948 AL MVP. Boudreau also won more than 1,100 games as player/manager or just manager of the Indians, Red Sox, Athletics and Cubs. As for basketball, he helped the Illini to the Big 10 title in 1937 and was named an All-American in '38. Boudreau earns the nod over Duke's Dick Groat. 
Regard!
(Image: University of Illinois Archives)
3B - Graig Nettles, San Diego State
Nettles is primarily known as a Gold Glove third baseman who also powered 390 home runs over the course of his 22-year big-league career. At San Diego State, though, Nettles was a star shortstop and a two-year letterman for the basketball team. As you're about to see, Nettles isn't the only Aztec on this club ... 
OF - Tony Gwynn, San Diego State
Gwynn has on his baseball ledger 3,141 hits (19th place all-time) and a .338 batting average (20th place all-time). As for hoops, Gwynn was a four-year starting point guard for SDSU and was twice named All-WAC. He remains the only athlete in conference history to be named All-WAC in two different sports. Regard!
(Image: All the Way to the Backstop)
OF - Dave Winfield, Minnesota
Winfield was a legendary athlete who was drafted in three different sports. In baseball, he made the Hall on the strength of 3,110 hits; 465 homers and seven Gold Gloves. In basketball, Winfield averaged 10.3 ppg and 6.7 rpg across 40 career games for the Golden Gophers. Winfield was the rare player to go straight from the college ranks to MLB without spending a day in the minors. 
Regard!
(Image: The Baseball Page)
OF - Kenny Lofton, Arizona
Lofton -- with his longevity, plus-plus defense in center, 622 steals and 3,405 times on base -- has a credible Hall of Fame case. He won't make it, but he's one of the 100 greatest players ever, once all facets of his value are considered. In his Arizona days, he was a backup point guard on Lute Olson's first Final Four team in the desert. 
Perhaps most luminously, Mr. Lofton helped give us this ... 
SP - Bob Gibson, Creighton
Gibby was good enough basebal player to win 251 games in the majors, claim the Cy Young twice, post a 1.12 ERA over the course of a full season and earn a reputation as one of the best big-game pitchers of all-time. Gibby was a good enough basketball player to average better than 20 points per game for his career at Creighton and eventually get paid by the Harlem Globetrotters ...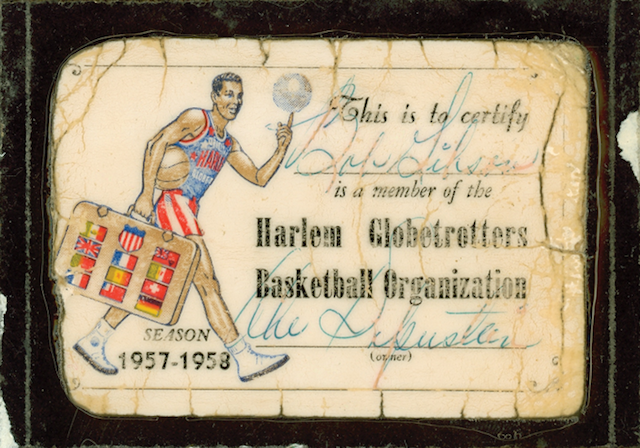 (Image: Legendary Auctions)
SP - Robin Roberts, Michigan State
Service in World War II interrupted Roberts's basketball career at MSU, but once he returned he captained the Spartans' 1946-47 squad and also led the team in scoring. From there, it was onto to baseball. In the majors, Roberts would win 286 games (234 of them for the Phillies) and make the Hall of Fame on the fourth ballot in 1976. 
RP - Jim Konstanty, Syracuse
Konstanty was a bit of an athlete. At Syracuse, Konstanty played three seasons for the varsity basketball team; pitched, manned third and captained the baseball team; and also lettered in soccer and boxing. In MLB, Konstanty, a reliever, would win the 1950 NL MVP and log an ERA+ of 112 over 11 seasons. 
Now play ball! Both kinds!