The party's just getting started in Pittsburgh
Francisco Liriano shut down the Reds, and Russell Martin hit two home runs as the Pirates won their first playoff game in 21 years.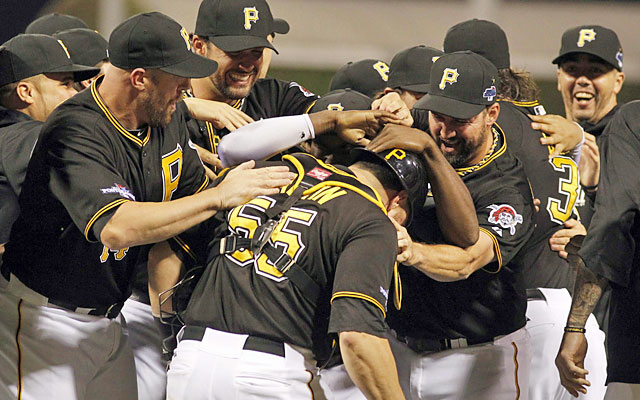 PITTSBURGH -- Pass the Primanti's, there's a party going on in Pittsburgh.
Pirates fans went 20 years without a single postseason game -- or even one winning season -- so excuse them if they reveled like there's no tomorrow. Well, actually there will be a tomorrow for the Pirates, thanks to some continuing magic in these parts.
The team that's famous for being a two-decade-old doormat made it four straight wins over the rival Reds, and this one was for all the kielbasa. The starving fans loved it, every single minute of it.
Chants of "MVP" rang up whenever Andrew McCutchen came to bat. Reds pitcher Johnny Cueto was serenaded, mockingly, with drones of "Cue-to," which may have unnerved him.
Whether it did or not, the Pirates rocked the pitcher the Reds call their ace, knocking him out before the fourth inning was up after knocking him around the most beautiful ballpark in the sport. For Pittsburghers, this game was a sight for sore eyes.
The Pirates is the best baseball story going, and Pittsburgh was the capital of the sport for at least a day. And they live for several more days now, as they won a matchup against the champion of their division, the October mainstay St. Louis Cardinals, with their 6-2 victory over another division foe in the Reds, who finished off the dullest of 90-win playoff seasons.
"We didn't think about one and done. We thought about one and run -- run to St. Louis," said Clint Hurdle, the perennially upbeat Pirates manager.
The Reds leave the October festivities after one game, a sixth straight defeat overall that's sure to leave a bitter taste.
Meantime, things seem backward to many in this lovely burg with its three rivers and many more bridges, as the beloved Steelers are struggling at the very time the Pirates get their act together. It's such a good act that a Pirates ticket finally became a hot item, with a record paid attendance of 40, 487 in the house and a 250-percent markup over face value reported for last-minute purchasers.
PNC Park rocked for the first playoff game for the Pirates since Stan Belinda surrendered that memorable game-winning hit by Francisco Cabrera that scored Pittsburgher Sid Bream and sent the Pirates out of October, seemingly forever. Well, they are back now, repackaged from the Bonds-Bonilla team of the early '90s as a pitching-and-defense squad that's expert on run prevention.
Fitting that the small-revenue Pirates turned to Francisco Liriano, whose $1-million guaranteed deal (with lots of incentives, and he earned every one of them) represents that rarest of findings, a free-agent bargain. Liriano, a lefty who held left-handed hitters to a .131 batting average in the regular season, was the perfect choice of Hurdle to face the Reds, who are built around three key left-handed hitters -- Shin-Soo Choo, Joey Votto and Jay Bruce.
Liriano was worth every penny (incentives included) in delivering the playoff win over a Reds team that had beaten him three straight this year, despite the seemingly tough matchup. Liriano had plenty of help, especially from an infield defense that was crisply efficient on a perfect night in Pittsburgh.
For this special occasion, the Bucs added the element of unexpected power. Marlon Byrd and Russell Martin, two imports from New York, hit homers within a three-batter span that sent the crowd into delirium. Martin, a Yankee discard who was cast aside though they had no other starter-quality catcher, hit a second home run later.
"I never heard a crowd so loud in my life," Martin said. "It's probably just 20 years of waiting that came out tonight."
The "Cue-to" chants for the Reds' de facto ace were deafening early, and he seemed distracted enough at one point to drop the ball and let it roll off the mound, encouraging the Pirates faithful further. Martin followed the drop with his first dinger. Baker denied the rhythmic chant got to Cueto, pointing out that winter ball can bring a bigger ruckus. But McCutchen said, "I definitely think it got to him a little bit. It was a loud crowd."
The Pirates added three more runs by the fifth, thanks in part to an abysmal relief job by Sean Marshall, who walked two of three batters he faced (one intentionally), and allowed a run-scoring double off the left-field wall to native Pittsburgher Neil Walker. Walker is loving every minute of this, including how his old buddies from Pine-Richland High School in suburban Gibsonia who'd long ago given up on the Pirates are back on the most jam-packed bandwagon in town.
Liriano went seven innings, then the relief corps lovingly known as the Shark Tank wrapped up the best day in Pittsburgh baseball since Barry Bonds left Pittsburgh and the all-purpose monstrosity known as Three Rivers Stadium for greener (as in $43.75 over six years million) pastures. When Hurdle pinch-hit for Liriano, the crowd chanted Liriano's name. They were looking for a curtain call.
They didn't get one. But hey, the good news is, the season's not over yet, not for the Pittsburghers.
The Reds, who never seemed to hit their stride this year, scored a run when Bruce singled to knock home Choo, and Choo, who's a free agent, later homered in what's likely his last at-bat as a Red (unless Cincinnati suddenly wants to spend $100M-plus on a leadoff hitter). That was it in what was another disappointing -- and brief -- postseason for beloved manager Dusty Baker, who repeatedly referred to this do-or-die game beforehand as a "series." Maybe of innings.
Choo, Ryan Ludwick (three hits) and Todd Frazier (two great plays) had nice nights. But making it all the more sweet for the Pirates faithful, the hated Reds second baseman Brandon Phillips made an error on a roller that was apparently too easy for the multiple Gold Glove winner.
It takes some getting used to, but it'll hit the Reds in the morning, when they realize their season wasn't quite what it was cracked up to be. Their ace was no ace, and their vaunted lineup barely made a dent.
"It's very difficult ... unbelievable actually," Baker said. "It's very difficult to come down to one game, especially the way we played. We got outplayed big-time."
Meantime, the Pirates, whose season was already deemed a smashing success by club owner Bob Nutting (I asked him before the game, and he said so), play on, to the delight of the hungry faithful. And don't think they can't threaten the Cardinals.
"I definitely think it's going to propel us," McCutchen said.
The Pirates have the sure NL MVP winner (who reached base four times) plus lots of pluck and pitching. And they have the best party going.
Granderson heads north of the border for his age-37 season

What did the Pirates get in return for their franchise player?

Rivero could remain in Pittsburgh for some time to come
The White Sox, Angels, Athletics, Orioles and Marlins are the holdouts after Blue Jays fol...

The Pirates have several attractive trade chips if they decide to go into a full rebuild

Gerrit Cole was traded over the weekend and now McCutchen is on the move