The Price is nails as Rays eliminate Rangers, move on to Cleveland
David Price has not has great success in his career against the Rangers or in the postseason. He took a huge step toward changing that in pitching Tampa Bay to a tiebreaker win in Game 163 Monday night in Arlington. ...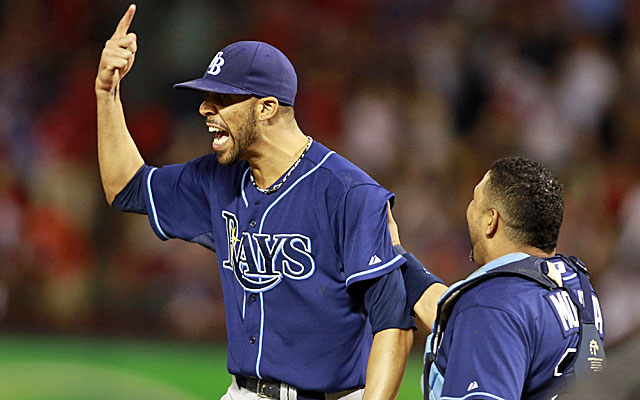 ARLINGTON, Texas -- For unfinished business, well, there's no better place to take care of that than in Game 163, is there? I think maybe you can find that slogan at Staples and other fine office supply stores in your neighborhood.
Evan Longoria talked about this unfinished business in Toronto on Sunday before Tampa Bay's charter flight carried the Rays straight into the teeth of another Texas storm Monday.
David Price thought about it in the hours before he took the ball, with the Rangers having consistently battered him throughout his career.
Which is why, in the moment after Nelson Cruz bounced to short, he turned triumphantly toward Longoria streaking toward him from third base and screamed, "That's what I'm talking about! That's what I'm talking about!"
In a chaotic season that took another step toward crazy, Price, Longoria and Co. finished their business in the Lone State State, dumping the Rangers 5-2.
Tampa Bay now will head to Cleveland for Wednesday's American League wild-card game. The winner opens division series play in Boston on Friday. If Tampa Bay can get there, that would be its fourth game in four different cities in six days.
But first, Texas.
The Rangers knocked the Rays out of the playoffs in 2010. Eliminated them in 2011. And have owned Price: Including both the regular and postseason, Price was 1-7 with a 6.62 ERA in 11 starts against the Rangers.
And none of it mattered, because Price and Longoria made sure it wouldn't.
"David wanted it as much as he wanted oxygen," said Rays manager Joe Maddon, his glasses dotted with champagne drops. "He wanted to be the guy tonight. He's trained to be that person out there tonight his whole life."
That's what they were talking about?
"I went to sleep pretty early last night and got a good night's rest," Price said amid the whoops, hollers and champagne spray. "I woke up around 9, 9:30. …"
And for the next two hours, he said, this was all he thought about. Talk about the power of visualization.
He thought about pitching a complete game and then turning to Longoria. The two of them have grown up together in the Rays' organization: Longoria was the club's first-round pick in 2006; Price was the first-round pick in 2007.
"When you throw a complete game, you're probably supposed to go to your catcher," Price said, sheepishly.
But he had Longoria in mind.
He thought about texting the third baseman during the day, but decided against it. He didn't want to jinx anything.
"Then I wanted to tell him before the ninth," Price said. "But I decided to keep it to myself."
Every start now could be Price's last one for the Rays. He becomes eligible for free agency after the 2014 season, but it is widely expected that Tampa Bay will shop him this winter, thinking it can get a bigger return.
But if that's crossing his mind right now, he's not allowing it to overtake the important stuff. Like joining forces with Longoria to continue to push this season deeper and deeper.
It was Longoria who smashed a two-run homer in the third to extend Tampa Bay's lead to 3-0, then cracked a leadoff double in the sixth and scored to make it 4-1. He finished a triple short of a cycle, and with a couple of years' worth of demons exorcised.
Talk about walking the walk after talking the talk.
"I love it," Maddon said. "I do know that for him personally, as a leader, it's huge. As a leader, to say something like that and then to back it up truly accelerates the leader he is and will be in the future."
Said Longoria: "For some reason, I just felt like I wasn't done playing baseball this year. I woke up this morning and my body felt as good as it's felt all year.
"I just couldn't imagine not playing any more baseball."
Between his bat and Price's arm, the Rangers never had a chance.
As Game 163s go, this wasn't special. It had none of that edge-of-your-seat drama that builds until you can barely breathe. Because of Price, Texas really didn't mount much of a threat all evening.
Price described his stuff as "shaky" for much of the night. Then again, that's where guile and guts come in.
Longoria thought Price was "fighting it" for the first three or four innings, but starting about the fifth "his velocity went down a little bit but his command went up. He threw more first-pitch strikes, and the ball was down in the zone. From then on, I had a really good feeling. They didn't put many good swings on the ball."
At 118, Price's pitch count was his third highest for a game this season. But like Longoria, Maddon and pitching coach Jim Hickey could see he was getting stronger and better as the game rolled on.
"I believe that really validates his Cy Young," Maddon said of the award Price won last year. "It validates a lot of things he's done. For David, that was a huge moment.
"Validation on a personal level happened tonight."
That he worked a complete game thrilled the Rays, and not just because he gave a shaky bullpen the night off. For his part, Longoria couldn't have been happier for his buddy.
Tears of joy were running down Price's face as he and Longoria embraced, kicking off the raucous celebration.
"He told me when we were out on the field that for whatever reason, he had a dream about it," Longoria said. "It's emotional when you play with a guy for that long and you accomplish these things together.
"Well … he pretty much did it."
Dream about it, visualize it during the day … ah, whatever.
Truth be told, Longoria said, he had absolutely no idea what Price was hollering about when he was pointedly screaming "That's what I'm talking about" to Longoria out there on the field.
"So I started saying it, too, 'That's what I'm talking about!'" Longoria said. "Whatever it was we were talking about."
They'll have plenty of time to compare notes on the flight to Cleveland.
"I love our chances," Longoria said. "I love our team."