The quiet stability of the Brewers' starting rotation
The first-place Brewers can score a lot of runs, but their rotation has also been key to their success thus far in 2014.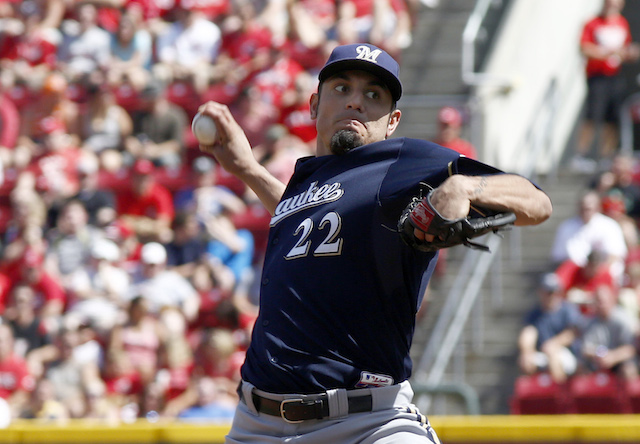 More MLB: Power Rankings | Expert Picks | Latest news & notes | Fantasy news
When you think of what drives the success of the 2014 Brewers, who have now spent 85 days in first place in the eminently respectable NL Central, you probably think of offense. After all, this is a team that ranks third in the NL in runs scored and OPS and second in homers. There's no doubt that Milwaukee can put runs on the board, but not to be overlooked is the performance of the rotation -- a rotation that in 2014 can be described as one of the most reliable in the game. 
What does it mean to say that a rotation in reliable? Well, to be sure, calling Matt Garza's Saturday performance against the Reds "reliable" (1-0 shutout victory, nine Ks against just two walks) is to give him short shrift. He was brilliant. In the main, though, Brewers starters this season have answered the bell and kept the team in games. That's the essence of reliability -- stability and consistency -- at least in the positive sense of the term. 
In some ways, the Milwaukee rotation hasn't been a team strength this season. After all, they presently rank ninth in the NL in starters' ERA and 11th in starters' WAR. In another regard, however, they're doing their job, especially on a team that's scoring 4.48 runs per game.
This season, just two teams have used as few as six starters -- the Brewers and the Tigers. It's of course no coincidence that each of those teams is in first place. The Tigers, though, are a team we associate with having a bedrock rotation throughout recent history. The Brewers, though, are coming off a 2013 season in which 12 different pitchers made at least one start. There are no absolutes, of course, but generally speaking cycling through a lot of different starters does not yield positive results. This season, though, Kyle Lohse, Garza, Wily Peralta, Yovani Gallardo and Marco Estrada have combined to start all but one of Milwaukee's games. The only exception is the start made by Jimmy Nelson on May 25. (To be sure, there's a strong case to be made that Nelson should replace Estrada in the Milwaukee rotation, but that's a separate discussion.)
Consider all of that the "stability" component. As for consistency, consider the following NL ranks of the Brewers' rotation in 2014: second in innings per start and third in quality start percentage. That's important. While the Brewers would of course like to see its starters improve upon those 4.11 runs/game they're allowing, those same starters are generally avoiding the disaster outing and they're also easing the bullpen workload by pitching deeply into games (the Brewers' bullpen has thrown the fourth-fewest innings in the NL). There's your consistency. 
None of this is to say the Brewers have one of the best rotations in the league -- they don't. However, given how many runs the offense tends to score, that rotation is doing its job in a very important sense. It's a stable and reliable unit, and right now that's more than enough for the best team in the National League. 
Another team rumored to be interested in Stanton has confirmed their interest

Chris Woodward has spent the last two seasons with the Dodgers

We heard about it being awful for years, but was it?
Then again, three trades in four days might be behind Jerry Dipoto's usual pace

Ohtani is arguably the best hitter and pitcher in Japan

The O's need rotation help, and Cobb is available for hire