The Rangers are .500, but they're still a bad team
The Texas Rangers may get better this season, but right now they're simply not a good team.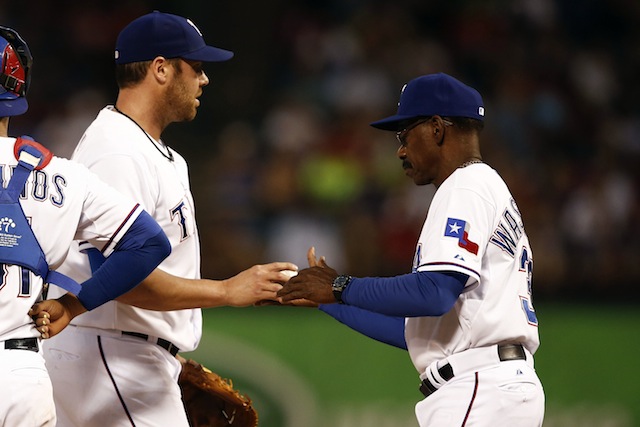 More MLB: Power Rankings | Expert Picks | Latest news & notes | Fantasy news
By now, the Rangers have become one of those teams for whom relevance is assumed. After all, they've reeled off five consecutive winning seasons, have made the playoffs in three of the past four years, have won two pennants within that stretch and are generally regarded as one of the best organizations in baseball.
Insofar as the 2014 season goes, however, the Rangers are simply a bad team at the moment. Yes, they're .500, but underlying that mediocrity is some good luck. There's every reason to believe that the Rangers are worse than their wins and losses and their place in the standings. That's the real concern moving forward -- that Texas is working from a lower baseline than you might think.
After their latest humiliation at the hands of the Rockies, the Rangers' run differential stands at minus-33. Among AL teams, only the Astros have a worse mark. The upshot is that the Rangers, based on runs scored and runs allowed, should be 14-20 right now, which would put them on pace to go 67-95.
Throw out these most recent games when the Texas wheels seemed to come off? It's not a good idea to dismiss any data points, but it's still worth noting that the Rangers at the end of April -- before those ritual abuses by Colorado -- had a minus-21 run differential and were being out-OPS'd by opponents by a margin of .726 to .706. That is, the Rangers are enduring more than just a bad week against a hot team.
Moreover, the things that have allowed the Rangers to play above their fundamental indicators likely aren't sustainable. In particular, the offense has benefited from modestly better numbers with runners in scoring position (despite what many contend, there's zero evidence that this is any kind of repeatable skill, especially at the team level) and significantly better numbers in high-leverage situations (again, not something likely to continue).
Look up and down the lineup, and you see Adrian Beltre, at age 35, showing signs of decline. You see Shin Soo-Choo, who, while an excellent hitter, isn't going to maintain that .484 OBP. And then you see Prince Fielder, who, despite widespread expectations of a bounce-back, just seems to be getting worse (.226/.347/.331, increasing groundball tendencies, significant decrease in average fly-ball distance).
The return of Geovany Soto from injury should help the catching situation a bit, but that says more about the catching situation than it does Soto's merits. Jurickson Profar will be back at some point, as well, but there's no guarantee that he's ready to contribute at the highest level.
In the rotation, Martin Perez is already coming back to earth after a hot start, Yu Darvish is pitching like the ace he is and thus can't be relied upon for improvement. Maybe Matt Harrison will get back to defying his middling peripherals, and there's always the return of Derek Holland to be considered. However, a half-season of Holland will be worth maybe 2.0 WAR over and above his stand-in.
In a division that houses three other contenders in the Athletics, Angels and Mariners, this poor underlying performance raises concerns that the Rangers' run may be at an end. Yes, they'll likely get a bit better as they get healthier, but, again, the performance base-line is lower than the standings would lead you to believe. This is, as noted, a team that's playing like one capable of losing 95 games.
It's still early, so there's time to reverse course, but the Rangers are in need of more improvement than you might think by just looking at that 17-17 record.