The Rays believe Myers, and they also believe in him
Was there more to the Wil Myers play than a kid outfielder just making a mistake? The kid says no, and the Rays say no. They also believe the kid will be fine.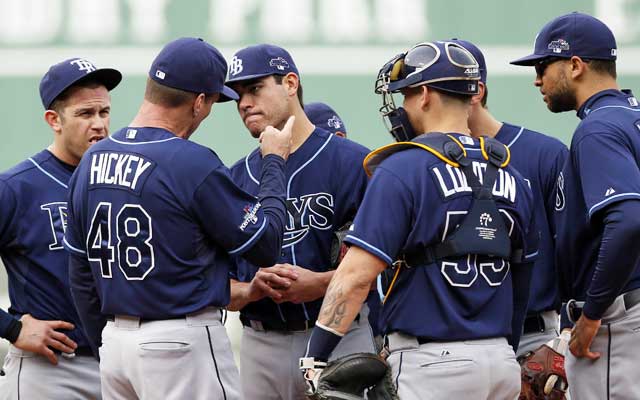 BOSTON -- The kid made a mistake.
We all thought there was something more. You did. I did. The Rays did.
"I thought maybe someone from the bullpen [yelled]," Rays bench coach Dave Martinez said. "Or a fan."
He saw what you saw. He saw David Ortiz hit a long but oh-so-catchable fly ball to right field, in the fourth inning of a game the Rays led by two runs. He saw Wil Myers waiting for the ball to drop into his glove, even using a hand signal to indicate to center fielder Desmond Jennings that he planned to catch it.
Except that Wil Myers didn't catch it. He moved away from it, took a step forward as the ball dropped and then bounced into the bullpen for a ground-rule double.
And as the Red Sox were turning it into a five-run inning and eventually a 12-2 Game 1 win, everyone had a theory for why Myers backed away.
"Anybody who doesn't think the 'I've got it' shout that fooled Wil Myers didn't come from the Red Sox bullpen is also being fooled," TBS pregame host Keith Olbermann said on Twitter.
Maybe a Red Sox reliever did yell. But the fact is Myers insists he never heard it.
Never heard anything, the kid said. He backed away because he saw Jennings out of the corner of his eye, remembered that the center fielder always has priority, and didn't want an outfield collision.
That was his story, and he stuck to it. He gave it over and over to reporters, and before that, he gave it over and over to his teammates and his coaches.
"The story stayed true," Martinez said.
The Rays, it seemed, believe Myers. They also believe in Myers, which isn't the same thing.
They believe the 22-year-old kid is going to be something special. They believe he's still going to impact this series, and not in the way he did Friday.
They believe he can handle messing up so badly in his second-ever postseason game, and standing there the rest of the afternoon listening to 38,177 fans chant his name derisively.
"My-ers! My-ers!"
Yes, he heard it. Of course he heard it.
"It was loud," Myers said.
Myers is young, but he handled this well. Not at first ("He looked miserable," Martinez said), but eventually came around.
He could have made up a story. He could have said he heard someone yell, or that he thought he did. He could have said that playing right field at Fenway Park isn't easy (and that would have been true).
The Fenway outfield is tough enough even for those who play it every day. Red Sox right fielder Shane Victorino said that after he saw what happened with Myers, he ran back to the fence at the start of the next inning, just to see if the sun was a factor.
Victorino asked reporters for Myers' explanation. He sort of accepted it, sort of didn't.
"For me, if you're pulling away from seeing the center fielder, you're not in good position to begin with," Victorino said.
Victorino did accept that a kid could make a mistake.
"I don't feel bad for him, brother," he said. "That helped lead to our victory, so I don't feel bad. I hope he makes a few more."
He'll make more, but maybe never a bigger one than this. The next time there's a game we're calling the Wil Myers game, it's a lot more likely to be because he hit two home runs, or got the biggest hit of the day.
"He's going to be a good player," Victorino said. "Actually, he's going to be a great player."
He was already going to be a guy in the spotlight. He was the kid who was going to help save the Royals, and then he was the kid the Rays stole from the Royals in the James Shields trade. He had to deal with plenty of attention, but basically all of it was good.
If crowds were chanting his name, it was because they liked him. Really liked him, not like the Fenway fans who at one point were chanting, "We love Myers!"
You wonder how that affects a kid. The Rays wondered, but when they watched his final two at-bats Friday, they started to believe that he will be OK.
"Two balls on the nose," hitting coach Derek Shelton said.
Shelton watched carefully. Some kids make mistakes, and then bury themselves even more trying to make up for it. Myers didn't have that look.
"It's just something you've got to brush off," Myers said.
You can believe him or not. You can say nobody just brushes something like that off, just as you can say Myers had to have heard something.
He's sticking to his story.
"I didn't hear anything from the bullpen," he said one more time. "I just saw Des out of the corner of my eye. . . . I should have just made the play."
Who knows what happens if he does? Friday's game would have sounded different without all those "My-ers! My-ers!" chants, but would it really have finished different?
Will Wil Myers be any different, because of what happened?
I'm thinking the answer to both of those questions is no.
The Cardinals have been linked for a while to the Baltimore star

Gallardo spent the first eight years of his career in Milwaukee

MLB revenues are at a record high right now, but teams aren't spending it on players
Chicago added Tyler Chatwood earlier this offseason but might not be done adding to the ro...

The Dodgers and Braves pulled off a whopper on Saturday

Sabathia will reportedly spend a 10th season in the Bronx