The Reds almost made history Tuesday night
It was one of the oddest doubleheaders ever, at least in conception, and the Reds and Giants came close to making history.
More MLB: Scoreboard | Standings | Probable Pitchers | Sortable Stats | Odds
In second game of the Tuesday doubleheader against the Giants in San Francisco, the Reds lost by a score of 5-3. In doing so, though, they almost made a most unusual kind of history.
First, the relevant tweet, and then we'll explain ...
The Reds are trying to become the first team in Major League history to produce a walkoff win on the road. Trail, 5-3, bottom ninth at SF.

— Reds (@Reds) July 24, 2013
Got that?
So the first game of the doubleheader was your standard-issue home game for the Giants. The nightcap, however, was technically a home game for the Reds, even though it was being played in San Francisco's AT&T Park. That's because said nightcap was a makeup of the July 4 Giants-Reds game in Cincinnati that was rained out. The Giants, you see, had no more trips to Cincinnati this season, and the two teams couldn't agree on a suitable off day to get together again in the Queen City. So they played the game in San Fran.
In fact, the Reds even wore road grays in the first game and home whites in the second game ...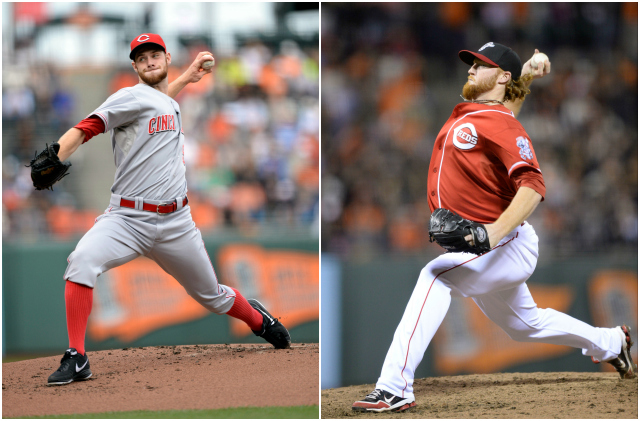 At left is Tony Cingrani in his road threads, and at right is Curtis Partch, a few hours later, in his home duds.
Also notable is that the Reds in the second game batted in the bottom half -- or home half -- of the inning, which brings us back to the tweet above.
Alas, though, Giants closer Sergio Romo noted a four-out, four-strikeout save. History was not made, though general weirdness was enjoyed by all.