The Reds and their giant weakness in center field
Few contending teams have a weakness as great as the Reds do in center field.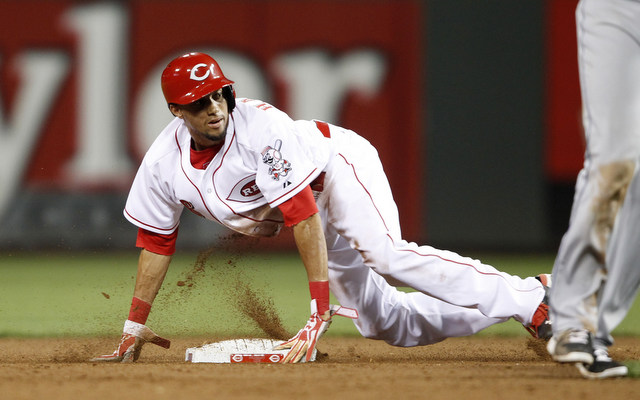 MORE: FA tracker: position players | FA tracker: pitchers
This past season, no team got more production from the leadoff spot than the Cincinnati Reds. Shin-Soo Choo led all players who played at least 81 games as a leadoff hitter with a .432 on-base percentage (by 34 points) and a .914 OPS (by 33 points) while ranking second with a .481 slugging percentage (by two points) and 21 home runs (by one). He was a monster atop the lineup.
Choo is a free agent and the Reds are not going to re-sign him simply because they can't afford him. He reportedly recently rejected a seven-year, $140 million offer from the Yankees, the kind of contract Cincinnati is unable to muster financially. Choo's production can not be replaced and team has been left with a giant hole both in center field and the leadoff spot.
The Reds tried to address those needs by offering Brandon Phillips to the Yankees for the speedy Brett Gardner, but they were rebuffed. They inked Skip Schumaker to a two-year contract a few weeks ago, and while he can play center and has a career .344 on-base percentage, he is best used as a role player. Not an everyday guy. The free agent market offers very little help at this point, with Andres Torres standing out from a woeful center field crop.
Barring a trade -- it is only Dec. 19, lots of time to swing a deal before spring training -- the Reds appear poised to go into 2014 with young prospect Billy Hamilton both in center and atop the lineup. He dazzled as a pinch-running specialist in September, stealing 13 bases (in 14 attempts) in 18 stolen base opportunities. Hamilton set a minor league record with 155 steals in 2012 and followed up with 75 in 2013, so he can have a serious impact on the bases.
The big question about Hamilton is his bat, not his legs. He hit only .256/.308/.343 in 547 Triple-A plate appearances this past season and he's struck out 100+ times in each of the last three years, not a typical trait for a leadoff man. Baseball America recently noted "pitchers were able to overpower him at times last year" and "his bat has not convinced scouts he is ready for the leadoff spot." The various projection systems are bearish:
2014 Projections for Billy Hamilton
Projection System
AB
AVG/OBP/SLG
SB
CAIRO
501
.232/.289/.323
66
RotoChamp
475
.242/.305/.343
63
Steamer
513
.249/.305/.338
69
Oliver
549
.250/.304/.335
76
The steals are great! Having a leadoff man who swipes 60+ bags a year is awesome. But an on-base percentage hovering around .300? With a .340-ish slugging percentage? Ewww. That's production fit for the number nine hitter (or number eight in the NL), not the leadoff hitter of a very good, contending team.
Aside from Gardner, who the Yankees insist they will not move for anything other than an impact starter, the best center field trade target for the Reds may be Alejandro De Aza of the rebuilding White Sox. The 29-year-old is projected to earn less than $5 million next season and has hit .271/.335/.408 (100 OPS+) with 26 homers and 46 steals over the last two years, plus he's regarded as a strong center field defender. Chicago recently acquired Adam Eaton, marginalizing De Aza and pushing him into a corner outfield spot.
Regardless of who winds up playing center field in Cincinnati, it will be an enormous step down from Choo. You simply can't replace a 20-20 player who gets on base more than 42 percent of the time. What they can replace is the current expected production of their 2014 center fielder, specially if Hamilton is slated to get the first crack at the job. Gardner and De Aza are just two names (one of whom is a speculative fit by me) but there are bound to be other leadoff-hitting center fielders available for the right price.
The Reds have a very good rotation, a strong bullpen and a powerful middle of the order. Hamilton's time as a impact leadoff hitter may arrive in the not too distant future, but it seems unlikely it will happen in 2014. The team's lack of a legitimate everyday center fielder and a true leadoff hitter is a huge hole and one of the biggest single needs by a contender right now.
Boston wants to add two big bats to their lineup, not just one

Even more relievers signed on the final day of the Winter Meetings

Keep tabs on the top 50 free agents right here
The league is not happy Ohtani's medical information leaked

Kansas City and Baltimore were quite busy at the Rule 5 Draft

Piscotty's mother was diagnosed with ALS earlier this year