The remarkable Edwin Encarnacion
Blue Jays 1B/DH Edwin Encarnacion isn't your average power hitter.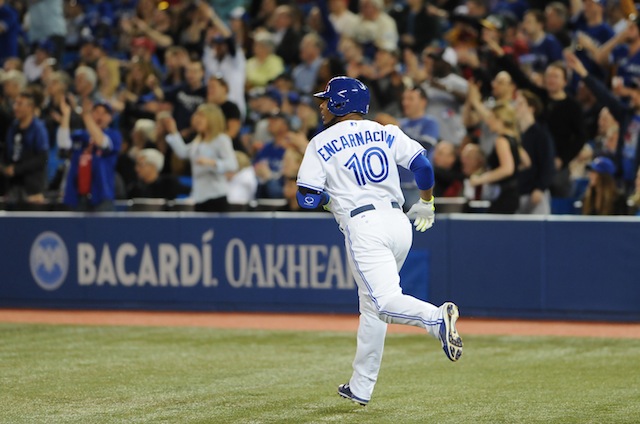 More MLB: Power Rankings | Expert Picks | Latest news & notes | Fantasy news
Thus far in 2014, the first-place Blue Jays are largely being paced by their offense, and their offense in some respects is being paced by first baseman/DH Edwin Encarnacion (among others). In the course of Tuesday night's 9-6 win over the Rays, Encarnacion clouted his 16th home run of the season (only Nelson Cruz, with 17, has more). He's now batting .263/.341/.585 on the season.
Encarnacion, now 31, has been an elite power hitter since 2012, but it's what he's done since the start of the 2013 campaign that leads me to put the word "remarkable" in the headline. More specifically, Encarnacion has become the rare player whose value is driven by raw power but who also doesn't give away "free outs" all that often. 
First, take the raw power. Encarnacion's Isolated Power ("ISO," which is simply his batting average subtracted from his slugging percentage -- a good measure of raw power) of .276 since the start of 2013 trails only that of Chris Davis. To restate part of the above premise, Encarnacion, thus, depends heavily upon extra-base power for his offensive value. He's not a high-average hitter, but he does post high SLGs. 
That said, Encarnacion, despite an approach and outputs that suggest he's swinging for the downs pretty much at all times, doesn't give the opposing pitcher many breaks, especially by the standards of power hitters. First, Encarnacion in the here and now doesn't strike out much. Since 2013, Encarnacion ranks 16th among qualifiers in lowest K% (i.e., strikeouts as a percentage of plate appearances). Of the names ahead of him, only one -- Victor Martinez -- can reasonably be thought of as any kind of power hitter. Of course, over that span Encarnacion has exactly doubled Martinez's home run production (52 to 26). Similarly, Encarnacion ranks second in the majors since the onset of last season in BB/K percentage. The hitter ahead of him? Marco Scutaro -- he of the two home runs in 2013. 
As well, Encarnacion, unlike a lot of fly-ball power hitters, doesn't pop up much these days. In fact, over the time span in question Encarnacion has hit an infield pop-up 8.2 percent of the time versus an MLB-average mark of 9.7 percent. That's despite the fact that Encarnacion has the sixth-lowest groundball/fly-ball ratio since 2013. 
In the end, we have in Encarnacion a hitter who flashes excellent power but who, unlike almost all other power hitters, doesn't strike out much and doesn't hit the ball up a silo. Encarnacion is not only an excellent hitter, but in those regards he's also a unique one in today's game. 
In glorious conclusion ... 
L.A. manager Dave Roberts indicated that Puig's benching was related to more than one inci...

Manager Torey Lovullo said so on Monday

Let's see how SportsLine forecasts the race for MLB's 10 playoff spots
No other rookie in baseball history has hit more home runs than Judge has this year

Jays have said goodbye to Encarnacion and will to Bautista. Should they move on from Donaldson,...

Judge's big September means Jose Altuve has some serious competition for the award