The Royals will once again look to be MLB projection breakers in 2016
Computer-based projections are coming out and several have the Royals with a losing record again.
When I worked up my pre-preseason power rankings last week, I quipped the following regarding the defending champion Kansas City Royals:
"(E)xpect numbers-based projections systems to whiff on the Royals again this season."
It happened last season. Baseball Prospectus' well-known PECOTA system pegged the Royals to win 72 games. Pretty much every stat-based outlet had them with a losing record and nearly everyone (myself included) had them missing the playoffs.
All they did was go out and win 95 games en route to taking the World Series in five games.
Those of us who are human realize that pretty much the same team returning means the Royals will be good again. Computers don't seem to learn from past mistakes, though.
Over on Fangraphs, the Royals are slotted at 79-83, good for fourth place and only a game ahead of the last-place Twins.
PECOTA was released on Tuesday and it has the Royals dead last in the AL Central at 76-86. In fact, Sam Miller of Baseball Prospectus (click here for his full explanation, which is a good read) essentially tells us that the Royals were the expected outlier among their staff:
Our staff didn't want it. It's not just that when we polled our writers for their own Royals predictions—before PECOTA had been run—not one of them went as low as 76. It's not even that not one of them went lower than 80, or that only one of 27 responses was lower than 85, or that the plurality response was 90, or that the average was 88. It's this: When I asked a follow-up question a few days later—"If I told you PECOTA projects them to win 76 games this year, does your answer change?"—the response was overwhelmingly "nah." In fact… counting them out… 73 percent of staff said it didn't change their answer at all. As one put it: "No, because the projections just seem to not like the Royals." This seems awfully close to a crisis of confidence. We'll get into that.
On SportsLine, our system was a bit more bullish on the Royals. It has them at 83-79 (well, 82.9 projected wins), which is tied for the second wild card with the Angels.
Still, doesn't all of this seem low, given that it's mostly the same team as last year?
One reason I think computers don't fall in love with the Royals is defense. Advanced metrics on defense are still hard to pin down. It's just something that can't effectively be measured and the Royals are the best defensive team in baseball. So this skews it some.
Allow me to offer up something else that would make the die-hard numbers guys scream: Chemistry and confidence. I've covered it before and I firmly believe this was part of the "magic" for the Royals last year. Just part of it. A small part, maybe, but it can't be outright dismissed.
As for the actual 2016 Royals, let's run through the points that any naysayers would use to back up the seemingly-low computer-generated win totals.
Rotation
Edinson Volquez, Yordano Ventura, Ian Kennedy, Danny Duffy, Chris Young.
Does this sound like a rotation that will make opposing hitters shake in their cleats? Of course not.
View it in a vacuum if you wish, but here's what the Royals got from the rotation last season, when they won 95 regular-season games.
Young: 18 starts, 3.18 ERA
Volquez: 33 starts, 3.58 ERA
Jason Vargas: Nine starts, 3.98 ERA
Ventura: 28 starts, 4.08 ERA
Duffy: 24 starts, 4.35 ERA
Kris Medlen: Eight starts, 4.50 ERA
Johnny Cueto: 13 starts, 4.76 ERA
Joe Blanton: Four starts, 5.30 ERA
Jeremy Guthrie: 24 starts, 6.10 ERA
Yohan Pino: One start, 10.13 ERA
That's a 4.34 rotation ERA, good for 22nd in the majors. Again, they won 95 games with that.
So are we going to argue that the reason they'll regress is because the rotation is uninspiring, as if last season was a clinic in great starting pitching?
Not only that, but it's reasonable to believe in improvement from Ventura and Duffy. Kennedy can benefit from the spacious outfield in Kauffman Stadium, outstanding defense behind him and Salvador Perez's game-calling ability -- things that the computers either don't measure or don't weight significantly.
There's also a stellar bullpen to shorten games, just as there was last season.
2B and RF
Yes, Ben Zobrist is gone, but he only started 28 games at second base last season. Royals second basemen hit .235/.269/.348 in total.
In all, only the White Sox (-2.3) posted a worse WAR at second base than the Royals (-2.1).
It wasn't much better in right, where it was mostly the unproductive Alex Rios. Royals right fielders hit .244/.279/.338 with only five home runs. Only the Twins (-2.6) had a worse right-field WAR than the Royals (-2.3).
Basically, the "second base and right field are holes" argument ignores that this was the case for most of last season, too.
As for what is coming this season, I think it's a bit of an overreach to proclaim right field as a hole. Jarrod Dyson is a career .266 hitter with a .329 on-base percentage against right-handers while Paulo Orlando can be used against lefties. Dyson is a huge asset on defense and the basepaths, too. I think they'll post a positive WAR, meaning it's a net improvement of over two wins.
At second, the Royals could always trade for some help, just as they did last season.
"Luck"
I generally hate this word, because it can become such a crutch for lazy analysis and the word itself suggests that these aren't the best players in the world -- instead a group of guys who happened to sequence their batted balls at the right time to be noticed by scouts and advance up the chain. No one with a brain believes this, of course, but that's just how the word feels to me. Like it takes away from the vast skills of the players involved.
Rant aside, the Royals did some things last season that have people calling them lucky.
With two outs and runners in scoring position (RISP), the Royals hit .278/.356/.430 compared to a league-wide line of .235/.332/.381. With RISP (and removing the two out stipulation) it was Royals .281/.347/.426 compared to .260/.338/.415 for the AL. There's more, with the Royals overachieving across the board in any situation we might deem "clutch."
This is pretty well accepted to not be a skill but instead an anomaly. Generally, these things tend to even themselves out.
I will, however, offer up a counterpoint or two. First off, there's the confidence factor I mentioned above. This can draw scoffs from the new-age crowd, but anyone who has played at any sort of high level will tell you that mentality absolutely matters.
The Royals also put the ball in play better than anyone else and it's not close. They only struck out 973 times last season. The Braves struck out 1,107. Why do I bring up the Braves? Because they had the next fewest. Twenty one of the 30 MLB teams struck out at least 1,200 times, nine at least 1,300 and the Cubs racked up 1,518. When you put the ball in play, you make the opposing defense make plays -- ask Daniel Murphy about this -- and give yourself more chances at "luck" in the form of balls finding holes.
Further, if we're gonna talk about luck, let's see what the Royals dealt with last season in terms of adversity. Alex Gordon -- arguably their best player -- missed 1/3 of the season to injury and the Royals still overcame it. Now-departed Greg Holland badly struggled for his final three months before needing Tommy John surgery. Cueto had a stretch of awfulness almost unimaginable. Ventura had to be demoted to Triple-A for a second. Vargas needed Tommy John surgery.
Can we really discuss how lucky the team was without mentioning the above paragraph as things that were actually unlucky? They dealt with adversity and emerged as champs.
All of the above being said, it's still entirely possible that the Royals' rotation, relative weaknesses at second and right and clutch hitting regression means they'll be closer to the computer predictions than they were last season.
I'm not buying it, though. Gimme the over, easily, even with our very reasonable SportsLine model.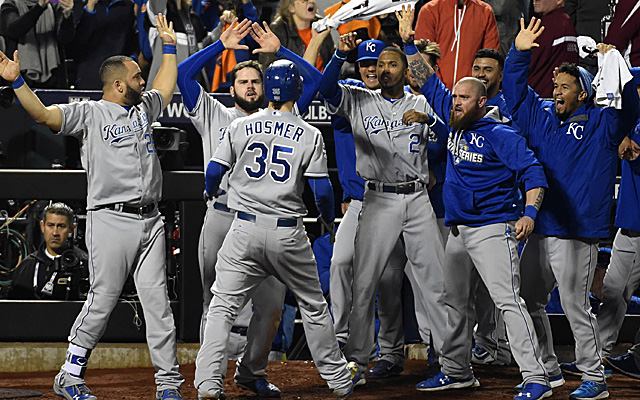 CBS Sports HQ Daily Newsletter
Get the best highlights and stories - yeah, just the good stuff handpicked by our team to start your day.
Please check the opt-in box to acknowledge that you would like to subscribe.
Thanks for signing up!
Keep an eye on your inbox for the latest sports news.
Sorry!
There was an error processing your subscription.
Here are the latest trade rumors as the July 31 deadline approaches

The Astros need rotation help, first and foremost, but a lefty reliever wouldn't hurt eith...

The trade deadline is coming up and these 10 prospects could be changing systems
SportsLine's Mike McClure, a DFS pro with nearly $2M in winnings, gives optimal lineup adv...

SportsLine's proven computer model simulated Monday's Red Sox vs. Rays game 10,000 times

The Cleveland star wants netting extended to the foul poles