The surprising success of the 2014 Braves' rotation
Somehow, someway, the Braves have cobbled together one of the best rotations in baseball this season.
On Friday night against the Reds, Braves lefty Mike Minor came this close to taking a no-hitter into the ninth inning (ATL 3, CIN 1, 12 innings) ...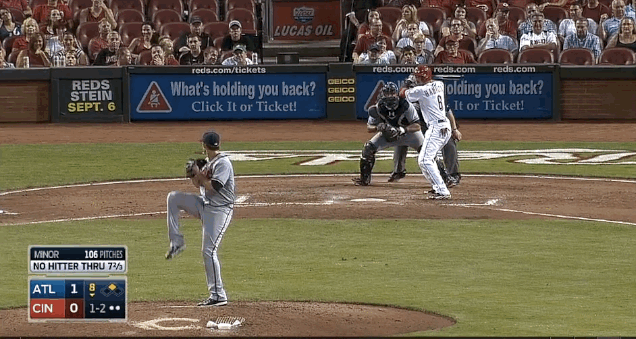 That's significant because Minor has been the Braves' worst starting pitcher this season (4.90 ERA after the gem against the Reds). The implication of the previous sentence is that the Braves in 2014 have a very good rotation. The implication is true. 
Consider how the Braves' corps of starting pitchers ranks this season among NL teams according to a few key measures ... 
2014 Braves rotation
ERA
R/G
Quality start %
Innings/start
Avg. Game Score
3.45 (4th in NL)
3.66 (4th)
68.5 (1st)
6.3 (2nd)
54 (4th)
(Note: "Game Score" is a Bill James measure that gauges how strong/dominant an individual start is. It's so that a Game Score of 50 is roughly average on an individual basis.) 
So, yes, they're very good. They keep runs off the board -- earned and unearned -- and they pitch deep into games (at least by contemporary standards). As the high average Game Score indicates, they also dominate on occasion. That's a contending rotation right there, and it's the primary reason that the Braves, whose offense ranks just ninth in the NL in runs scored, are in the mix for a playoff berth. 
It's also something of a low-grade miracle that we're in late August and doling out praise for Atlanta's starting pitchers. Let's recall what the Braves have endured during the 2014 season and in the run-up to the 2014 season on the rotation front ... 
•2013 rotation members Tim Hudson and Paul Maholm departed via free agency.
•Kris Medlen and Brandon Beachy were both lost for the season (Tommy John surgery) during spring training.
• Minor, author of Friday night's gem, missed the first month of the regular season because of shoulder inflammation and then generally struggled.
• Stop-gap Gavin Floyd and his 2.65 ERA were lost for the season (elbow fracture) after just nine starts.
• Emergency signing Ervin Santana has to date a worse-than-league average ERA, albeit narrowly. 
Still, after all that, here the Braves are, with one of the best rotations around. Julio Teheran has taken the next step toward ace-status. Aaron Harang has been one of 2014's most pleasant surprises (the cast-off has a 104 ERA+ after 162 innings). As well, Alex Wood and David Hale each have posted ERAs in the low 3.00s across a combined 23 starts. What's also remarkable is that the Braves, despite all those spring and early season upheavals, have used just seven starters this season. After that initial instability, there's been a lot of ... stability. 
To be sure, the expert tutelage of pitching coach Roger McDowell has something to do with the rotation's surprising success. It's also been a happy mix of fly ball tendencies, a decent knack for keeping a high percentage of those fly balls in the park (the Braves' rotation has a fly ball/HR percentage of 9.2 versus an NL average of 10.3) and one of the best outfield defenses around to catch much of what stays in the park. From a run-prevention standpoint, that's a nice union of skills.
What that union of skills has yielded -- plus starting pitching, as flashed by Minor on Friday night -- is why the Braves, despite all the injuries, are still playing meaningful baseball as September looms. 
Maxwell joins a growing movement across sports

The Yankees punched their ticket to the playoffs with a win over the Blue Jays on Saturday

Sabathia's stance seems to be an increasingly popular one among athletes
Plus the A's and Brewers have hope, Giancarlo goes deep again, and much more

Matt Chapman and Matt Olson give the A's hope

Despite an awful month, the Dodgers are again NL West champions