The 'that's so Marlins' moment of the day: Know your manager
Marlins prospect Jose Fernandez doesn't know his manager's name.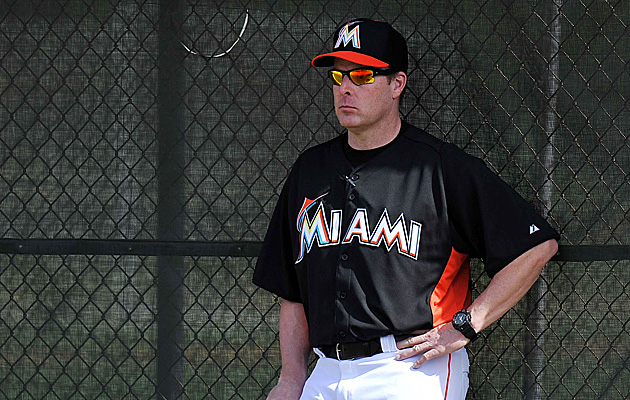 Mike who? That's your manager, kid ... (US Presswire)
Spring training has only been underway for a few days, but we've already been blessed with our first (of many, likely) moments where the Marlins are the butt of a joke.
Jose Fernandez, a highly-touted Marlins pitching prospect, was asked about his new manager, Mike Redmond. And we're off, via local10.com:
When Local 10's Aiyana Cristal asked Jose Fernandez about Mike Redmond, Fernandez replied, "Who?"

"Mike Redmond, Coach Redmond?" repeated Cristal.

"Oh, okay. I don't know his name, I just met him. I just met him a bit ago," answered Fernandez.
In fairness, Fernandez hasn't even been past High-A ball and Redmond is a new manager, so this isn't nearly as egregious as it would be if, say, Josh Hamilton didn't know who Mike Scioscia was. Still, it's spring and it's the Marlins, so we have our fodder.
It should be noted that Fernandez is a stud in the making. He was 14-1 with a 1.75 ERA and 0.93 WHIP with 158 strikeouts in 134 innings across both Low-A and High-A last season. He's only 20 years old, and Baseball America has ranked him as the seventh-best prospect in all of baseball. If he continues to throw like he has thus far, I'm guessing Redmond won't care what Fernandez calls him.
For more baseball news, rumors and analysis, follow @EyeOnBaseball on Twitter, subscribe to the RSS feed and "like" us on Facebook. Also, individually interact with us on Twitter: @MattSnyder27, @daynperry and @mikeaxisa.