The top 10 World Series hitters of all time
We already rolled out our list of top 10 World Series pitchers ever, so now it's time for the hitters.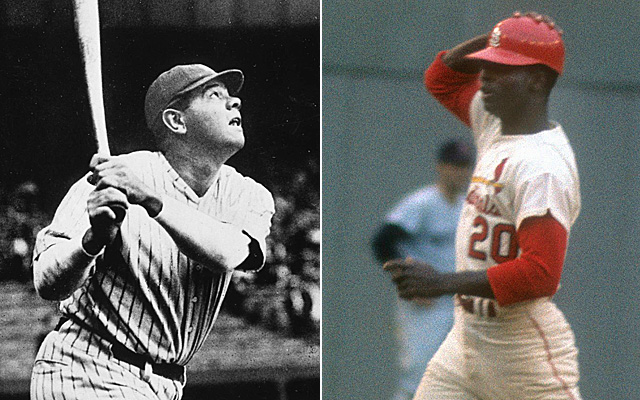 Also: Top 10 Fall Classic pitchers
Just as we did with the pitchers -- conveniently linked above! -- it's now time to check out our subjective list of top 10 World Series hitters. This was a bit tougher, because obviously there are a lot more players to sort through and it was incredibly difficult to try and assess which players had too few plate appearances to consider. With that in mind, there will be two extra sections after the top 10. Stick around and check it out.
And here are our gold star top 10ers, in alphabetical order.
Lou Brock: The Hall of Fame speedster hit .391/.424/.655 with seven doubles, two triples, four homers, 13 RBI, 16 runs and 14 steals in 21 career World Series games, winning two rings. He had 12 multi-hit games and four multi-steal games.
Lou Gehrig: In 34 career World Series games, the Iron Horse authored a .361/.477/.731 triple slash line. He also had 10 homers and 35 RBI -- with 11 multi-RBI games. His six rings aren't too shabby, either.
Hank Greenberg: The Tigers great played in four different World Series, posting a line of .318/.420/.624 with five homers and 22 RBI in 23 games.
Reggie Jackson: The moniker Mr. October was well earned. Jackson was more than his legendary three-homer game in the Bronx. He hit .357/.457/.755 with 10 homers and 24 RBI in 27 career games in the Fall Classic.
Derek Jeter: The owner of five rings has legions of fans and haters alike, but there's no disputing what he did at the plate in his trips to the World Series. Jeter hit .321/.384/.449 with nine doubles, three homers and scored 32 runs in 38 games.
Paul Molitor: He's well known for collecting five hits in a single game, but he's much more than that. Molitor compiled a ridiculous .418/.475/.636 line in 13 World Series games. In the 1993 World Series, he actually hit .500 (12-for-24) with two doubles, two triples, two homers and eight RBI. Joe Carter doesn't get a chance to join baseball immortality without Molitor's MVP series.
Mickey Mantle: While he only had a .257 batting average in World Series play, Mick was adept at getting on base (.374) and hit for serious power (.535). He's also the all-time leader in World Series home runs (18), RBI (40), total bases and runs scored. Some of that is due to having played in 65 World Series games, yes, but he deserves inclusion here on merit. He also has a walkoff homer (Game 3 of the '64 series) to his credit.
Babe Ruth: Any time we talk about anything "all-time," we're reminded why Babe Ruth is constantly mentioned as baseball's greatest player of all-time. Because you can't escape him. In 41 World Series games, Ruth hit .326/.467/.744 with 15 homers and 33 RBI. He's the all-time postseason leader in slugging percentage and OPS.
Al Simmons: The Hall of Famer played in four different World Series, hitting .329/.375/.658 with six doubles, six homers and 17 RBI in 19 games, racking up eight multi-hit games.
Duke Snider: Another Hall of Famer, Duke hit .286/.351/.594 in 36 World Series games, which isn't overwhelming, but he's here because he had two different four-homer series and two series with at least seven RBI. In all, he had 11 World Series homers and 26 RBI.
Honorable mention: Johnny Bench, Yogi Berra, Bobby Brown, Roberto Clemente, Eddie Collins, Lenny Dykstra, Frankie Frisch, Billy Martin, Thurman Munson, Albert Pujols, Edgar Renteria, Bobby Richardson, Frank Robinson, Tris Speaker
One big series guys
Marty Barrett: In the '86 series, Barrett hit .433 with a .514 OBP, tying a World Series record with 13 hits.
Barry Bonds: He only got to play in one World Series, but boy, did he get his money's worth. Bonds hit .471/.700/1.294(!) with four homers and six RBI in the 2002 World Series. The RBI total look low? Well, that's due in part to the fact that the Angels put him on base intentionally seven times in a seven-game series.
Phil Garner: For a trivia question to stump everyone at the bar -- at least those losers who don't read Eye on Baseball: Who is the all-time leader in batting average in the World Series? Yep, it's Garner, who hit .500/.571/.667 in his only appearance (1979).
Hank Gowdy: Gowdy appeared in three World Series, but he was only good in 1914. In that series, he hit .545/.688/1.273 in four games.
Billy Hatcher: In a single World Series -- including only players with at least 18 plate appearances -- Hatcher boasts the top mark in both batting average and on-base percentage. His line in the 1990 World Series for the Reds: .750/.800/1.250.
Hideki Matsui: Godzilla took home the 2009 World Series MVP for the Yankees after hitting .615/.643/.1.385 with three homers and eight RBI in only 13 at-bats.
Amos Otis: In his only World Series (1980), the five-time All-Star hit .478/.538/.957 with three homers and seven RBI in six games.
Willie Stargell: Pops appeared in two World Series, but was unproductive in 1971's Fall Classic. He more than made up for it in 1979, though, when he hit .400/.375/.833 with four doubles, three homers and seven RBI in seven games. He's tied with Reggie Jackson for the most total bases in a single World Series (25).
Rusty Staub: In 1973 for the Mets, Staub made his only World Series appearance. He rose to the occasion, hitting .423/.464/.615. In Game 4, he went 4-for-4 with a homer and five RBI.
Robin Yount: Yount's only World Series appearance came for the Harvey's Wallbangers Brewers in 1982, and the Hall of Famer hit .414/.452/.621 with three doubles, a homer, six RBI and six runs in seven games.
Recent one huge game guys
[Note: This is not comprehensive, given the amount of World Series games ever played. Feel free to mention some more great single-game performances in the comments]
Danny Bautista: The 2001 World Series was one of the best ever, but there was one throwaway game -- a 15-2 Diamondbacks romp in Game 6. In that game, Bautista went 3-for-4 with five RBI.
Albert Pujols: He made honorable mention above with a .255/.423/.545 line. He has four homers and eight RBI in 16 career World Series games, but he had three homers and six RBI in one game (Game 3 of the 2011 World Series). So he's better listed here than anywhere above.
Pablo Sandoval: Panda joined Ruth, Jackson and Pujols as the only men to homer three times in the same World Series game last October. He hit two of the three off Tigers ace Justin Verlander, too.
Gary Sheffield: In Game 3 of the 1997 World Series, Sheffield helped the Marlins take down the Indians by going 3-for-5 with a double, homer and five RBI.
The Pirates recently shipped Gerrit Cole and Andrew McCutchen to Houston and San Francisco,...

Surely, Martinez and his agent are holding out for more

The reliever had a very good 2017 season with the NL Central champs
We don't need to discuss Chipper's Hall of Fame case, so let's have fun instead

Dioner Navarro still hopes to return someday

Christian Yelich's agent says his client's relationship with Marlins is 'irretrievably bro...