The unbeatable ace loses Game 1, and it's up to the Tigers to prove this isn't 2010 all over again
The Tigers' unbeatable ace took a Game 1 beating from the Giants, just as the Rangers' unbeatable ace did in Game 1 two years ago. Justin Verlander of Game 1 2012 was a lot like Cliff Lee of Game 1 2010. Now it's up to the Tigers to prove that the rest of this World Series won't go the way the rest of that World Series did.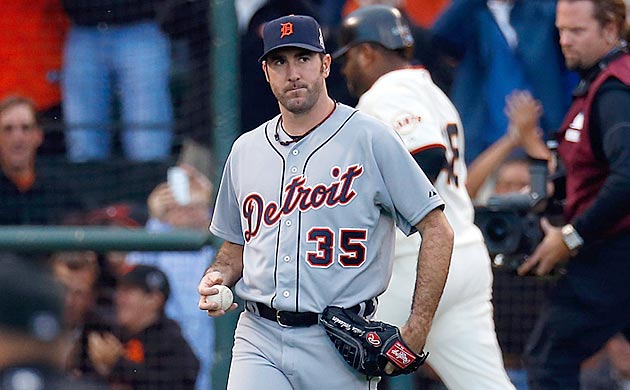 Now Justin Verlander knows how Cliff Lee felt two years ago. (Getty Images)
SAN FRANCISCO -- He stood on the same mound. He took the same beating.
He stood in the same spot in the same clubhouse. He answered the same questions.

It's so easy to look at Justin Verlander of Game 1 in 2012 and see Cliff Lee of Game 1 in 2010. It's so easy to look at the 2012 Tigers and see the 2010 Rangers, a team stunned into a World Series loss to the Giants after seeing their unbeatable ace get beat up in Game 1.

The storyline fits, just as a couple of other storylines fit after the Giants' 8-3 win over the Tigers Wednesday night. There's the story of the Tigers' pre-World Series layoff, which make six days without a game sound like six weeks.

There's the story of the unbeatable Giants, a story fed by the Angel Pagan's ball that hit the third-base bag, turned into a two-out double and helped turn Wednesday's game.
More Tigers-Giants coverage
More World Series Coverage

"Just their night," Prince Fielder said. "They're hot."

Just their night, or just their year?

"I think it's our year," Fielder said with a smile.

Maybe I'm wrong, but the Tigers of Game 1 2012 didn't seem as stunned as the Rangers of Game 1 2010 were.



The rest of us are all shocked to see Verlander lose a game to Barry Zito, to see Verlander look ordinary, to see Verlander knocked out of a game after four innings (and not by rain) for the first time since the middle of the 2009 season.

We're all asking why, and also asking how they recover from this.

But they were saying (or at least Fielder was saying), "Nobody's sad. Fortunately for us, we've got a good pitching staff."

We'll find out about that now, won't we? We'll find out if Doug Fister, Anibal Sanchez and Max Scherzer are really as good as they looked last week against the Yankees.

So what did we find out Wednesday?

Well, we got another reminder that baseball can surprise us, and another reminder that the best pitcher in the game can get beat by a hot (and very talented) team, even (or perhaps especially) in the World Series.

Verlander said he felt "a little out of sync," and didn't dismiss the thought that pitching on seven days' rest helped lead to that. He said that when he tried to elevate the 0-2 fastball to Pablo Sandoval in the first inning, he didn't get it high enough.

He said Sandoval is locked in right now, although that probably didn't need saying.

This was a different kind of game for Verlander, in many ways. It included bullpen activity in the third inning (although the Tigers said that was mostly because both Rick Porcello and Drew Smyly are starting pitchers and needed extra time to get ready). It included a mound visit from pitching coach Jeff Jones, something you almost never see with Verlander on the mound.

"What are you doing here?" Verlander asked Jones. "All you did [by coming to the mound] was get the crowd really into it."

Verlander doesn't particularly like visits to the mound, but that hardly makes him unique among top-level pitchers. Jack Morris, another Tiger ace, hated them even more, saying, "If I suck, I know I suck. Why do you have to come out there and make sure everyone else knows it, too?"

Jones felt like Verlander was rushing, moving too quickly to the plate. That's not uncommon for pitchers, and it's been an issue for Verlander at various times in his career.

It doesn't usually lead to five runs and 98 pitches in four innings, but he's usually not facing a team as locked in as the Giants seem to be.

Is there anything more to this? Just as with Lee two years ago, it's easy to wonder if there was anything physically wrong with Verlander. And just as with Lee, the answer seems to be that there wasn't.

The other "is there anything more to this?" question is about the Tigers.

The Rangers reacted to Lee's Game 1 loss by losing 9-0 the next night, and losing the World Series in five games.

"Everybody says Verlander lost, so the Tigers are going to lose," Verlander said. "That's not the case."

That's the storyline now, isn't it? That's definitely what some Giants officials were thinking -- or hoping -- before this World Series began.

Beat Verlander, and you can beat the Tigers. That's what they were thinking, and even what they were saying.

It's up to the Tigers now to prove that's not true. It's up to the Tigers to prove that they're not the 2010 Rangers, the team that never recovered after the Giants beat up Cliff Lee in Game 1.

"We've just got to win [Game 2]," Gerald Laird said. "Then the momentum's back with us."

Things change quickly this time of year. A week ago, when the Giants were down three games to one to the Cardinals, the Cardinals were the team that just couldn't lose.

The Giants proved that storyline totally wrong, winning the final three games of the NLCS by a combined score of 20-1.

Now they're the team that can do no wrong -- at least unless or until the Tigers can change the story.

We know what the story was Wednesday. The Tigers know it, too.

"I didn't like it, but seeing Pablo hit three home runs was cool to see," Fielder said. "Good story. Good TV."

He was smiling, the way he's always smiling.

"You're never sad or down," he said. "You're in the World Series. It's no time to be melancholy."

No, the Tigers really don't seem as stunned as the Rangers did two years back. The Tigers really don't seem as lost after the layoff as the 2006 Tigers did.

Does that mean they're about to come back?

Good luck figuring that one out. Did you think the Giants were coming back when they lost the first two games of the Division Series -- at home? Did you think they were coming back when their season was in Zito's hands last week against the can't-lose Cardinals?

"Hopefully for us, they're not good at playing from ahead," Fielder said with another smile. "They've been playing from behind."

Now the Giants are the team that can't lose, only more so after they beat the unbeatable Verlander.

That's the story now. It's up to the Tigers to try to change it.
The Astros are still in control of the series, but have been unable to solve Yankees pitch...

The Astros and Yankees will play Game 4 in the Bronx early Tuesday evening

Yankee Stadium helped, but there's more to it than that
Aaron Judge and CC Sabathia had big games

Judge had an impact on both sides of the ball in Game 3

Ausmus most recently managed the Tigers, but won't be headed to Queens