The Week in Overreactions: Blue Jays begin their descent?
For this week in overreactions, let's settle down about the Blue Jays losing four of five (with poor offensive showings) and Kendrys Morales' excellent start without even needing a warm up period.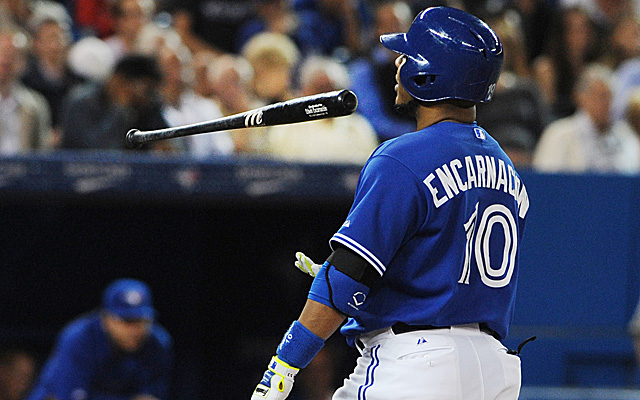 More MLB: Power Rankings | Expert Picks | Latest news & notes | Fantasy news
It's time for another installment of "The Week in Overreactions" -- the idea that was stolen borrowed with approval from our friends at Eye on Football. To the narrative machine!
"Blue Jays."
Consider the following and bundle everything together.
1. The Blue Jays made a huge splash in the offseason before 2013. Many people thought they'd make some noise in the playoff race and maybe even make the postseason. Instead they fell flat -- and the simplest of minds compared them to the 2012 Marlins because a whopping four of their 25 players came from the Marlins in a high-profile trade.
2. The 2014 Blue Jays were picked by many to finish last in the AL East.
3. Those same 2014 Blue Jays were 14 games over .500 after winning 20 of their previous 24 games entering last Friday.
4. Since then, the Jays have dropped four of five games, having their high-octane offense shutout three times and effectively shut down a fourth.
It's not hard to see where things would go from here among naysaying media and fans and I already started to see it on Twitter and message boards. From many different angles, the message remained clear: Here comes the fall back to Earth.
Good lord, let's get ahold of ourselves.
Over the course of 162 games, even the best of teams are going to lose four out of five every once in a while. At one point last season, the Red Sox lost nine of 11. They later dropped four of five on two separate occasions.
No, I'm not comparing the two teams, but I'm illustrating that it's a bit ridiculous to overreact to a five-game stretch.
As for the offense, specifically, I'm not too worried about it. Slumps happen. Ebbs and flows happen. Running into a guy who is going well (like Phil Hughes Wednesday, and, yes, he's going very well right now) happens.
Despite the rough patch, the Blue Jays still rank second in the AL in runs, first in homers, fourth in average, third in on-base percentage, first in slugging and first in OPS. They have two guys capable of finishing in the top 10 of MVP voting (Jose Bautista and Edwin Encarnacion), several more capable of playing like All-Stars (such as Jose Reyes and Melky Cabrera) and a breakout power candidate in Brett Lawrie -- without even mentioning the steady yet underrated Adam Lind.
Looking ahead, the Blue Jays are facing a long, tough road trip. They'll play four in Baltimore before heading to the Bronx for three against the Yankees and conclude with three in Cincinnati. You know what I see, though? Opportunities galore for the offense to get going again.
First up, the Orioles are 11th in the AL in ERA and allow home runs at the second-highest rate in the AL. The Blue Jays also avoid the Orioles' best starter, Wei-Yin Chen, in the four-gamer.
Next, Toronto will head to the easiest park in the majors in which to homer this season while facing the only team in the majors to have allowed more homers than the Orioles, in the Yankees.
If we expand the search of home runs allowed amongst pitching staffs to include the entire MLB, guess who sits between the Orioles and Yankees? Yes, the Reds (fifth-worst in baseball), who play in the second-best homer park this season in Great American Ball Park.
As for the sentiment that the Blue Jays have been overachieving, lots of factors say otherwise. They have a plus-35 run differential, a relatively average strength of schedule, a FIP that isn't much different than their ERA and they haven't been overly lucky on batted balls in play.
The Blue Jays to this point may well have been a fluke, but I doubt it. The smart money is on them bouncing back offensively very soon and having a good enough road trip to come home still in first place in the AL East.
"Who needs spring training? Look at Kendrys Morales!"
The slugger sat around until after the first round of the MLB draft before finally signing his free agent contract this past weekend, and it was signed with the Twins. Since Morales had no options left, he couldn't go to the minors to work himself into game shape.
No matter. All Morales has done in his first three games is go 6-for-14 with three doubles and three RBI. That's a .462/.500/.692 line.
So that means hitters don't need spring training or minor-league rehab assignments, right? Once signed or healthy, just start playing and there won't be rust.
OK ...
Let's apply the same logic that we would when a player goes absolutely bonkers through the first three games of the regular season here. I like Morales to have a solid season for the Twins, but this is still just three games.
Boston wants to add two big bats to their lineup, not just one

Even more relievers signed on the final day of the Winter Meetings

Keep tabs on the top 50 free agents right here
The league is not happy Ohtani's medical information leaked

Kansas City and Baltimore were quite busy at the Rule 5 Draft

Piscotty's mother was diagnosed with ALS earlier this year