The week in overreactions: Fire Brad Ausmus
What are we overreacting to in baseball this week? How about the Tigers' recent struggles?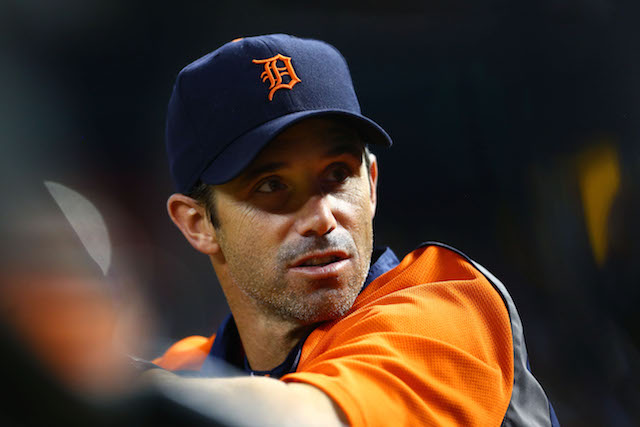 More MLB: Power Rankings | Expert Picks | Latest news & notes | Fantasy news
It's time for another installment of "The Week in Overreactions" -- the idea that was stolenborrowed with approval from our friends at Eye on Football. Now let's release the Kraken, in which "Kraken" means "recent narratives"!
'Brad Ausmus must go'
The putatively mighty Tigers are currently in second place behind the upstart Royals in the AL Central. What was a seven-game lead on July 24 is now a half-game deficit. As a consequence, the Tigers are now tied for the second wild-card spot and on pace to lose six wins from last year's total. What's different about this year's model? Most conspicuously, in the dugout the great Jim Leyland has been replaced by rookie skipper Brad Ausmus. To hear some observers tell it, that's why this should be Ausmus' first and only year at the helm. 
Of course, that's not all that's different about the Tigers relative to last year's model. Miguel Cabrera, while still quite productive, has declined significantly from his 2012-13 levels of performance. The reliable and underappreciated Doug Fister was traded away to the Nationals for a pittance. Andy Dirks has yet to play a single game. Shortstop was rendered a gaping hole by the free-agency departure of Jhonny Peralta and the season-ending injury to Jose Iglesias. Joaquin Benoit -- now a Padre -- and Drew Smyly -- first a starter and a then a Ray -- are no longer around to stabilize the bullpen. Justin Verlander is a husk of his former self. 
The point is that there has been some significant roster churn and some notable age-related declines, and while the David Price addition is obviously significant, he has made just two starts for Ausmus at this writing. 
Let's also state the obvious and point out that the season isn't over yet. It's a half-game deficit -- factually the smallest standings deficit possible -- and we're in mid-August. Back on June 18, the Tigers slipped to a 1½ games out of first. Ten days later, they were 4½ games up. So bear in mind that the present margin is miniscule as such things go.
On another level, the Tigers also boast a run differential that's almost twice as good as that of the Royals. Perhaps that's why -- recent skid and second-place status notwithstanding -- FanGraphs still gives the Tigers an almost 60 percent chance of winning the AL Central. If that likelihood comes to pass, then Ausmus' team will enter the postseason with that powerhouse rotation (assuming a return to health for Anibal Sanchez) and a reasonable chance of hoisting the trophy in the end. 
No, Brad Ausmus isn't as good of a manager as Jim Leyland was, and in a tactical sense Ausmus surely has some shortcomings. However, consider that his team isn't last year's team, and also consider that there's still time for expectations to be realized. 
'Finally MLB will get a commissioner more impartial than Bud Selig'
As you're no doubt aware, MLB owners may soon name Bud Selig's successor as commissioner. Selig, of course, was cut from ownership cloth, having himself been keyholder of the Milwaukee Brewers for years, even well into his tenure as commish. Once an owner, always an owner in a very real sense. So it's good that the game will finally have an overseer who's not so in the bag for one side. Right?
That would be nice in a more sensible universe, but the reality is that the commissioner, no matter who he is, is at best deeply beholden to the owners. The owners hire him -- not expressly but very much tacitly -- to represent their interests. Those interests may be a mixed bag at any given time (it's hard to get 30 team owners to agree on much), but the commish knows who signs his checks. Don't do the owners' bidding, and you wind up ousted like Fay Vincent. So in the end expect the next commissioner to be a less powerful version of Selig, which is probably exactly what the owners want.