The Week in Overreactions: Reds are in serious trouble
The 3-8 Reds are in serious trouble, pitchers these days just aren't as tough as in the old days and someone had to have won that Rizzo-Cashner trade, right? Let's look at the week in overreactions.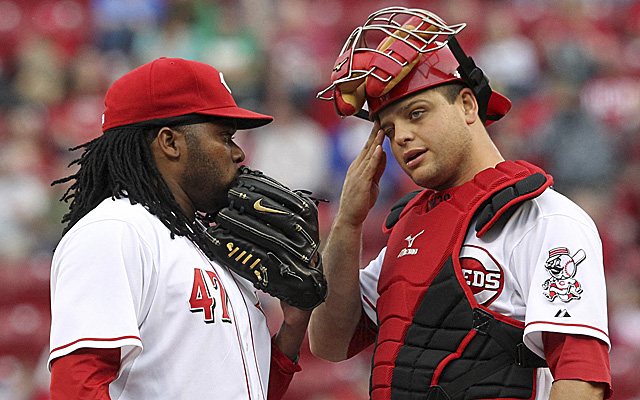 More MLB: Scoreboard | Standings | Probable Pitchers | Sortable Stats | Odds
Over in Eye on Football, my buddy Ryan Wilson does an excellent weekly column called "The Week in Overreactions." With his hearty consent, we're going to bring that thing over to Eye on Baseball. Obviously a Major League Baseball season is ridiculously different than an NFL season, but with so many more games, I actually think there are more overreactions. We'll see. For this week, though, it's been rather easy. Onto the narratives and our disputes with said narratives.
'The Reds are in serious trouble at 3-8'
Look, no one wants to start the season 3-8. It's a terrible start, there's no doubt about it. Factor in the Reds' five-game losing streak to close last regular season and their wild-card beatdown in Pittsburgh and the Reds are 3-14 in their last 17 games. That's real bad, even the Astros would agree.
But in 2014, the Reds have only played 11 games of their 162-game schedule. There's very little reason to panic and zero reason to write them off as a bad team based upon an 11-game sample.
First of all, the Reds have lost five times by just one run. We can't realistically turn all five of them, but let's say they have better fortune and win three of those games. All of a sudden that's a 6-5 ballclub and no one even bats an eye.
There's also the matter of the Ike Davis walk-off grand slam last Saturday. With Jonathan Broxton (at the time) and Aroldis Chapman both on the disabled list, there's a reasonable explanation for the last few innings being an issue.
Still, the Reds do have problems, namely the offense as a whole, Chapman's absence, Mat Latos' injury and Homer Bailey's two poor starts. Let's take a quick look.
•Last season, the Reds finished third in the National League in runs scored, so they had one of the best offenses in baseball. Sub out Shin-Soo Choo and replace him with Billy Hamilton, otherwise it's essentially the same group.
To be certain, that's a big gap in production. Choo was outstanding last season in the leadoff slot, getting on base at a .423 clip. Hamilton had a .308 OBP in Triple-A, so that was going to be a drop no matter how you slice it. And Hamilton has been awful so far this season on the whole, hitting .147/.194/.235. He has faced some pretty tough pitching, though, and showed flashes of ability when going 5-for-14 this past Monday through Wednesday. Overall, he's only hitting .200 on balls in play, which is absurdly low for someone with his blazing speed. He should end up somewhere around .325, assuming he doesn't continue his pace of fly balls (41.2 percent, heading into Saturday. He needs to be more like Willie Mays Hayes and start doing pushups on fly balls).
Basically, Hamilton's a step down from Choo, but he's not this big a step down. He'll improve as the season progresses in addition to facing some easier pitching and having better luck on batted balls.
Beyond Hamilton, Jay Bruce (.158/.283/.368) is going to start hitting much better than this, Joey Votto (.263/.383/.421) is better than this, Ryan Ludwick (.250/.286/.344) will start hitting for more power and Zack Cozart (.065/.094/.097) can't possibly continue to be this bad. I know he isn't good, but that's worse than lots of pitchers will hit this season.
•Chapman will be back eventually and, in the meantime, the Reds now have an active Broxton available to close down games. 
•Latos is awaiting word on an MRI, but the Reds are optimistic that it's nothing serious. He could re-join the rotation in May and provide a boost. In the meantime, Alfredo Simon has been excellent in his stead (1.20 ERA in two starts).
Cardinals' offense. There's not a lot of shame in that, but he's also had some pretty bad luck. He's allowed a BABIP of .438, compared to a career mark of .300. Also, he's only allowed two fly balls, and both were homers. So we can take away two conclusions from that. First of all, he's doing a good job of keeping balls on the ground and just getting unlucky that they're finding holes in many cases (BABIP). Secondly, every fly ball he allows this season won't leave the yard (if you disagree, we can wager on it). So there's a natural regression due here on several fronts. 
His velocity is fine, too, so Bailey is going to start turning things around soon.
In all, the Reds are both better than their record shows and better than they're playing right now. The season is a marathon and the Reds have fallen behind, but it's not a dire situation. They will turn it around at some point and I'm betting sooner rather than later.
'These pitchers nowadays just need to toughen up'
Haven't we long heard that everything "back in [my] day" was better and tougher in every way? Of course we have. And we continue to hear it -- people are just worse at it now than they used to be, right?
The latest was Denny McLain going after Joe Nathan for having a dead arm, but he's far from alone. Every time a pitcher gets injured we get to hear from fans, former players and/or media about how these pitchers nowadays are sissies and back in the old days the guys were tougher.
Which is interesting because pitchers back in the old days just stopped pitching when they got hurt or had a dead arm. Did everyone forget, decide to ignore this or just not know?
Take McLain. He won back-to-back Cy Youngs in 1968-69 -- throwing 661 combined innings -- and then only made 14 mostly ineffective starts in 1970 (thanks to a suspension for reasons that nowadays would make someone more infamous than A-Rod and Braun combined). The following season he was 10-22 -- and he had serious arm injuries and even stopped throwing fastballs at one point. The year after that he had a 6.37 ERA in what would prove his final season. He was 28 and his career ended due to him having a dead arm.
How about Mark Fidrych? The Bird was a sensation as a rookie, finishing second in Cy Young voting and leading the majors in ERA. The following season he was reported as having said that he felt his arm "go dead" and he was never the same. His final year in the majors was his age-25 season.
Elbow troubles ended Sandy Koufax's career at age 30, too, when he was in the midst of perhaps the most dominant stretches in MLB history as a pitcher.
We could keep going. History is littered with examples like the three above. Sometimes the pitchers were Hall of Famers and sometimes they were also-rans. Arm issues have been around since the beginning of overhand pitching. The human arm simply isn't meant to do what these big-leaguers do. Pitchers nowadays are bigger and stronger than ever, too.
Arm injuries aren't going away and that doesn't mean pitchers aren't tough. They are very tough. Careers are actually lengthened due to advances in medical technology.
Let's please stop revising history, especially if you're a guy who once saw arm injuries -- among other, nefarious, off-field things -- ruin a once-great career.
'The [insert Cubs or Padres] won that trade'
On January 6, 2012, former first-round draft picks Andrew Cashner and Anthony Rizzo were traded for each other. Ever since then, the two have been constantly compared in some circles and we seem to always be in a rush to declare one side or the other the "winner" of the deal. Cashner has a huge outing while Rizzo struggles: The Padres won the trade. Rizzo catches fire for a few weeks while Cashner has a couple bad outings and his shoulder bothers him: See, I told you the Cubs won it.
Let's just please stop.
Cashner, 27, just threw a shutout against the Tigers. He's now sporting a 1.29 ERA and 0.81 WHIP through three starts with 22 strikeouts in 21 innings. His stuff is electric and he could well be headed to the All-Star Game this year in breakout fashion.
Rizzo, 24, is off to an outstanding start himself, hitting .326/.400/.442 with two doubles, a homer and six RBI so far. His homer was a go-ahead shot in extra innings and he's fresh off a four-game streak of multi-hit games. Perhaps best of all, he actually appears comfortable in the batter's box again. With his immense upside, he could well join Cashner at the All-Star Game.
Both Cashner and Rizzo are great candidates to have a breakout season in 2014. Let's just enjoy it without splitting hairs and trying to figure out which team "won" the trade -- because there's actually no such thing as a win-loss column on trades that happened over two years ago.
The superstar is one year away from free agency

The Angels knew about it and still wanted to sign the potential ace, of course

The Tigers asking price is supposedly very high, though
Your one-stop shop for all things MLB Winter Meetings-related

Bryan Mitchell also heads to San Diego in the reported deal

The super agent is aiming high for free-agent starting pitcher Jake Arrieta's payday