The Week in Overreactions: The Dodgers are surging
Let's take a look at a couple of narratives that are taking hold in baseball and whether they hold merit.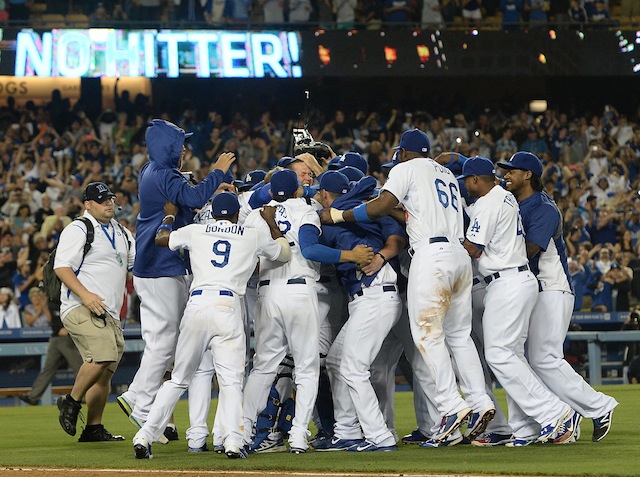 More MLB: Power Rankings | Expert Picks | Latest news & notes | Fantasy news
It's time for another installment of "The Week in Overreactions" -- the idea that was stolenborrowed with approval from our friends at Eye on Football. To the narrative machine!
The Dodgers are surging
As a factual matter, yes, the Dodgers are indeed trending upward. They've made up 5½ games in the standings on the first-place Giants in a span of 10 days, and they've won eight out of their past 11 games (oh, and punctuating all of this recent success is of course that utterly splendid no-hitter from Clayton Kershaw).
All that said, let's put things in context. Let it be known that the Dodgers have now played 32 straight games against current losing or .500 teams. Yes: 32 straight. Stated another way, the Dodgers haven't played a winning team since they lost to the Marlins on May 14. That's a remarkably accommodating run of schedule, to say the least. They've gone 18-14 over that span. That's good, but it's decidedly not great given the level of competition.
More to the point, the Dodgers this season are 28-18 against losing teams but just 12-16 against teams that are .500 or better. To be sure, it's good to fatten up on lesser competition, and contending teams should do just that, but the Dodgers haven't fared well against quality opponents.
In a related matter, the Dodgers have played 62.2 percent of their games in 2014 against teams with losing records at the moment. That's the highest percentage in MLB, and it's largely why the Dodgers rank 28th in strength of schedule. (For comparison's sake, the Giants have played 52.8 percent of their games against losing teams.)
Regarding all of this, it's worth noting that the docket is going to toughen up a bit for the Dodgers going forward. Of their remaining 88 games, exactly half will come against teams that currently have a losing record. That's not a death march by any means, but it figures to be more rigorous than what the Dodgers have faced over the past five weeks or so.
So, yes, the Dodgers are indeed climbing the standings, but let's see if the surge lasts against more worthy opponents.
Stop talking about Brian Dozier; he's batting .234
Yes, Twins second baseman Brian Dozier is batting .234 this season (through Wednesday). However, in spite of that mark he has been one of baseball's most valuable performers in 2014. This is the case for three reasons: His secondary hitting skills are exceptional, he mans a key defensive position, and he's a top-tier base-runner.
On the first point, Dozier draws walks (his 44 free passes -- all unintentional -- rank third in the AL), and he's on pace for 35 homers. Those walks and that power lift his OPS up to .792, all while playing his home games in a pronounced pitcher's park. That's the hazard of focusing on batting average -- you miss out on the other, often more important ways a hitter contributes value.
As for the second point, that .792 OPS of Dozier's compares quite favorably to the average MLB second baseman's 2014 OPS of .689. Dozier's bat, already impressive in terms of reaching base and hitting for power, looks even better when compared to his positional peer group. In terms of his base-running, Dozier has 15 steals in 19 attempts thus far, and he has taken the extra base a highly impressive 73 percent of the time. Per FanGraphs, Dozier ranks sixth in MLB this season when it comes to base-running WAR. 
So, yes, Brian Dozier is batting .234. However, if your focus ends there, then you might plausibly be accused of ... overreacting.
Then again, three trades in four days might be behind Jerry Dipoto's usual pace

Ohtani is arguably the best hitter and pitcher in Japan

The O's need rotation help, and Cobb is available for hire
The Red Sox and Cardinals are expected to make trade offers next

The free agent first baseman may be a fit in St. Louis

The front office changes in Atlanta continue