The Yankees are vulnerable in 2013, but age only tells part of the story
The Yankees are more vulnerable this year than they have been at any point in the past decade, but the age of their roster only tells a small piece of the story.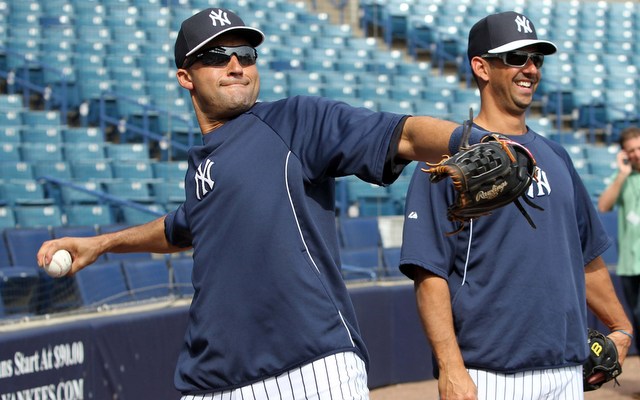 RELATED -- NYY team preview | Camp report | Likes, dislikes | Prospect watch | Podcast
Opening day is now just one month away, and surely you've seen more than a few people this spring say the Yankees are in a bit of hot water this year. The Blue Jays and Red Sox are improved, the Orioles are coming off a 93-win season, and the Rays are always tough thanks to their seemingly never-ending supply of quality starters. The Yankees, meanwhile, have the third-oldest team in the league (according to ESPN) and waved goodbye to productive players like Nick Swisher, Russell Martin and Eric Chavez.
That advanced age has had people predicting the fall of the Evil Empire for several seasons now. At some point, all that age will catch up to them and this is the year, you'll see! People have been promising that since about 2005 and it has yet to happen. In reality, age has very little to do predicting success. To wit:
The chart shows the average age* of every team over the last five years -- courtesy of Baseball-Reference.com -- plotted against their winning percentage. One-hundred-and-fifty data points in all, and the R-squared is 0.152. An R-squared of zero would represent no correlation, an R-squared of 1.0 would represent perfect correlation. Age and winning have had very little to do with each other over the last five seasons.
* The average ages are weighted by playing time, so the 20-year-old who gets ten at-bats as a September call-up counts far less than the 38-year-old DH who came to the plate 400 times.
As Tim Marchman of the Wall Street Journal wrote in February, getting old is nothing to fear, at least in baseball terms. Older players who continue to get jobs tend to do so because they can still play, so there's a selection bias. Front offices have become very good at being brutally honest, jettisoning past-their-prime stars when they are no longer worth the roster spot. Think Michael Young and the Rangers or Derek Lowe and the Braves. Those clubs happily ate millions of dollars for the sake of getting better.
The Yankees, on the other hand, welcome the old. They took 39-year-old Ichiro Suzuki -- .644 OPS from opening day 2011 through the 2012 trade deadline -- off the Mariners' hands and watched him put up a vintage Ichiro! performance down the stretch last year (.794 OPS). Derek Jeter led the league in hits (216) at age 38. Forty-year-old Raul Ibanez hit clutch homer after clutch homer in late September and October. Right-hander Hiroki Kuroda fought off Father Time (and the NL-to-AL transition) to post a career-best 126 ERA+ in a career-high 219 2/3 innings in 2012. Being old and productive is the Yankee way these days.
Why has it worked? Well, lots of reasons really, including plain ol' dumb luck. That's always a factor. Three others stand out to me:
Talent. The Yankees aren't bringing in aging part-timers and expecting miracles, they're hoarding former stars and helping them stay productive. As assistant GM Billy Eppler said to Marc Carig of the Star-Ledger back in 2011, "there has to be something to reclaim" when you're targeting players past their proverbial expiration date.
Work ethic. These old players GM Brian Cashman & Co. are acquiring are all highly regarded for their willingness to put in the necessary work and make adjustments. That could mean revamping a swing as Kevin Youkilis did this offseason, or it could mean adjusting a between-starts routine as Kuroda did last September.
Comfort. At some point the Yankees realized old players want to play with other old players, especially well-respected old players like Jeter,

Mariano Rivera

and

Andy Pettitte

. Chemistry doesn't necessarily translate into wins, but it sure as heck doesn't hurt.
Much like on-base percentage a decade ago and defense more recently, older players have become something of a market inefficiency, a market inefficiency the Yankees have become especially adept at exploiting. They sign these guys to favorable terms, usually low-base salary one-year contracts, and cycle through new players every year. When they've missed -- Randy Winn in 2010, for example -- they're quick to take action and find a replacement. These veterans allow the Yankees to limit long-term risk and maintain some roster flexibility.
"Do we need to get younger? Only if it gets us better," said Cashman during a radio interview in October. "Do I want us to be younger and better? Yes, but will I sacrifice, would I go younger to make us worse and forgo better choices that are older that make us better? No ... In theory, I want us to get younger and better, but in reality, that's not always realistic; it depends on what is immediately coming through your system and if you feel that the players currently knocking on the door are potential everyday guys."
Therein lies the rub. Age in and of itself is not the reason the Yankees are in danger this season, it's a combination of things. For starters, they did not get better despite Cashman's comments, specifically weakening their offense quite a bit by letting Swisher, Martin and Chavez go.
Ichiro has an outside chance of replacing Swisher in terms of net production, but it would be a defense-heavy contribution.
Projected catchers Chris Stewart and Francisco Cervelli are essentially zeroes at the plate while Chavez's production off the bench (16 HR and 126 OPS+) won't be replaced. Even if they had re-signed him, it's unlikely he would have repeated that performance.
Curtis Granderson's fractured forearm compounds the offensive trouble -- he's expected to be out until early May -- and signifies another major concern for New York: injury.
Jeter (ankle), Rivera (knee) and CC Sabathia (elbow) are all coming off surgery while Granderson and Phil Hughes (back) suffered injuries in camp. Both Kevin Youkilis and Travis Hafner are on the wrong side of 30 but still a few years away from Jeter/Ichiro/Rivera age territory, yet they've combined for nine (!) DL trips in the last three seasons.
Alex Rodriguez will be out until at least the All-Star break following left hip surgery in January.
Yankees Projected 2013 Lineup
Player
Age
Projected 2013 WAR**
Games lost to injury in 2012***
Ichiro Suzuki
39
1.1
0
Derek Jeter
38
1.7
1
Robinson Cano
30
6.0
1
Mark Teixeira
32
2.9
35
Curtis Granderson
31
3.0
1
Kevin Youkilis
33
2.7
29
Travis Hafner
35
1.1
78
Brett Gardner
29
2.0
143
Chris Stewart
31
0.5
0
** Projected WAR using ZiPS system, courtesy of FanGraphs.
*** Injury data courtesy of Baseball Prospectus.
Are older players more injury prone? Conventional wisdom say yes but definitive injury research is still lacking.
Older players -- and older people in general -- do tend to require more time to recover than younger players, and that refers to coming back from injury and simply holding up over the course of a 162-game season. Outside of A-Rod, the only injuries expected to carry over into the regular season are those to younger players like Granderson, Michael Pineda (shoulder surgery) and possibly Hughes. Jeter and Rivera would need to suffer some kind of setback between now and then, which is always possible. Right now they're on track to be in the lineup (and bullpen) come April 1st.
The Yankees compounded their injury and offensive concerns by adding alarmingly little depth this offseason. They're scrambling to replace Granderson with a hodgepodge of internal options at the moment and have no obvious infield solution should Jeter be slow to recover or Youkilis hit the DL. Running Eduardo Nunez and Jayson Nix out there on an everyday basis is a sketchy proposition, but then again most teams would be in trouble if they lost their starting shortstop or third baseman. Just look at the initial reaction to the Will Middlebrooks injury on Wednesday night; it exposed just how shallow the Red Sox are on the left field of the infield.
Owner Hal Steinbrenner has been very public about his desire to get the team's payroll under the $189 million luxury tax threshold by 2014 in recent months, which limited Cashman this winter. They had to focus on short-term contracts to retain flexibility at a time when baseball is flush with cash and other teams are more willing to spend than ever. That unwillingness to spend (even more) money is another concern along with the injuries, offensive concerns and lack of depth -- will they be able to add reinforcements in-season if needed? That's a question that won't be answered until a need arises.
I'm not going to sit here and say the Yankees aren't more vulnerable now than they have been at any point in the last 10 years. They obviously are, but citing their collective roster age paints an incomplete picture. We're conditioned to think "old = bad" in sports when that isn't necessarily the case. Nine of the 11 oldest teams -- in terms of average roster age per the chart above -- over the last five seasons went the playoffs, so it's not impossible to be old and successful. Young players are just as likely as old players to stink, especially when they first break into the league.
The Yankees are at risk this summer because they have several important players -- hard to find three more important players than the starting shortstop, ace left-hander and closer, no? -- coming off injury while their key offseason imports represent offensive downgrades from their predecessors. All of those problems are compounded by a general lack of depth and uncertainty regarding the ability to take on payroll. New York painted itself into this corner by willfully downgrading the offense to satisfy their self-imposed payroll cap, leaving them vulnerable in key spots. They're still a very dangerous team capable of winning the AL East, but the cracks in the dam are growing larger by the day.
For more baseball news, rumors and analysis, follow @EyeOnBaseball on Twitter, subscribe to the RSS feed and "like" us on Facebook. Also, individually interact with us on Twitter: @MattSnyder27, @daynperry and @mikeaxisa.
The Dodgers and Braves pulled off a whopper on Saturday

Sabathia will reportedly spend a 10th season in the Bronx

Fowler suffered a knee injury at Chicago's Guaranteed Rate Field
The lefty starter is coming off a terrible season

After acquiring Ian Kinsler and Zack Cozart in recent days, the Angels are trending upward

Cozart's coming off a big season as the Reds' shortstop