The Yankees' pine tar pinhead outdoes himself this time
MLB gave Michael Pineda a break the first time, merely warning him not to be so obvious with skirting the rules. He didn't listen, and this time he won't be so lucky.
More MLB: Power Rankings | Expert Picks | Latest news & notes | Fantasy news
We've learned a lot about Michael Pineda in the short time he has been an active Yankee.
Some phrases that come immediately to mind: Pleasant personality. Great breaking ball. Giant goofball.
Hard to say what's more obvious at this point, the pine tar he wears on his neck or the falsehoods that spill out of his mouth.
First time against the rival Red Sox, he had the pine tar on his pitching hand, switched it to his wrist, and then told us it was dirt.
Second time, the pine tar was glued to the right side of his neck (toward third base, and away from the Red Sox dugout; how clever!), and his claim was that the Yankees never talked to him about his use of the pine tar between the first time he was caught and the second.
That suggestion is obviously absurd, even if Yankees general manager Brian Cashman hadn't told us there had been "enough conversations" regarding what Pineda needed to do better. Of course we had to know he was talked to.
What else was there to talk to him about?
Yet, Pineda, straight-faced and otherwise seemingly contrite, told the writers about the presumed conversations following the first time he was spied with pine tar, "Nobody talked to me about that."
Give him this. He finally admitted it was pine tar after his defeat to the Red Sox, he didn't disagree when someone mentioned it was against the rules and didn't protest much when someone asked whether he thought he might be punished further.
So he was on a truth streak there for a while. Maybe he figured his percentage of truth-telling was high enough for the day, and he would give it a shot. How silly.
Oh, the Yankees told him to stick the pine tar you know where, there's no doubt about that. The league office did the pine-tar-using pitcher a favor last time, sending the message through the storied team to make sure to tell their misguided pitcher to be more discreet about his use of the sticky stuff.
You think the Yankees forgot to mention this to him? Uh, no shot.
League higher-ups aren't so foolish to think the use of pine tar among pitchers isn't prevalent, so they gave Pineda a mini break, one he tried to take advantage of. League higher-ups get that there's an unwritten code to keep the foreign stuff hidden. So the league rather plainly reminded the Yankees about that in phone calls to top Yankees brass that came immediately after Pineda's first indiscretion.
MLB was doing Pineda a favor of sorts, not because he's a special case but because he's one of a pack of pine-tar enthusiasts. Not only was he not punished for his first violation, but according to people familiar with the conversations he was told through club intermediaries not even quite that he can't do it again but only that if he does it again, don't let anybody see it. In other words, don't make it so obvious, big fella.
So what does Pineda do? He plants a baseball-sized glob of the stuff on the side of his neck, where everyone -- and every camera -- can catch it. He must think we live in a technology-free society.
MLB, whose rules czar is none other than Joe Torre, was being nothing if not realistic in its original leniency. They understand pine tar is needed by many, if not most, pitchers, mostly to grip balls on ultra-cold nights. So Torre and Co. told the Yankees to tell him to be discreet, to not make things so obvious.
Of course, a massive gob of reddish-brown goo on the side of one's neck could not have been more obvious if he wore a sign out there. It was so obvious that Red Sox manager John Farrell had no choice but to complain, as every pinstriped person conceded. Farrell didn't want to, but felt he had to.
Cashman found plenty of blame to go around on his own team but had nothing but acceptance for what Farrell did. "I would want our manager to do what John Farrell did," Cashman said, candidly.
Cashman was honest in all his answers, though he wisely, correctly and probably mercifully spread the blame around his own area. Cashman didn't finger anyone by name in his dugout, who had to see something unless they were asleep (they may well have been), but stood up and spread the responsibility for this mess, saying the whole organization was "embarrassed" about what transpired. Good for him.
Cashman's message was refreshing, especially as it came after impenetrable manager Joe Girardi's practiced and expert Sgt. Schultz impersonation. (I hear nothing. I see nothing. I know nothing.)
Girardi may well have known nothing. But the point is, he should have known something, and he should have admitted as much. Or someone in that dugout should have. A coach, a member of the medical staff, the team psychiatrist, someone. They need to have control of their roguish player, as Cashman basically admitted.
"I am surprised that we as an organization are in this position," Cashman said in his effort to start to spread the blame. "We're all witnesses. We're all a part. There's clearly a failure and a breakdown if he wound up walking out of the dugout with something like that."
So while Pineda was absurdly claiming the organization didn't tell him to stop, Cashman, while not going along with that ridiculous storyline to absolve Pineda, was both kind and wise to try to push some of the blame to others. Pineda indeed looked shellshocked during his interview, and Cashman correctly read that he needed to help Pineda feel he wasn't on some island of goo, all by himself.
Give the pine tar pinhead credit for this much: He didn't run away and hide and did face the tough notes of the New York media.
And maybe it's right that his Yankees bosses didn't warn him quite often enough. If they told him 10 times, maybe they needed to tell him a hundred times. Some guys, after all, catch on quicker than others.
Maybe the Yankees needed to write a reminder on his glove, or to hold his hand, or to scrawl it on the side of his neck, for that matter. Maybe they are guilty of not knowing how crazy he is about this stuff, of not knowing that on the maturity scale he's in a neck-and-neck (sorry) battle for the basement with even Jesus Montero, the young man with the sinking career he was traded for two years ago, the young man who admitted upon arriving in Seattle's camp this spring that the reason he looked like he weighed 270 pounds and resembled a blimp is that he couldn't stop himself from eating everything in sight.
Montero is buried in the minors for struggling Seattle, so in terms of baseball value the Yankees stand far ahead in the trade of child-like savants. They are quite a pair indeed, a couple addicts in their own way (Montero for food and Pineda pine tar). But in the race for maturity, by owning up to his sins even Montero may be a neck in front.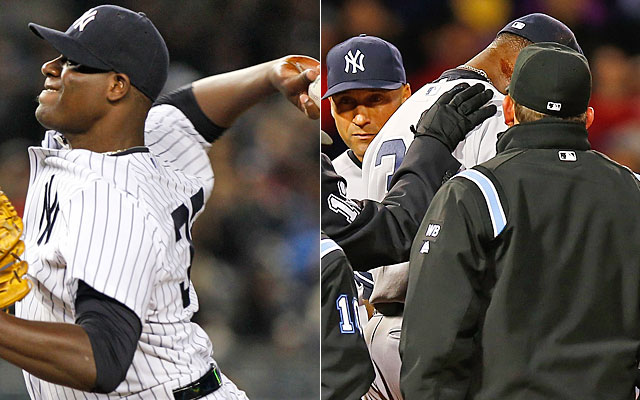 The coveted right-hander would certainly be a fit in Milwaukee

We rate the best mustaches from random baseball cards because, why not?

Colon wants to break a Dennis Martinez record
The Twins have been rumored to be interested in Darvish all winter

Rolen is one of the best third basemen of all time, but you wouldn't know it based on this...

Neither Josh Donaldson nor Brian Dozier have talked about a new contract extension