Theo won't have seat at Fenway, but he deserves assist for title run
Former GM Theo Epstein made many of the player and personnel moves that put the Red Sox in position to win a third title within a decade.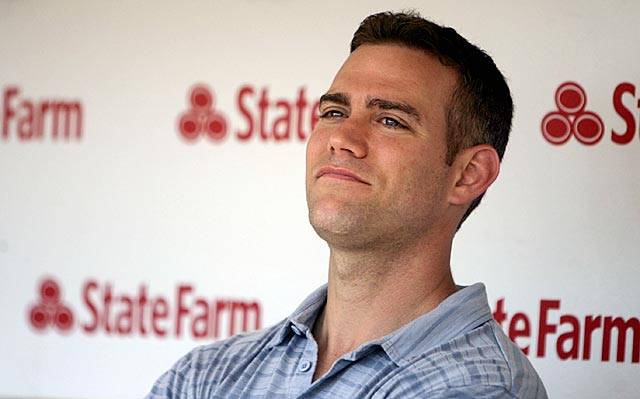 BOSTON -- Former Red Sox general manager Dan Duquette attended three of the four 2004 World Series games, as he felt a strong bond with the historic team he helped build even though he'd been gone two-plus years. The attendance of Duquette, now the GM of the rival Orioles following a long wait to get back into the game, perplexed some Red Sox execs at the time. But Cubs president Theo Epstein, similarly gone for two years, surely gets it now.
Epstein is too busy trying to write a similar story with the Chicago Cubs, who haven't won a World Series championship since 1908 (and also busy trying to hire a new manager), to even think about making it back to Fenway for what could be a crowning achievement by these Red Sox, a third World Series ring within a decade. But at least he is starting to understand how Duquette felt to watch Pedro Martinez, Manny Ramirez, Derek Lowe, Jason Varitek and many of the guys he acquired help beat the Cardinals nine years ago to break an 85-year title-less streak.
Not only is Epstein not here, but he won't even talk about his own contributions to this team, as he wouldn't dare detract from the accomplishment of current GM Ben Cherington, his longtime former assistant GM and close friend. He doesn't need to, though. It's obvious.
"I'm thrilled for Ben, John and the rest of the baseball operations staff, most of whom are still dear friends," Epstein said by text. "They have done a wonderful job with this year's club and in many cases now for a decade with the Sox. It's been fun to watch them restore the franchise to its proper place and perhaps soon to new heights."
He'll watch it from afar, though, for obvious reasons.
Epstein also declined to go over a litany of many key moves -- arguably, the six most vital Red Sox players were brought in while he was at the helm -- and also made sure to emphasize the importance of Cherington, whose plan to revamp a wreck of a clubhouse dynamic and sign vital complementary pieces to short deals with high annual salaries worked so perfectly that many other teams are suggesting they might copy it.
Cherington, the likely executive of the year, and his bosses also get an assist for clearing the payroll space with the stunning trade with the Dodgers that offloaded $263 million in player salary commitments. Vitally, that deal helped changed a clubhouse culture that badly needed it (and brought back two big prospects in an organization full of them).
Aside from the mega trade that's still worth celebrating, however, last year was such a disaster up here there was at least some offseason speculation that Cherington's spot might not be perfectly solid heading into his second season. That may have been little more than idle chatter, but there's no doubt the pressure to win now is as strong as anywhere.
Cherington was an advance scout with a superb work ethic and serious bent when Epstein arrived. But Epstein saw the potential, promoting him to become farm director and then assistant GM before ultimately recommending him as his successor when he left for Chicago following the 2011 season.
Epstein also hired John Farrell, now Boston's manager, as Red Sox pitching coach after the 2006 season.
Following a 2011 season that ended badly for everyone involved, Epstein believed, even understood, he was ready to go after a decade in Boston. But with his trusty lieutenant Cherington in place, he felt less like he was abandoning his hometown team.
Epstein wrote upon his exit two years ago in an October 2011 editorial published in the Boston Globe, about the plan taking root even before the bad finish.
"My assistant general manager, Ben Cherington, and I discussed how best to finish preparing him to take over as general manager, likely after the 2012 season, and how to ensure that the Red Sox could maintain continuity within our talented baseball operations group," Epstein wrote. "Those steps were important for me before I could begin to feel comfortable making a transition. This summer, when ownership and I first discussed Ben as my successor, the Red Sox were stable, thriving, and talented enough in the big leagues and in the farm system to compete as one of the best clubs in baseball this year and for many years to come."
Despite the rosy prediction that looks very true today, some folks have suggested Epstein left the Red Sox with some issues. Some lambasted him for some free-agent moves that failed, most notably Carl Crawford for $142 million. The reality is, though, there was plenty of talent still in place, with some truly special prime-time players, including David Ortiz, Dustin Pedroia, Jon Lester, John Lackey, Jacoby Ellsbury and Clay Buchholz.
"Theo's contributions to the team are all over the place -- players on our big-league team, players in the system, people in the front office, etc.," Cherington said. "He helped create a new standard for baseball operations in Boston, a standard we continue to try to push forward."
Of course, the players are the key. Epstein signed Ortiz and Lackey as free agents and was at the helm for the drafting/signing of Pedroia, Lester, Ellsbury, Buchholz, Xander Bogaerts, Felix Doubront, Junichi Tazawa, Daniel Nava, Jarrod Saltalamacchia, Will Middlebrooks, Brandon Workman and Franklin Morales.
Ortiz is a bit more of a bargain at an original signing price of $1.25 million, but Lackey, a move that bordered on disastrous until this season, now looks very worthwhile, as well, even at $82 million for five years.
The drafts really are the bigger key, though. Lester came as a second-rounder in 2002 (Epstein technically was assistant GM for that one, with Mike Port GM). Pedroia was a second-rounder in 2004.
Ellsbury came in the first round in 2005. Buchholz was a supplemental first-round pick that same year.
Josh Reddick, Jed Lowrie and Jose Iglesias were three more who came during Epstein's tenure, traded to enhance the roster in other ways.
The foundation also looks especially strong. Things can change, but they carry a considerable edge in young talent on the arch rival Yankees going into the next decade.
Besides Bogaerts, who has been ultra impressive as a 21-year-old this postseason, there's outfielder Jackie Bradley Jr., third baseman Garin Cecchini, second baseman Mookie Betts, catcher Blake Swihart and pitchers Matt Barnes, Anthony Ranaudo and others.
By all rights, Epstein deserves to take a front-row seat and a bow -- though he wouldn't dare to do so.
Pawol is expected to umpire in the minors again come the regular season

No. 3 Texas Christian is looking to ruin Long Beach State's return home

Martinez's physical isn't taking much longer than usual
The Rangers have a lot riding on Mike Minor and Matt Bush

Though the process is far from complete, taxpayers got good news Thursday

Dickerson had been designated for assignment by the Rays last week