There are 8 million stories in the city -- all of them about A-Rod
Alex Rodriguez has produced no homers or hits, but he continues to make news. This story is about his rift with the Yankees' organization.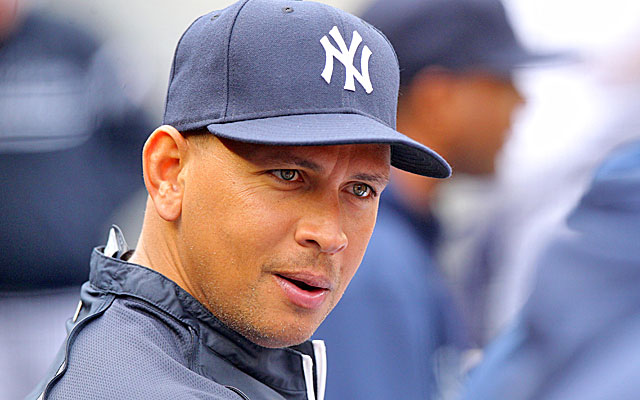 NEW YORK -- The mega star the Yankees desperately wanted back and healthy announced Wednesday he's having surgery and will be good to go just in time for Thanksgiving. Pass the turkey, Mark Teixeira.
Another mega star the Yankees want no part of (and if they do, they have a funny way of showing it) announced via Twitter that he's been cleared to start playing.
Which shows you how things are going for America's most storied franchise, which still knows how to generate stories -- not all of them warm and fuzzy.
Although, as we know now, the part about Alex Rodriguez being cleared to ramp it up for games isn't quite right, not at least according to Yankees general manager Brian Cashman, who as we know by now told A-Rod via an ESPN New York reporter who got him on the phone that Alex Rodriguez should "just shut the f--- up.''
Yep, the circus is back in town. Though the Yankees are running out a lineup of D-listers (and good for them that they can stay in the tough AL East race this way), they continue to make big noise.
At the press conference ostensibly to formalize Teixeira's bad news that the wrist he hurt way back in March while hitting off a tee (who knew that was so dangerous?) in preparation for the WBC now requires season-ending surgery, the A-Rod/Cashman tiff naturally knocked Teixeira's announcement down to agate point type. You see, it's not every day that the general manager of the most buttoned-down team on Earth goes that far off the script to incorporate the world's best known curse word in regards to his highest-paid player.
That, of course, is A-Rod's problem. He makes too darned much money, having been a far better negotiator than he is a past-his-prime ballplayer. That and the fact that he is in the crosshairs of Major League Baseball for allegedly being a PED patient of the sleazy former PED dispenser Tony Bosch, who is now MLB's star witness.
And a million other reasons, of course.
Most of all, A-Rod is undoubtedly one of the most annoying employees in the history of work. He demands attention, even when he's doing nothing, which he pretty much still is, unless you count batting practice at an empty field a thousand miles away from the Yankees. Which as we said, is exactly where they want him.
Ever notice that when the Yankees are in Tampa, A-Rod is desperately needed in New York? And when the team is in the Bronx, Rodriguez (who is indeed progressing, even if there's no set game schedule yet) is back in the Tampa Bay. Surely, this is no accident.
Rodriguez long ago got under Cashman's skin, and it's no wonder. This is just the first time it became so obvious.
Rodriguez's tweet very likely would have been seen as harmless if the tweeter didn't carry the near-decade-long rap sheet of annoying behavior. If anything, this tweet seemed rather cheery. "Visit from Dr. Kelly over the weekend, who gave me the best news -- the green light to play games again!''
Along with the tweet, A-Rod (or perhaps one of his gaggle of publicists) posted a picture of Dr. Kelly sitting with him. Though as Cashman tells it, the noted Kelly may well have viewed A-Rod while there to see prospect Ty Hensley (the 2012 No. 1 pick who also had hip surgery) but wasn't there to give A-Rod the go-ahead to play.
And besides that, that decision is up to Yankees doctors, who very likely wouldn't be caught dead in a picture with A-Rod.
Had A-Rod been your run-of-the-mill Yankees superstar, or really anyone but A-Rod, this tweet would have been left unchallenged. But this being A-Rod, and A-Rod long ago having lost his benefit of the doubt, Cashman exploded.
 The GM, already annoyed to have spent the previous day correcting what he considered a false story a day earlier about that very subject (A-Rod being ready to begin his rehab games), wasn't too happy to hear A-Rod taking the opposite viewpoint. A-Rod's tweet made Cashman look like he didn't know what he was talking about, or worse, and maybe that's part of why Cashman, normally as cool as they come, went nuts.
"The tweet created some issues, then I obviously created more issues,'' Cashman acknowledged.
To be fair, the tweet was barely a blip on A-Rod's rap sheet, then Cashman turned it into yet another back-page story involving the invisible man. Which is why Hal Steinbrenner, the Yankees' managing partner, gently told Cashman that he'd wished he handled things a little differently, before reiterating Cashman's message to A-Rod when the $275-million player approached him in the weight room Wednesday morning.
Cashman, a better employee than A-Rod, conceded that Steinbrenner imparted the message "in a more professional way. ''
Cashman also agreed that he'd over-reacted, or at least should have picked a better way to express himself. "I regret the choice of words I made,'' Cashman said.
That said, he wasn't backing down from the message. Cashman explained that Rodriguez had been told long ago that the team would be the conduit of injury information regarding A-Rod. He didn't accuse Rodriguez of purposely tweaking him after he denied there was already a return schedule, though you have to think it might have occurred to him that maybe it happened that way.
Cashman did refer to A-Rod's tweet as "false hustle,'' which is baseball-ese for pretending you have more going on than you really do.
Cashman was asked if there was a rift between A-Rod and club management, and the GM went into an explanation of about how relationships ebb and flow (my words), or something like that. I wouldn't call that a false answer. But the real one is that Cashman is quite apparently fed up, and probably several others are, too.
Teixeira, in one of the most upbeat press conferences ever (his part of it anyway) for a player being out for the year, kindly thanked the media for not bugging him, then praised the Yankees as being one big happy family. Maybe Mark doesn't read the papers.
This is a player who started his $275 million contract with an expectation that he'd become the all-time home run hitter, and while he had a rep for drama way back then, there was as much to like as not like. Now six years later, while he did help the Yankees win their 27th World Series title in 2009, it's almost all bad.
It's all drama, no production.  He has nine tweets, no hits.
A-Rod has been out all year, and less than stellar for a few. But he isn't the type to recede into the sunset. No, not him.
Instead, he spends a lot of time in his new roles as real estate speculator, agent recruiter and Page 6 regular. He's a staple on the gossip pages, and still gets more back pages than everyone else on the Yankees combined -- without hitting a homer or catching a grounder.
Rodriguez came into the contract with a penchant for the long ball. He'll leave, once he's finally out of here (4½ years and $100 million to go, folks) with a knack for publicity -- some good, most lousy.
A-Rod admitted to failing one MLB steroid test, but he denied the latest bombshell allegations abut him and the Miami clinic Biogenesis with the thinnest of explanations (and none to his teammates). He's hired a raft of PR people, dated a slew of starlets and dabbled in all sorts of business ventures, at one time even supporting one stupid brand of coconut water while promoting another. Sometimes he appears to have a coconut on top of his neck.
But what's really bad is, he is breaking down, big piece by big piece.
If he was indeed a customer of the Miami "wellness'' clinic (for the record, A-Rod has denied being a patient), he is at an all-time high for sickliness.
Cashman denied the Yankees are delaying his return to games because they are stalling, either to collect the vast insurance loot or await some suspension for his alleged connection to Biogenesis.
False and false, Cashman said.
For the record, no public put-down (even one involving swearing) is going to enhance their chances to collect insurance money. That will very likely be played out in the courts for many months after this soap opera closes.
"He's not being slowed down,'' Cashman asserted. "We needed him yesterday.''
But yesterday, as we know now, wasn't on A-Rod's game schedule. At least not the team's official one.
Boston wants to add two big bats to their lineup, not just one

Even more relievers signed on the final day of the Winter Meetings

Keep tabs on the top 50 free agents right here
The league is not happy Ohtani's medical information leaked

Kansas City and Baltimore were quite busy at the Rule 5 Draft

Piscotty's mother was diagnosed with ALS earlier this year