'There's a deal to be made' for Mets' R.A. Dickey
While nothing appears close to happening, there's always been an undercurrent of optimism that the Mets will get a contract done with David Wright. But while there's "a deal to be made'' with Dickey, the Mets are hedging their bets by starting to talk about trades.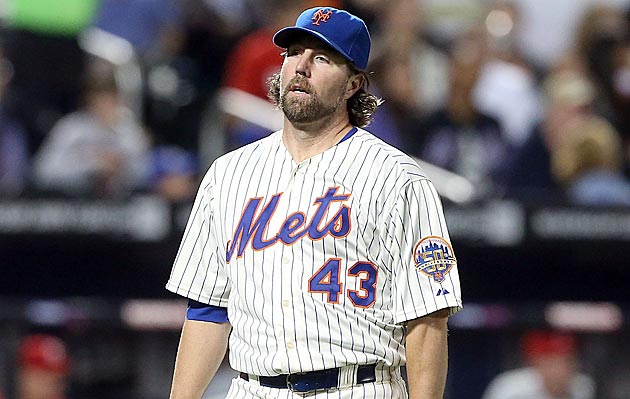 Why on earth would the Mets trade R.A. Dickey? Because his trade value will never be higher. (Getty Images)
INDIAN WELLS, Calif. -- While no new Mets contract is close to happening with David Wright, there's still said to be some optimism that a deal with their best player will eventually happen.
There's enough progress, anyway, that no trade talks involving Wright are on the horizon, and the Mets will instead continue to talk to Wright and his representatives exclusively. There's always been a feeling something will get done with Wright, and while talks are taking much longer than expected or predicted, that hasn't changed.
The same can't be said for star pitcher R.A. Dickey. While the Mets also aren't ruling out a new contract for Dickey, they have begun to explore the trade market. There's some logic to dealing Dickey in that he's 37, the Mets aren't likely contenders in 2013 and his value is never going to be higher as a likely Cy Young winner.
Of course, his fabulous season that came somewhat out of the blue is why it's difficult to pinpoint a fair market value. There are no comps for a sudden Cy who's a 37-year-old knuckleballer; he is unique. But even so, someone familiar with the Mets contract talks said he still believes "there's a deal to be made."
"Conversations are ongoing," Mets GM Sandy Alderson said. "Beyond that, I really can't say much."
Curiously, Dickey told media people in New York that he was feeling good about talks on the very day it surfaced that the Mets had begun to explore trade possibilities.
There are parallel trade talks ongoing, with the Mets hoping to get back outfield and catching help if they do a trade for Dickey instead of signing him. When asked about his outfield here Thursday, Alderson quipped, "What outfield?"
Alderson was on a roll during his media sessions, and after saying Lucas Duda -- who recently hurt himself in a moving accident -- is their left fielder, Alderson added with a smile, "He does come with a lot of furniture.''
Alderson certainly hasn't lost his sense of humor about the situation, which now includes the possibility of trading the Mets' 2012 pitching phenom. Alderson pointed out that while it would be unusual, he did trade for a batting champion, Willie McGee, as the Oakland A's general manager.
"I definitely would hate to have to give up a Dickey, or for different reasons, a Jonathon Niese or Dillon Gee, but it's our strength and possibly something we have to entertain," Alderson said. "At the same time, we're not looking to go out of our way. If there's a place to have a strength, starting pitching is the place to have a strength."
Alderson is a good talker, but he admitted he was probably being a bit optimistic when he suggested around the close of the season that he'd like to have a contract done with Wright by the end of the World Series, or at least by the time they had to decide whether to pick up his $16-million option, which they did five days after the World Series.
In light of the perception of an unaggressive tack taken with Jose Reyes when Reyes was a free agent last winter, Alderson may have wanted to portray more aggression. "It was probably a good idea to emphasize speed," Alderson said, "but unrealistic to expect that this was all going to be concluded quickly.''
With no real deadline now, the contract talks could drag out for a while. But with both the Mets and Wright hoping to figure it out, there is at least some degree of hope in his case.
Yelich's agent recently asked the Marlins to trade him before the spring

I've only been in the BBWAA three years, but here's what my ballot would've looked like this...

In the last two votes, Clemens has gained nearly 17 percent in Hall of Fame voting
The results of the BBWAA Hall of Fame vote are revealed Wednesday, Jan. 24

Does the Jackson signing mean the Giants are out on Lorenzo Cain?

Acuna edged out Shohei Ohtani and Vladimir Guerrero Jr.