There's cause for concern with A's, but let's not go overboard
The A's are struggling right now and there's cause for concern, but there's no reason to panic.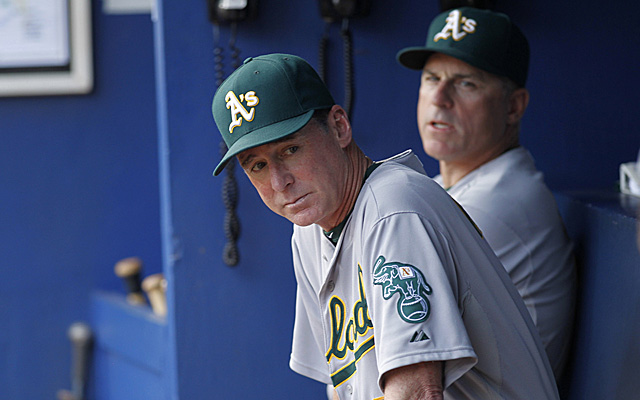 More MLB: Power Rankings | Expert Picks | Latest news & notes | Fantasy news
After a 7-2 loss to the struggling Braves in Atlanta Friday night, the Oakland Athletics have now lost five of their last six games. They're just 14-13 since the All-Star break and are actually 16-16 since July 8. And though they still have baseball's best record, they almost have company at the top of the AL West.
The Angels have moved to within one game of the A's, matching the closest the race has been since it was tied on April 27. Even the red-hot Mariners are within 6.5 games, meaning that if the A's get any colder, losing their grip on even a wild-card spot is at least remotely possible.
So is it time to worry? Probably. Panic? Nah.
The Major League Baseball season is a marathon. There are ebbs and flows that naturally happen throughout the course of said marathon and the A's were so good for so long to begin the season that they built up enough credit to allow for a downturn. The cushion is coming in handy right now, as they're still in first place. The recent bad stretch has raised some concerns, though.
First up, the offense hasn't been as strong of late as it was earlier in the year. Some will bring up the trade of Yoenis Cespedes in order to land Jon Lester and point to that as the culprit. The A's have had an inconsistent offense since the trade, after all. That's absolutely true, but it was already trending downward -- the impetus wasn't the trade (they were 9-8 in their last 17 games before the trade and are 7-8 since; hardly a significant difference). 
Here are the slash lines, followed by runs per game by month:
March/April: .261/.351/.412; 5.26 RPG
May: .239/.326/.421; 5.07
June: .261/.326/.383; 5.08
July: .251/.307/.403; 4.52
August: .229/.301/.333; 3.73
See how it was falling already? This wasn't just Cespedes. Yes, removing him hurt, no question about it, but it wasn't a death blow. We aren't talking about taking Miguel Cabrera away from a team. Cespedes is hitting .254/.298/.465. Again, losing him hurt, but not significantly. No, the offense was overachieving for much of the beginning of the season and was coming back to Earth before the trade. The monthly difference might look drastic right now, but I'm willing to wager that it'll come back up a bit before the end of the month. Small sample sizes and all that.
On the whole, they have the personnel to turn it around but there's definitely enough here for some concern.
Worry, not panic.
On the pitching side, Lester has been the ace he was acquired to be. Behind him, there's been inconsistency from Jeff Samardzija, Sonny Gray and Scott Kazmir. Jason Hammel has simply been bad.
Here are a few reasons for concern:
1. Samardzija had a 5.56 ERA in August and September last season.
2. Gray has thrown 157 1/3 innings this season. He threw 195 last season between the minors, regular season in MLB and playoffs. In 2012, he only threw 152. Is he getting tired?
3. Kazmir was probably the worst pitcher in baseball in 2010, fell out of favor in 2011, played independent ball in 2012 and was one of baseball's great stories last season. He also only worked 154 innings between the minors and majors. Given that and his recent history teamed with his 149 innings pitched, there's at least a minor bit of concern.
4. Hammel is bad and I don't see that changing.
Still, there's enough ability in that rotation to paint the picture that things will be just fine in a week or so. It's a talented bunch.
Worry, not panic.
The A's are dealing with adversity right now, there's no disputing that. How does that usually work with these guys?
Just a few weeks ago, the A's lost four of six and responded by winning five of their next six games. They lost five of eight in the second week of June and followed that up by winning seven of their next eight. They lost five of six in early May and went on to win 11 of their next 12.
Noticing a trend? The A's are resilient and bounce back quite well from rough stretches. They are the two-time defending AL West champs and certainly aren't lacking for confidence. They are also led by one of baseball's best manager in Bob Melvin. 
Any bad stretch is concerning, of course, but the A's have provided us with plenty of reasons throughout 2014 to believe they can bounce back.
Worry, not panic.
It's not out of the question that the A's continue to struggle, but there's enough pedigree and talent here to reasonably expect them to right the ship in the coming weeks. And as things stand right now, they're still sporting the best record in all of baseball and are 24 games over .500. No shame in that.
Adell shows part of the reason why Los Angeles drafted him 10th overall in 2017

And, well, they're probably right

Supposedly, MLB execs have discussed letting teams hit any three hitters they want in the...
Keep tabs on the top 50 free agents on the market right here

After the departures of Steven Souza and Corey Dickerson, the Rays add a right-handed bat

Rasmus essentially walked away from baseball during last season