There's hope for Uggla and Upton, but a bit more skepticism for B.J.
Braves regulars Dan Uggla and B.J. Upton are trying to make big turnarounds after poor seasons.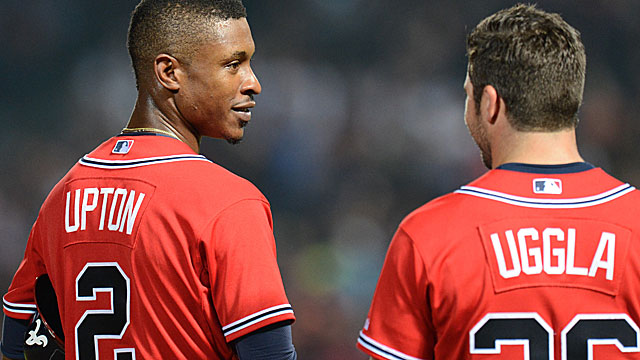 MORE: Spring Training | Scoreboard | Team previews
LAKE BUENA VISTA, Fla. – It's still hard to believe established stars Dan Uggla and B.J. Upton both ended up on the interstate last year, baseball slang for batting averages that begin with a 1. Now the Braves, who won the NL East last year despite their uncharacteristically unproductive seasons, need the very same thing from both former stars: U-turns.
Uggla and Upton are both said to have been toiling hard to regain their respective forms, with varying degrees of success so far. Though the Braves won't say it aloud, they might take .240, or even .230, from either player. Uggla batted .179 last year; Upton .184.
They were two stunningly poor percentages, to the point where Upton's role was severely diminished in the playoffs, and Uggla was left off the postseason roster altogether.
Scouts down south are seeing better things from Uggla but seem to remain skeptical it will come together for Upton. Braves people are expressing optimism about both players, but rival decisionmakers are somewhat more circumspect, especially when it comes to Upton.
"Upton has looked OK, B.J. has struggled versus the elevated fastball," one rival scout said.
"B.J. has been better but it doesn't come without lapses. I do not trust him yet," another scout said.
A third said basically the same thing, professing faith that Uggla may turn things around while wondering whether Upton can recover quickly from the abyss.
Braves general manager Frank Wren said he sees very good things from both players but admitted he "could understand" evaluations less flattering like this from scouts who may pop in and out, suggesting that if one watched Upton throughout the spring, the progress would be more evident.
"Both are having good springs," Wren said. "Both are making adjustments and progress. "Time will tell, but we really like what we've seen so far."
Uggla is hitting .256 this spring and has three home runs, nine walks and an excellent .938 OPS. Upton is hitting .271 but he's struck out a full one-third of the time (16 K's in 48 at-bats) and has a weak OPS of .639.
Uggla was said to be "flying open" last year while Upton was trying to pull balls and losing balance. With averages that low, though, those are probably simplistic explanations for a variety of issues. It's not often a team can succeed when its two best-paid players (at the time) flounder like that.
While Wren said all nice things without qualification, about both players, reading between the lines there does seem to be an even higher level of enthusiasm about Uggla's progress among some around Braves camp. Encouragement is to be expected following such an awful year, but the reviews of Uggla tend toward gushing.
"We feel great about [Uggla]. But even more important, he feels great about himself," hitting coach Greg Walker said. "If he feels back to being Dan Uggla, that's exciting for us. It's not like it's been a total [loss], he's done some things right the last two years. But he hasn't been Dan Uggla. We think he's back. We know it's there. If he continues to do the things he's doing, we think he's going to have a good year."
There's also had to be some repairing of feelings following the playoffs, when Uggla was omitted from the postseason roster. He was said to be extremely hurt to have been passed over.
"He's a competitor, he's a fighter," Walker said. "He loves to play, and he wants to be in there every day."
The same can be said for Upton, who was at least on the playoff roster, though mainly as a bench player. The Braves have four years to go on his $75.2-million, five-year deal, so they need him to find some semblance of his old self, and they think he has.
Upton had a number of issues, and one of them was that his swing would get "loopy." He's working on an entirely new set-up so it's a major change for him. They want him using the whole field, and not worrying about power, which they say will come if he does things right. Friends say he feels comfortable in the box, and is much more upbeat about things.
"I think he feels better about himself," Walker said. "He got back to the things he and his dad worked on when he was young." Manny Upton, aka The Bossman, was a great coach of both his two boys, and others, back home in Virginia.
One encouraging thing for Walker, he said, was seeing both former stars succeeding against some tough major leaguers. "They're getting their hits off quality pitching," Walker said.
Other Braves people said the same. But at least one scout saw it differently.
"His best games have versus the medium type spring training pitching," that scout said, adding, "and he still gets lax in center field when struggling."
The Braves, though, see better things than others. "I don't think Danny and B.J. could do any more in spring training to give us hope," Walker said.
Let's face it, the Braves have no choice but to maintain hope.
The lefty starter is coming off a terrible season

After acquiring Ian Kinsler and Zack Cozart in recent days, the Angels are trending upward

Cozart's coming off a big season as the Reds' shortstop
The veteran slugger spent the last eight seasons with Cleveland

The Padres may be poised for an active winter

Yes, Bryce Harper is going to make a lot of money next winter