These players are about to snap the longest postseason droughts in MLB
The four active players with the most regular season games without a postseason game are all likely headed to the playoffs this season.
The Major League Baseball playoffs are right around the corner and one of the many reasons this year has a fun feel is because several players are finally about to experience it for the first time.
We've mentioned several times before that the Blue Jays winning the AL East means they break the longest playoff drought in the majors, as they hadn't previously gone to the postseason since 1993. In terms of individual players, the list of active players with the most games played without ever appearing the regular season is getting chopped down.
Here it is, as things currently stand:
Alex Rios, Royals: 1,688 games
Jose Bautista, Blue Jays: 1,400 games
Edwin Encarnacion, Blue Jays: 1,350 games
Chase Headley, Yankees: 1,119 games
Adam Lind, Brewers: 1,099 games
No one else in the majors has played in at least 1,000 games and never been to the postseason. So Lind is about to be alone, because Rios' Royals are in, just as Headley's Yankees will be -- barring a major collapse -- as well as Bautista and Encarnacion's Blue Jays.
One might recall the cruelest of cruel career-enders last season. Adam Dunn, after 2001 regular-season games, finally made the playoffs for the first time. His A's lost the wild card game in extra innings, however, and he never got into the game. Thus, he's now permanently on the career list, sitting 14th all time. This won't be happening with regular starters Rios, Bautista or Encarnacion while it's hard to see Headley not playing in the wild card game.
For those curious, the all-time leader in games played without a postseason appearance is Ernie Banks with 2,528, followed by Luke Appling (2,422), Mickey Vernon (2,409), Buddy Bell (2,405) and Ron Santo (2,243). Funny tidbit? Joe Torre is sixth. He never played in the postseason, but he went there 15 times as a manager, winning six pennants and four World Series championships.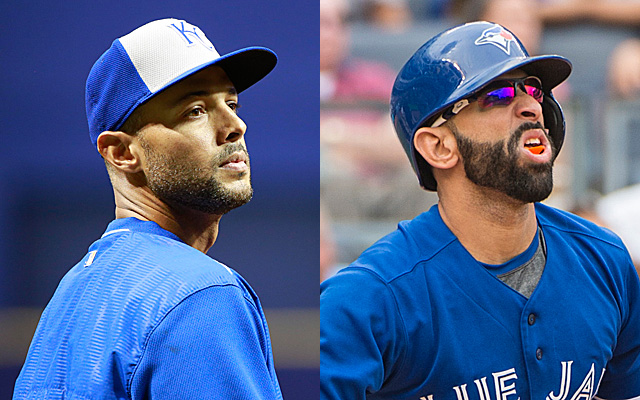 Sunday's MLB roundup features the D-Backs clinching a postseason spot and the Mariners going...

The 2017 season has been, by far, the worst season of Cabrera's career

The Mariners were eliminated from postseason contention with Sunday's loss
Maxwell became the first MLB player to kneel during the national anthem Saturday

The Blue Jays are not expected to bring Bautista back next season

The Dodgers have already clinched the NL West title, so the D-Backs will be a wild card te...