These Red Sox were good right from the start, and we should have seen it
The Red Sox were a disaster in 2012, but they're division champions in 2013. The reasons why were already obvious this spring.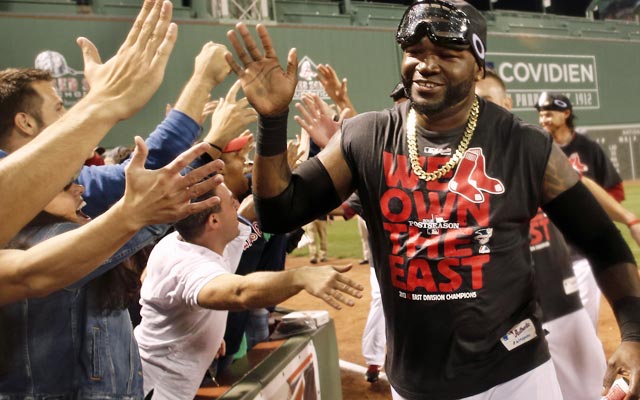 Don't judge a team in spring training. Never, ever judge a team in spring training.
Unless it's the Red Sox.
Bobby Valentine looked like a disaster of a choice as manager the moment he stepped foot in Fort Myers, Fla., in 2012. And this first Valentine-less Red Sox looked dramatically improved before the season even began.
This improved? Worst-to-first improved? Maybe not, but even in March, the signs were there that 2013 under John Farrell would be nothing like 2012 under Bobby V.
It wasn't just the new manager.
Jon Lester looked so much better. Clay Buchholz looked better. John Lackey looked healthy.
A Red Sox rotation whose failures led directly to both the 2011 collapse and the 2012 disaster looked ready to lead the Sox to a much better 2013.
Sure enough, it did, and it was totally appropriate that as the Red Sox clinched the American League East on Friday night, Lester went seven innings and allowed one run in a 6-3 win over the Blue Jays.
Spring training didn't tell you everything about the Red Sox. David Ortiz didn't play all spring because of same heel problems that sidelined him for most of the second half of the 2012 season. He didn't play a game for the Red Sox until April 20, but eventually became such a force that he changed the Red Sox lineup.
"[Miguel] Cabrera is the most-feared hitter in the league," one scout said. "But Ortiz might be second."
Koji Uehara wasn't the Red Sox closer this spring. That was Joel Hanrahan.
Uehara wasn't even the second choice. That was Andrew Bailey.
But the Red Sox lost Hanrahan, and they lost Bailey, and they lost Andrew Miller.
They were left with Uehara, who simply became as dependable as any closer in the game.
They ended up with a group that bonded, a group that grew beards, a group that exhibited that character that was also so much of the spring training talk.
But even as others talked character, Red Sox general manager Ben Cherington always said that the key to him was finding players who could thrive in the often-tough Boston environment (as players like Carl Crawford and Adrian Gonzalez didn't).
The rebuild worked.
Cherington's acquisitions proved to be the right ones. Farrell proved to be the right manager.
"This team did everything right," Dennis Eckersley said on NESN as the celebration began Friday night.
But Eckersley also said that the outstanding season has raised expectations back to Boston-like levels, to the point where nothing short of a World Series title would be acceptable.
Not many were predicting that for the Red Sox this spring. I have to admit that I didn't predict it, although I saw enough in the spring that I picked the Red Sox second in the American League East (don't pay any attention at all to who I had in front of them).
Most of us still had questions. Most of us still weren't ready to fully believe.
They did, and we should have.
It was all there this spring, right in front of us.
Gonzalez was reportedly killed in a car crash in Cuba

Our Black Friday FA shopping guide includes a starting pitcher, slugger, super sub, and re...

Get 15 percent off any order of more than $75 at CBS Sports Shop
Need a gift for someone who loves baseball? We're here to help as the holidays approach

Several prominent Japanese-born Mariners and ex-Mariners have said they will help as well

Get your sports fans something that they'll wear all year