They're taking attendance this time -- and good for MLB!
Major League Baseball is finally cracking down on players missing the All-Star game for no good reason.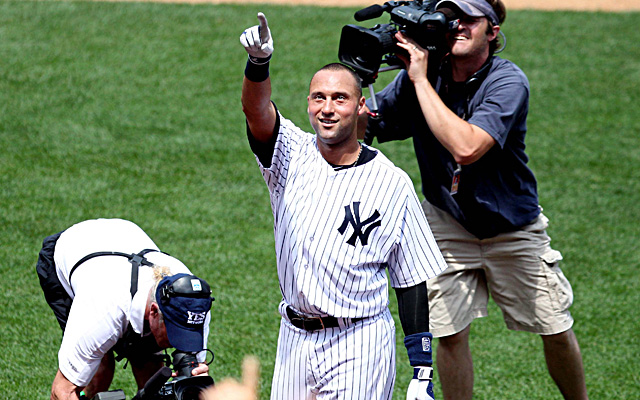 Derek Jeter waves after hitting a home run vs. the Rays in 2011, the 3,000th hit of his career.
(US Presswire)
"This Time it Counts,'' finally has some teeth.
This time, Major League Baseball means business with the All-Star Game.
More on All-Star Game
Related links
MLB has received a bit of criticism (and I mean a small bit) for introducing Twitter and Facebook to the 2012 All-Star Game (check out Scott Miller's column), and that's all good fun. But what's really important is how seriously MLB is taking player attendance at this year's mid-summer classic in Kansas City.
Last year was a joke. There was one drop-out, beg-out or flake-out after another to the point where it became almost absurd. I understand Arizona might not be the place of choice for July (and neither might Kansas City for that matter). But all the absentees sent a message that the game counted only a little.
All the non-participants meant there were a robust 84 folks who could rightly call themselves All-Stars, though nearly 20 percent of them, (a full 16, count 'em) who asked not to play.
A few of of the non-players were in Phoenix to see the game. But many were on a vacation island luxuriating in the sun.
Or they were sunning themselves at home. Or they were taking care of "personal business,'' which is code for sunning themselves somewhere.
Or maybe they were just relaxing and counting their All-Star bonuses in front of their TV set at home.
Or maybe, just maybe, they were in Miami with their A-list girlfriend (I feel bad singling out Derek Jeter, as he's done everything right in his career, but he was the most noteworthy absentee following his historic 3,000th hit).
MLB, too, felt much of the same discomfort singling out Mr Perfect, as well, so it refrained from calling the new regulations the "Jeter Rules,'' as it should have. That's only right, because he almost always does what's right, as opposed to a few unnamed fellows who made a career out of begging or flaking out of the All-Star Game.
But baseball now has the more precisely named "Mandatory Participation'' rules written into the new CBA, which explicitly lays out all the reasons absences can be excused. They include being on the disabled list the Sunday before the game, missing the final two games before the game or suffering an injury in one of the final two games.
Plus, pitchers who pitch the Sunday before also won't automatically be excluded, and may see an inning of work in the game. There's no reason one inning two days later should be too taxing.
Players can try for an excused absence, but something tells me commissioner Bud Selig isn't going to be as easygoing as the third-grade teacher who nodded upon reading the dog ate the homework.
Miller's column is cute, but I for one cannot come out against Twitter (I've tweeted more than 30,000 times, which is pretty good evidence I need to reassess my priorities). And besides, who cares what players do after they've left the game, as long as they remain in the same area code? Enough with them hopping on the a seventh-inning flight out, too!
And I get Danny Knobler's point that the All-Star Game will be missing some star power anyway, what with Matt Kemp, Jacoby Ellsbury, Troy Tulowitzki, Ryan Howard, Chase Utley, Roy Halladay, Mariano Rivera, CC Sabathia, Evan Longoria and more all not going to make it due to first-half injuries.
But I for one am glad to see MLB finally cracking down on players who think it's more important to get a tan than to take part in the sport's showpiece -- and oh yes, have a chance to win the home-field advantage, too. Their time in the sun should come in Kansas City.
Jonah Keri talks to Orioles manager Buck Showalter

Contreras said on Tuesday that he's willing to pay the price

And their offseason decisions prove it
Hosmer recently signed an eight-year contract with San Diego, and his usual No. 35 was spoken...

As part of the five-player deal, Brandon Drury is headed to the Bronx

Stoneman Douglas caps will be worn during Friday's spring training games