This ALCS has had everything (except Mickey Mouse ears)
The NLCS has had its culture clash. The ALCS has none of that, just two evenly-matched teams with big respect for each other. We head for Game 6 with the Red Sox a nose (or a beard) in front.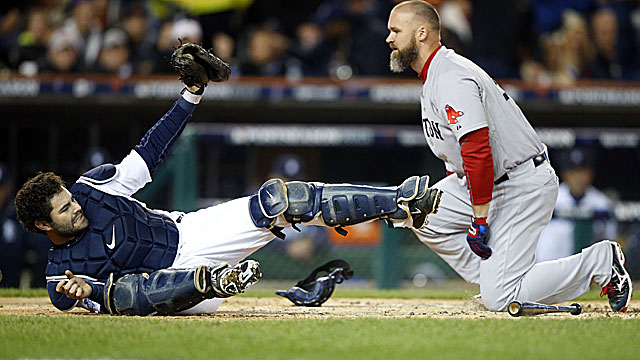 BOSTON -- The American League Championship Series has given us home-plate collisions and circus catches.
We nearly had a no-hitter, and the next night we saw a grand slam that could live forever in the memories of every Red Sox fan in New England (which is to say, every living person in New England).
But no Mickey Mouse ears.
We've had a bullpen policeman who became an instant celebrity. But we've had no real need for the baseball decorum police.
The NLCS has its culture clash. The ALCS has two teams that can't stop talking about how much respect they have for each other.
"Exactly," said Max Scherzer, who starts Game 6 for the Tigers on Saturday, trying to force a seventh game in a series that deserves one. "Two teams that play the game the right way, respect the game and respect their opponents. Two teams that play the game hard.
"It's just the character of both our teams. That's the way we handle stuff on the field."
Five games into the ALCS, the Red Sox and Tigers have played four one-run games and another easily could have been. The Red Sox are just a nose (or a beard) in front. The games have been tense, but only in the sense they've been close games with so much at stake.
David Ortiz homers off Joaquin Benoit, and two days later they're standing behind home plate, chatting like old friends. David Ross and Alex Avila met to discuss their concussions, and later met in a violent but clean crash at the plate (with both players saying later that no one had done anything wrong.
The closest this series came to anger was a report by Rob Bradford of WEEI.com, which said some Red Sox players "didn't appreciate" what they considered a late slide by Tigers (and one-time Red Sox) shortstop Jose Iglesias. But other Red Sox people have taken time during the ALCS to praise Iglesias, and after he made a spectacular running catch in Game 5, Ross said, "the play Iggy made was one of the best I've ever seen."
For five games, nearly every postgame interview (and many of the pregame ones, too) has included a Red Sox person praising the Tigers, or a Tigers person praising the Red Sox.
"There's a standard set by both managers," Red Sox bench coach Torey Lovullo said. "They respect the game. They expect their players to play that way. Don't cheat the game. Don't cheat yourself.
"Jim Leyland set forth a tone to go out and respect everyone on the field."
The Red Sox have done the same, seeming to distance themselves as much as possible from the ugliness of the Bobby Valentine season. Now that seems so far in the past that Red Sox people say it's been months since last year has been mentioned in the clubhouse.
The result can sometimes be boring quotes, but perhaps better games. Postgame interviews with the Red Sox include more references than you'd like to "playing hard for nine innings" and "just concentrating on today," but Red Sox games show how much this team has stuck to those beliefs.
The Red Sox had to be aware how significant it was to win Game 5, because it set them up to need just one win in two possible home games to make it to the World Series for the first time in six years.

But throw that theory at someone like Ross, and he says quickly, "You know as well as I do that we don't think, 'If we lose . . . '"
They didn't lose. The Red Sox flew home late Thursday night knowing that they need to beat (or survive) either Max Scherzer or Justin Verlander, and not Max Scherzer and Justin Verlander.
The story of this weekend will still be the story of this entire ALCS, of big-time Tiger starting pitching against a Red Sox team that seems just a little bit more complete, and just on a little bit more of a roll.
The Tigers need two wins, but they have the guy who will likely win this year's Cy Young going in one game, and maybe the best starter of this era ready for a Game 7 on Sunday night. They also have a bullpen that's not all that reliable, an MVP hobbled by injury (but still dangerous) and a slugging first baseman who for some reason can't slug (and doesn't look dangerous).
The Red Sox have a lineup that still hasn't had one breakout game in the series, but still could at any time. They have two strong starting pitchers of their own, with Clay Buchholz starting Game 6 and John Lackey ready for Game 7. They've found more comfort in their middle relief than the Tigers have in theirs, and more certainty at the end of games, too, thanks to Koji Uehara.
"It's like he's playing on another planet," Jon Lester said the other day.
In an ALCS that has been this close, Uehara could well be the difference. You could argue that he has been the difference so far, because he has closed out all three Red Sox wins (facing 12 batters and allowing just one to reach base), while Benoit's one big slip-up handed the Red Sox a win.
Even with that, it seems folly to make another prediction on how this weekend will go.
Well, maybe one prediction: Whether there's going to be one game or two, and whether it's the Red Sox or the Tigers spraying champagne when it's over, there's no chance anyone will be making Mickey Mouse ears on the Fenway field.
Martinez's physical isn't taking much longer than usual

The Rangers have a lot riding on Mike Minor and Matt Bush

Though the process is far from complete, taxpayers got good news Thursday
Dickerson had been designated for assignment by the Rays last week

Honeywell is considered a top 15 prospect overall in baseball

Troy Tulowitzki is not a pitcher, for those of you who don't know