MORE: FA tracker: position players | FA tracker: pitchers
On Dec. 26, 1919, the Red Sox, frustrated by the demands and leisured carousing of one Babe Ruth, shipped the 25-year-old star lefty pitcher/slugger to the Yankees in exchange for crisp stacks of redeemable U.S. currency. As tweeted out by MLB FanCave, here's the binding document that made it all happen and in the process changed the course of baseball history ...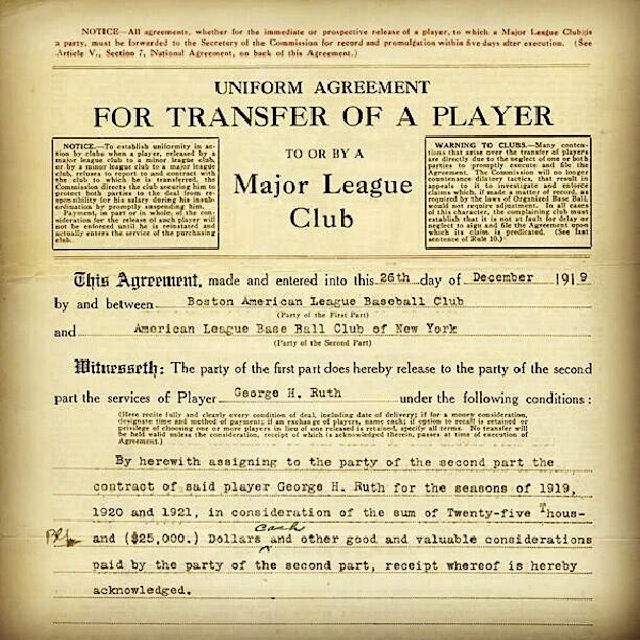 File under: Decisions that proved substantially regrettable from the standpoint of the Red Sox. 
The total sale price amounted to $125,000. Contrary to myth, Red Sox owner Harry Frazee did not pawn off Ruth in order to finance one of his Broadway plays, but the general sense of cluelessness on Frazee's part is very much real. Consider, for instance, this from Allan Wood of SABR:
The sale of Ruth to the Yankees was announced after New Year's 1920 and although it was big news, public opinion in Boston was divided. Many fans were aghast that such a talent would be cast off, while others, including many former players, insisted that a cohesive team (as opposed to one egomaniac plus everyone else) was the key to success.

"[T]here is no getting away from the fact that despite his 29 home runs, the Red Sox finished sixth last year," Frazee said. "What the Boston fans want, I take it, and what I want because they want it, is a winning team, rather than a one-man team that finishes in sixth place." Frazee also called Ruth's home runs "more spectacular than useful."
More spectacular than useful indeed. 
Famously, the Red Sox, who won the World Series with Ruth in 1915, 1916 and 1918, wouldn't prevail again until 2004. Meantime, the Yankees with Ruth would in 1923 win their first of 27 World Series titles.