This Week In Overreactions: Albert Pujols is back, baby
In this week's overreactions we look at Albert Pujols, Derek Jeter and rookie slugger Jose Abreu.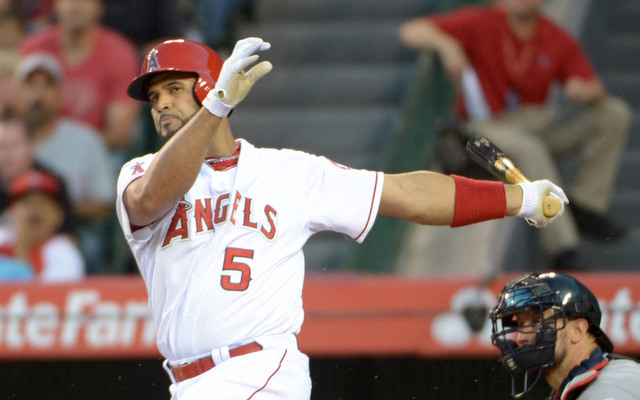 More MLB: Power Rankings | Expert Picks | Latest news & notes | Fantasy news
So continues our series, "This Week in Overreactions." The idea is stolen borrowed with approval from our friends at Eye on Football, and all we're doing is looking at the most overblown narratives of the week. Pretty straightforward, right? With an unplanned emphasis on negativity, here are this week's overreactions.
"Derek Jeter will be fine. He's Derek Jeter."
I thought the Yankees captain was pretty much done after the 2010 season, during which he hit a career worst .270/.340/.370 (90 OPS+). He rebounded to hit .297/.355/.388 (100 OPS+) the following season, then, at age 38, he put up a .316/.362/.429 (114 OPS+) batting line with an MLB best 216 hits in 2012. Jeter has had a way of proving people who have been predicting his decline wrong.
This year is different though. He went 2-for-5 and hit his first homer on Wednesday night, raising his season batting line to an unsightly .262/.336/.327 (86 OPS+). The homer was just his fifth extra-base hit, with the other four being doubles. According to Baseball Savant, Jeter has seen the highest rate of fastballs (76.9 percent) in baseball (min. 75 AB), but has the 14th lowest average (.247) and 23rd lowest slugging percentage (.272) against hard stuff this year.
Jeter will turn 40 next month and he missed just about all of last season with a series of leg injuries, including a fracture and re-fracture of his left ankle. That's a lot of rust to shake off, and right now opposing teams are showing him little respect by throwing fastball after fastball. They don't think he can catch up to the heat, and so far he hasn't. Jeter's proven me and many others wrong before, but the history of 39+ year old shortstops is pretty terrible, especially over the last half-century.
"Albert Pujols is back to being Albert Pujols."
It was an awful lot of fun when Pujols was chasing his 500th career home run a few weeks ago and seemingly going deep every night. He hit six long balls in 12 games leading up to the two-homer night that got him the milestone. Pujols went deep again two days after that and he was mashing, looking very much like the Pujols of old. The Angels were thrilled and rightfully so.
Except he wasn't the Pujols of old and probably never will be again. Pujols was mashing homers left and right, but on the night of his 500th home run, he was hitting .274 with a .337 on base percentage. He was since raised that to .293 and .358, respectively, Both are very good numbers, obviously, especially in this day and age. They also aren't close to the Albert Pujols we once knew and loved.
Back during his heyday, basically from 2003-10, Pujols hit an unfathomable .334 with a .433 on base percentage across more than 5,400 plate appearances. He's going to the Hall of Fame on the very first ballot because of that. The power has returned this year, but Pujols is not the devastating and historically complete hitter he was during his prime. Pujols is back to being very productive, but he's not back to being the old Albert Pujols.
"Jose Abreu is an elite hitter."
White Sox slugger Jose Abreu has been a monster at the plate this season. He leads the league in home runs (12), extra-base hits (24), total bases (86), slugging percentage (.619) and isolated power (.353). Abreu came from Cuba with a reputation for being a power-hitting machine at the plate, and so far that has been very true.
What Abreu isn't, however, is a complete, all-around hitter. Out of 185 qualified hitters, he ranks 97th in batting average (.266), 112th in on-base percentage (.325), 124th in walk rate (6.6 percent), 141st in strikeout rate (24.0 percent) and 177th in swing-and-miss rate (15.5 percent). That's on par with noted hackers like Colby Rasmus (15.5 percent) and B.J. Upton (15.9 percent).
Abreu is an elite power hitter. There is no question about that. An elite hitter overall though? Nope. He doesn't get on base enough and there is too much swing-and-miss in his game to post a high batting average. That's okay though! If you're going to be elite at something, being elite at hitting for power is a good choice. Is Abreu awesome even if he's hitting .266? Yes. Am I nitpicking? Also yes.
Keep tabs on the top 50 free agents right here

Your one-stop shop for all things MLB Winter Meetings-related

The Angels knew about the first-degree sprain and still wanted to sign the potential ace, of...
The run on relievers continues with two more signings

The Yankees added Giancarlo Stanton in a blockbuster trade, though they now have openings at...

Smyly is currently on the mend from Tommy John surgery