This Week in Overreactions: Best rotation in MLB; Miggy's too rich
Do the Braves have the best rotation in baseball? Is Mark Buehrle suddenly an ace? All of that and more is discussed in this week's overreactions.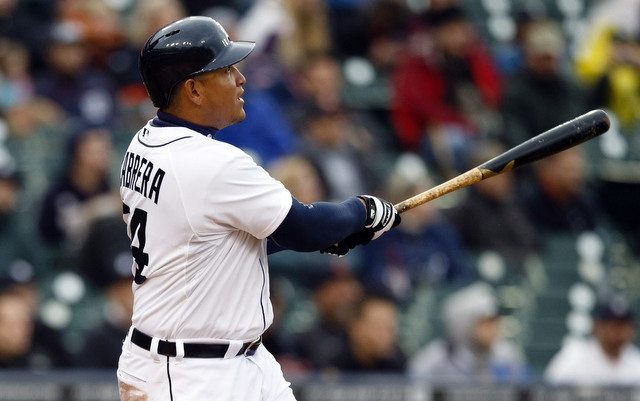 More MLB: Power Rankings | Expert Picks | Latest news & notes | Fantasy news
Last weekend we introduced you to our newest series, "This Week in Overreactions." The idea is stolen borrowed with approval from our friends at Eye on Football, and all we're doing is looking at the most overblown narratives of the week. Pretty straightforward, right? Here are this week's overreactions.
'The Braves have the best rotation in baseball'
Spring training was harsh on the Braves. They lost both Kris Medlen and Brandon Beachy to their second career Tommy John surgeries, plus Mike Minor was sidelined by a shoulder problem. The team signed Ervin Santana to help cover for the injuries, then swapped Freddy Garcia for Aaron Harang right before the start of the season.
The result of those moves: a 1.46 ERA for the starters, the best by any rotation in baseball by nearly a full run (Cardinals are second at 2.40). Look at these individual performances:
• RHP Julio Teheran: 1.93 ERA in 28 innings
• RHP Ervin Santana: 0.86 ERA in 21 innings
• LHP Alex Wood: 1.67 ERA in 27 innings
• RHP Aaron Harang: 0.70 ERA in 25 2/3 innings
• RHP David Hale: 2.89 ERA in 9 1/3 innings
Hale has only made two starts and he will be replaced by Minor within the next week, unless the southpaw suffers a setback. The schedule has been pretty favorable though, allowing Atlanta to skip its fifth starter (Hale) early on. That has certainly helped the rotation.
Now, the obvious: Harang is not a sub-1.00 ERA pitcher. No one is and we have nearly 2,000 career innings telling us Harang is more of a 4.20 ERA pitcher. Similar to Mark Buehrle (more about him later), Harang's 90.5 percent strand rate won't last forever. Wood's strand rate is even higher (96.9 percent). Teheran and Santana are awesome, ditto Minor, but Wood and Harang are pitching way, way above reasonable expectations.
Atlanta's rotation is pretty strong even without Medlen and Beachy. This excellent start and these wins are in the bank, but the team will also have to prepare for the time when the starting staff suddenly isn't twirling zero after zero.
'Miguel Cabrera's production has slipped because he got his huge contract'
Back in spring training, the two-time reigning AL MVP signed the richest contract in baseball history, a 10-year deal worth $292 million from the Tigers. Technically it is an eight-year, $248 million extension on top of the two years and $44 million left on his current deal. Whatever. Miggy has close to $300 million coming to him from now through 2023 and that's the most important thing.
Cabrera turned 31 just Friday, and following Saturday's 1-for-4 effort against the Angels, he is hitting only .232/.295/.375 on the season. He has hit only one home run and driven in only seven runs. That is a far cry from the .337/.425/.612 batting line he put up from 2010-13. Clearly, Miggy is a little too comfortable and isn't trying as hard now that he landed his big payday, right? That seems like a convenient narrative.
Of course it's total nonsense. Cabrera has only played 14 games this season and that's nothing. If he goes, I don't know, say 3 for 4 on Sunday and 2 for 3 with a walk and a homer in the next game, his batting line would shoot up to .286/.348/.444. That isn't vintage Miggy, but it goes to show how quickly his season stats can become respectable.
Furthermore, Cabrera is sitting on a .286 batting average on balls in play, down from .356 last year and .347 from 2010-13. His infield popup rate has nearly doubled this season, and infield popups are the easiest batted balls to turn into an out. They're freebies. Cabrera is juuust missing right now. It won't be long before everything clicks and he gets back to being the most dangerous hitter in the world.
'Mark Buehrle has reinvented himself and become an ace at age 35'
After throwing seven shutout innings against the Indians on Saturday, Buehrle is sitting on a 0.64 ERA and a 0.93 WHIP through four starts and 28 innings. He has been excellent, there's no doubt about it. He is also the same guy he has always been.
Right now, Buehrle is pitching almost exactly like he did last season, his first with the Blue Jays. Here's a quick breakdown of some key stats:
2013 vs. 2014 Mark Buehrle
Season
Strikeout Rate
Walk Rate
Ground Ball Rate
2013
15.9%
5.8%
45.3%
2014
17.4%
4.6%
45.1%
Nearly identical ground ball rate and very minor improvements in his strikeout and walk rates. Keep in mind that Buehrle entered Saturday's start with a 19.5 percent strikeout and a 2.4 walk rate, so those numbers are already coming back down to Earth. Buehrle is pitching the same way this year as he did last.
The difference between 2013 and 2014 for Buehrle is the number of runners he is stranding. Last year he stranded 73.4 percent of base-runners allowed (72.7 percent career), which was pretty much exactly league average (73.5 percent). This year? Buehrle has stranded a ridiculous 92.9 percent of base-runners. The highest strand rate in baseball history by a qualified starter is 88.8 percent in 1977 by John Candelaria. Only eight others have managed even an 85 percent strand rate.
At some point the other shoe will drop and Buehrle will start allowing some more of those runners to score. The same is true of guys like Jason Vargas and Michael Pineda, who are also enjoying sky-high strand rates. That's OK, it doesn't mean Buehrle will suddenly be bad. It just means that he will go back to being the same ol' Mark Buehrle, a reliable innings eater and not the best pitcher in the AL.
Boston wants to add two big bats to their lineup, not just one

Even more relievers signed on the final day of the Winter Meetings

Keep tabs on the top 50 free agents right here
The league is not happy Ohtani's medical information leaked

Kansas City and Baltimore were quite busy at the Rule 5 Draft

Piscotty's mother was diagnosed with ALS earlier this year