This Week in Overreactions: Bo Porter was the problem with the Astros
The Astros fired manager Bo Porter this week. He was not a great on-field strategist, but the team's problems lie much higher up.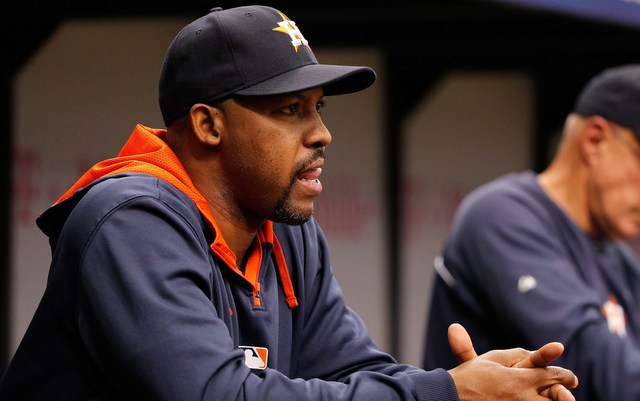 It's time for another installment of "The Week in Overreactions" -- the idea that was stolen borrowed with approval from our friends at Eye on Football. To the narrative machine!
The Astros' firing of Bo Porter was about a problem with Bo Porter
Well, technically this is true. Porter was not a particularly skilled on-field strategist based on what I saw the past two seasons and he has had some high-profile blowups, including one with Jed Lowrie earlier this year. We can't really know what Porter was like in the clubhouse from where we sit, but his work on the field left something to be desired.
That's not really the reason he was fired earlier this week, however. The Astros fired Porter because of a reported rift with GM Juff Luhnow. There were communication breakdowns between the two and Porter indicated that he felt he was being undermined as a manager. Porter was said to have gone straight to owner Jim Crane with his concerns last month.
Rather than try to work through his issues with Porter -- Luhnow once said Porter "could be one of those guys who is an Astros manager for decades, not just years," by the way -- Luhnow simply fired him and will bring in someone more receptive to his style. That is in no way unique either. Most GMs these days hire a "yes man" to be the manager, as managers become more of an extension of the front office and less independent thinkers.
The issue here is not with Porter though. He was given a terrible team in his two years -- Houston is on pace to lose 92 games this year, which would be a 19-win improvement (!) from last season -- one filled with placeholder players while the club waits for its bevy of prospects to arrive. If all you're given is placeholder players, isn't it only natural for the manager to start to feel he may only be a placeholder himself?
The issue is Luhnow's inability or unwillingness to hear out his manager and work through problems. Rather than attempt to find a solution, he fired Porter and will find someone else to be his "yes man" in the dugout. That's fine, he's allowed to do that as the GM as long as ownership gives him that authority, but it only reinforces the notion that the Astros see players and coaches as numbers and assets, not people. The human element has been lost and that's not how the real world works.
The Astros will hire a new manager and Porter, a sabermetrically inclined fellow who was lauded for his coaching work with the Diamondbacks (2010) and Nationals (2011-12), will get another job and land on his feet soon enough. The reputation of the team and Luhnow's front office took another hit though. The process they are so quick to tell everyone about apparently does not include being receptive to concerns from the coaching staff.
Reputations matter in this world, and the Astros have built one of being inflexible. If you're not going to fall in line, you'll be replaced. Luhnow & Co. have made that abundantly clear.
Gallardo spent the first eight years of his career in Milwaukee

MLB revenues are at a record high right now, but teams aren't spending it on players

Chicago added Tyler Chatwood earlier this offseason but might not be done adding to the ro...
The Dodgers and Braves pulled off a whopper on Saturday

Sabathia will reportedly spend a 10th season in the Bronx

Fowler suffered a knee injury at Chicago's Guaranteed Rate Field