This week in overreactions: Cards aren't clutch; Bryce is a bust
Let's take a look at a few narratives that have taken hold over the last week or so in MLB.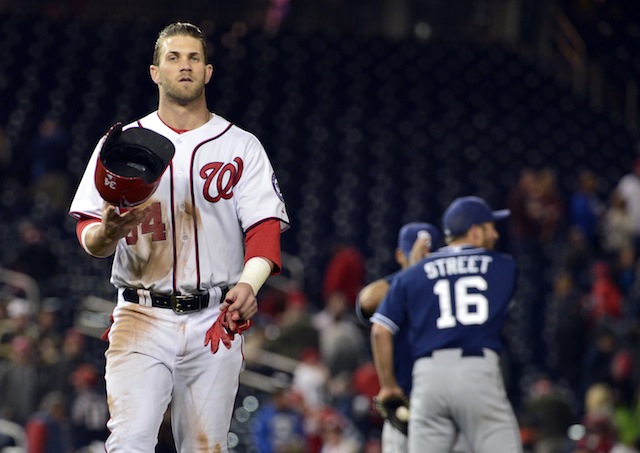 More MLB: Power Rankings | Expert Picks | Latest news & notes | Fantasy news
So continues our series, "This Week in Overreactions." The idea is stolen borrowed with approval from our friends at Eye on Football, and all we're doing is looking at the most overblown narratives of the week. Pretty straightforward, right? Here are this week's overreactions.
"Bryce Harper is a bust."
Harper, thanks to an ill-advised head-first slide, is laid up until July or so after undergoing thumb surgery. The Nationals' phenom also chronically suffers by comparison to fellow 2012 rookie Mike Trout. The penchant for injury (he underwent knee surgery early this past offseason) in tandem with his getting lapped by Trout have combined to give Harper the strong aroma of disappointment. 
On that front, though, some perspective is in order. Yes, we keep expecting Harper to set the world afire with his violent left-handed swing, and that's yet to happen on a sustained basis. Still, he owns a career weighted runs created+ (wRC+) of 128 across 1,185 big-league plate appearances. That's strong production. As well, Harper -- seemingly despite how long he's been planted in the baseball consciousness -- is still just 21 years of age and won't turn 22 until the playoffs are going on. That's the age at which most players are still in High-A ball. 
Like him or not, he's been a good hitter against the best pitchers in the world, and he's achieved that despite being much, much younger than his peer group. No, he's not Mike Trout, but on an age-adjusted basis pretty much no one in baseball history is Mike Trout. 
As for the injuries, it's worth keeping in mind that Harper's are generally "maladies of style" -- e.g., running into walls (his knee) and wrenching ligaments against anchored bases (his thumb). Those kind of habits can be trained out of him as he matures. That's not the case with, say, a player's habit of pulling and straining things. That he's undergone two semi-major surgeries in such short order is troubling, but let's bear in mind what led to those surgeries. 
Bryce Harper is good. There's still plenty of time for him to become great. 
"The Cardinals forgot how to hit in the clutch."
Last season, the Cardinals had the best offense in the NL in part because they were able to bat a patently ridiculous .330/.402/.463 with runners in scoring position. Over the offseason, we were treated to tales of how the Cardinals teach approach in such circumstances, which yields better production. Well, thus far in 2014, the reigning NL champs are batting .226/.297/.333 with RISP -- bad in isolation and even worse than their numbers with no men on. 
It should be said that this isn't an unusual phenomenon. One season, a team rakes in RBI spots, and the next season they crater in those very same situations. To cite but one recent example, the 2008 Twins batted .305/.380/.446 with RISP, which led to stories of their carefully tailored RBI skills. Then for the next several seasons they proceeded to hit with RISP pretty much in line with how they hit in all other situations. 
This is how the story ends, without fail: team reputed to be skilled at plating runners turns out to be not especially skilled at plating runners, given a larger data sample. Teams that can hit tend to hit in all situations. Teams that can't hit tend not to hit in all situations. With the Cardinals, they've simply regressed too far in the wrong direction. They're not all of a sudden a roster full of weak-hearted chokers who wilt whenever someone reaches second base. They'll likely get better in such spots as the season deepens. Or maybe it'll turn out to be a season-long fluke thing. Not unlike, you know, their RISP numbers in 2013. 
"Despite all the turnover, the Twins' rotation is still terrible."
Last season, the Twins' rotation was, in metaphorical terms, a sewage-treatment plant set ablaze: 5.26 ERA, 1.54 WHIP, 12.4 K%. This season, things don't look or smell much different: 6.08 ERA, 1.64 WHIP, 12.2 K%. Those 2014 numbers are especially jarring because the Twins, this past offseason, nabbed Ricky Nolasco and Phil Hughes on the free-agent market and re-upped with Mike Pelfrey. 
Regarding the general state of such things, it's worth noting that three current Minnesota starters -- the aforementioned Nolasco and Hughes in addition to Kevin Correia -- have been among the unluckiest pitchers in baseball this season. Take a look at the following hi-tech, state-of-art computer graphic-art table, which, in addition to providing valuable information, will also break up the text of this post so as to provide a better reading experience ... 
| | | | | | |
| --- | --- | --- | --- | --- | --- |
| Pitcher | ERA | BABIP | LOB% | xFIP | ROS ERA |
| Nolasco | 6.67 | .355 | 66.7% | 4.72 | 4.48 |
| Hughes | 5.14 | .353 | 64.3% | 3.72 | 4.62 |
| Correia | 7.33 | .343 | 48.6% | 5.24 | 5.06 |
Briefly, some notes on what might be unfamiliar ... 
- "BABIP" is the pitcher's "batting average (allowed) on balls in play." Typically, this settles in around the .290 mark for most hurlers, given a large enough sample. 
- "LOB%" is the rate at which a pitcher strands base-runners. This will settle in at around 72-73 percent, again given a large enough sample. 
- "xFIP" is, roughly speaking, what the pitcher's ERA should be once you correct for defense, luck and other elements not directly under the pitchers control. 
- "ROS ERA" is each pitcher's projected ERA over the rest of the 2014 system, according to the ZiPS forecasting system available at FanGraphs. 
As you can see, each of these three starters have been unlucky in terms of BABIP and LOB%. In terms of strand rate, Correia has been roundly unlucky. Don't be surprised if these numbers undergo a correction in the coming weeks and lead to some broad-based improvement, as noted by those ROS ERAs. 
So will the Twins' rotation be "terrible" going forward? Maybe not! Likely, their near-term outlook can be described as "not definitively terrible although not especially good, probably." So that's ... something. 
The Cubs foundation is still strong, but Theo Epstein and company have work to do

Turner and Taylor are the third set of co-MVPs in LCS history

Stylistically, the Dodgers seem to match up better against the Yankees and here is why
The Dodgers advance to the World Series for the first time since 1988

Hernandez also set a new LCS record with 7 RBI

The 2017 World Series begins Oct. 24