This Week in Overreactions: Expect a few slow weeks before trade deadline
The non-waiver trade deadline is five weeks away. Will these next few weeks be slow because so many teams are in contention? Bet against it.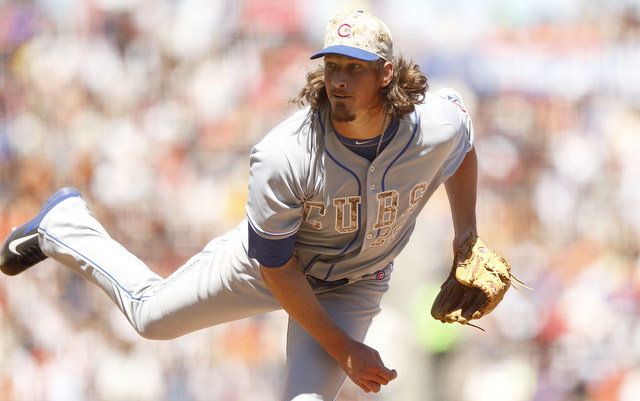 More MLB: Power Rankings | Expert Picks | Latest news & notes | Fantasy news
It's time for another installment of "The Week in Overreactions" -- the idea that was stolen borrowed with approval from our friends at Eye on Football. To the narrative machine!
The weeks leading up to the trade deadline will be slow because so many teams are in contention and no one wants to sell.
There is definitely some truth to this one. As of Thursday morning, 24 of the 30 clubs were within six games of a playoff spot. New television contracts, revenue sharing and smarter front offices have closed the gap between baseball's traditional superpowers and the small markets. The second wild-card has obviously added to the intrigue as well.
Is all this parity good for the game? Probably. More teams in contention means more interesting baseball in the second half, even if so many clubs are mediocre. Baseball is a zero-sum game. There is a finite number of wins to go around, and when more teams are winning, they have lower overall win totals. Make sense?
A common refrain we've heard the last few years -- since the second wild-card spot was implemented for the 2012 season -- is that the trade deadline will be boring because fewer teams want to sell. But, the fact is there were far more trades in the five weeks leading up to the trade deadline (51) than at the actual trade deadline (18) the last two years. Big names like Ichiro Suzuki, Anibal Sanchez, Alfonso Soriano and Matt Garza were all dealt before the deadline.
Despite the league-wide parity this season, MLB does have some truly awful teams at the moment. Four clubs are on pace to lose 94+ games and several others are hovering around a 90-loss pace. More than a few of those teams have indicated a willingness to sell in recent weeks:
Cubs: The Lovable Losers have been rebuilding and selling off veterans since the Theo Epstein-led front office regime arrived in town three years ago. They have a prime trade chip in Jeff Samardzija, the best right-hander who will be available. Jason Hammel and Luis Valbuena are two other chips. The Cubs have been selling for years and there is no reason to expect otherwise this year.
• Diamondbacks: According to Nick Piecoro of the Arizona Republic, GM Kevin Towers said the D-Backs are "being more open-minded of moving some contracts and some veteran players for younger players." Towers is firmly on the hot seat due to the club's disappointing season -- they didn't hire Tony La Russa to serve as a front office auditor just to get attention -- and desperate GMs often wheel and deal. So do new head front office honchos.
• Padres: San Diego fired GM Josh Byrnes this past weekend and the pressure is on the interim Omar Minaya-led front office to sell some tradeable veterans (Chase Headley, Huston Street, Ian Kennedy, etc.) to save money and add prospects. Jon Heyman of CBSSports.com recently reported the club is already getting plenty of inquiries on Street and Joaquin Benoit.
• Rangers: Heyman reported the Rangers are open to trading anyone in the midst of their disappointing season. Some players (Alex Rios, Joakim Soria) will be more easily attainable than others (Yu Darvish). GM Jon Daniels is known to be very straight-forward and aggressive when making trades (perhaps to a fault), so Texas figures to swing a few deals in the coming weeks.
• Rays: We've already heard the Rays are prepared to trade David Price "right now," and I'm sure the same is true of other veterans like Ben Zobrist, Joel Peralta, Grant Balfour and David DeJesus. GM Andrew Friedman is another no-nonsense guy when it comes to making trades. He will be decisive and act quickly. Price didn't say goodbye to the fans at Tropicana Field on Wednesday in case it was his last home start just because he wanted to be dramatic, you know.
The Astros are another club known for selling off veterans at the deadline, but the cupboard has been mostly cleaned out at this point. Maybe Scott Feldman and some relievers like Chad Qualls and Matt Albers become available, but that's probably it.
Keep in mind that contending teams have extra incentive to make a trade earlier in this ultra-competitive environment. Paying the price (overpaying the price?) to land Samardzija or Price or even Hammel now means about five fewer starts from your fifth starter, for example. That's not insignificant. Something like that can sway a division or wild-card race.
Did the second wild-card take some fun out of the trade deadline? I think so. There are more August waiver trades now than ever before because teams are deciding to sell later in the season, but in general there will still be plenty of activity in the coming weeks. Big names will be moved weeks before the deadline. Don't expect the next month to be quiet regardless of what you hear.
The Nats will host the All-Star Game in 2018

The Orioles are looking to trade Machado heading into his walk year

The Cardinals have been linked for a while to the Baltimore star
Gallardo spent the first eight years of his career in Milwaukee

MLB revenues are at a record high right now, but teams aren't spending it on players

Chicago added Tyler Chatwood earlier this offseason but might not be done adding to the ro...