Thome loves front office job but if someone offers playing job, well ...
Jim Thome, who has 612 home runs, is open to receiving any offers that may come his way.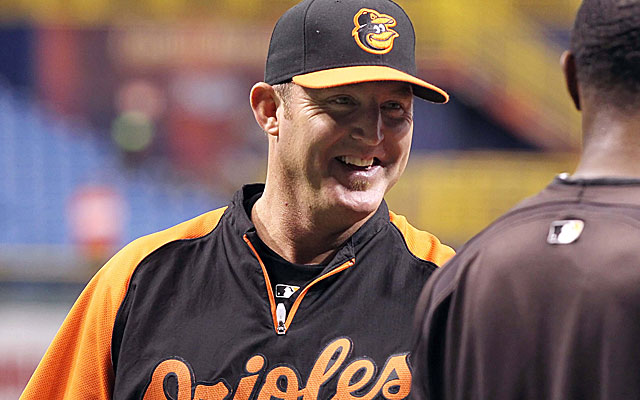 Spring Training | Scoreboard | FA tracker: position players | FA tracker: pitchers
GLENDALE, Ariz. -- Slugging great Jim Thome is working in the White Sox front office, and he's loving it. But he isn't retired. No, not quite.
I asked Thome if he would take a call with an offer for a major-league playing job. And he didn't hesitate. "I think you'd have to take that call," Thome, 43, said.
Thome, who is formally a special assistant to White Sox general manager Rick Hahn, last played in 2012. But he still hasn't announced his retirement, even after sitting out 2013 when no call came. From time to time, word is Thome will remark only half in jest about certain guys getting jobs, suggesting he could do as well, or better.
No, the future Hall of Famer isn't kidding that he wouldn't mind playing again. Thome has 612 career home runs, and it's not like he didn't contribute when he last played in 2012; he batted .252 with eight home runs for the Phillies and Orioles.
Of course, the White Sox, one of his former teams, won't give him that chance to play, as they already have aging slugger Paul Konerko, who has said this will be his last season, plus very veteran slugger Adam Dunn. So they've filled their quota in that department.
But if another team called ... well, Thome knows what he'd do.
"I love what I'm doing," Thome said of his front office job. "It's been nice to be around the game."
But he wouldn't mind being even closer to the game, like on the field.
"You always listen," Thome said.
J.D. Martinez is reportedly headed to Boston on a free-agent contract

Keep tabs on the top 50 free agents on the market right here

Arizona didn't waste much time turning to its fallback option following Martinez's deal with...
The former AL MVP has been one of baseball's best players in recent years

The free-agent slugger will join the Red Sox after all

Harper would prefer if reporters respect his wishes