Three games, three blown saves, but Orioles stand behind Johnson
It's been a horrible week for Jim Johnson, the first Orioles closer in 30 years with a blown save in three straight appearances.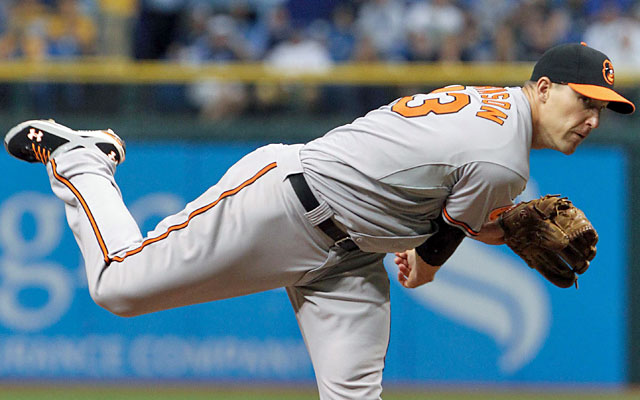 BALTIMORE -- The last time an Orioles closer had a week like this, the team went on to win the World Series.
That much is true.
Thirty years ago, Tippy Martinez had three blown saves in three straight appearances, just as Jim Johnson has now.
But that was in September, with the Orioles comfortably in front in the American League East. And the Orioles actually won two of the three games.
This team has a six-game losing streak, three of them the result of Johnson's first three blown saves since last July. This team is not in first place (although it was only one game out of first when the losing streak began).
This team, which built a dream season in 2012 on its ability to win every close game, can not afford a closer crisis.
The Orioles may not have one yet. Manager Buck Showalter seems to be standing firmly behind Johnson, and neither Johnson himself nor his Orioles teammates yet seem to be emotionally shaken by his three bad games.
For now, the problem is simply that the Orioles lost three games they could have won, including Monday night's against the Yankees. The 6-4, 10-inning loss dropped the Orioles five games behind the first-place Yankees, but with more than 100 games remaining on the schedule, that hardly even qualifies as a big deficit.
The much bigger question is how Johnson will bounce back. Many closers don't that chance, which is one reason it had been well over a year since any major-league pitcher had three blown saves in as many appearances. But Showalter indicated that he would go right back to Johnson, not surprising given what Johnson has accomplished and given the other options.
"He's as solid as they come," said Showalter.
The manager tried hard to minimize what Johnson had done, saying that Johnson "made some really good pitches after the home run" and "threw the ball pretty good."
But Showalter knows, and Johnson knows, that for a closer it's all or nothing. You save a game, or you don't. You do the job, or you don't.
Asked about the six-game losing streak, Johnson quickly said, "Three of them are my fault."
Johnson's velocity Monday was as good as ever, with his fastball clocked as high as 97 mph. The opposite-field Travis Hafner home run that tied the game came on a 94 mph sinker that, as catcher Matt Wieters said, "ran more than it sank."
As Showalter correctly pointed out, it was a typical Camden Yards home run. That hardly matters.
Johnson wasn't as bad Monday as he was in previous two games, but that hardly matters, either.
Closers are judged simply on their reliability. Mariano Rivera is the greatest one ever, so reliable that in 19 seasons he has never had three consecutive blown saves.
The Orioles don't need Johnson to be Rivera, but they do need him to be reliable.
They can't afford a closer crisis.
They hope they don't already have one.