Three teenagers charged in thrill kill of Okla. college baseball player
Three teenagers murdered a college baseball player in Oklahoma for "the fun of it," they told police.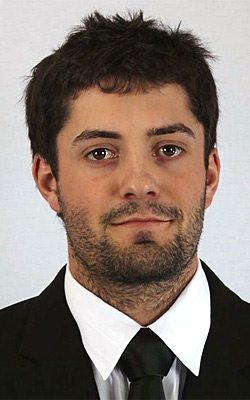 [Note: This post has been updated with information provided by the Associated Press]
Every once in a while you read something that truly shakes your faith in humanity. This would be one of those stories.
Christopher Lane was a 22-year-old baseball player for East Central University in Oklahoma. Friday, he was killed in a completely random act, according to police. Three boys, ages 15, 16 and 17 are in police custody for the slaying.
From the Associated Press:
"They saw Christopher go by, and one of them said: 'There's our target,'" [Duncan police chief Danny] Ford said. "The boy who has talked to us said: 'We were bored and didn't have anything to do, so we decided to kill somebody.'"

"They followed him in the car to that area, shot him in the back and drove off," Ford said.
Ford also noted that the boys said they killed Lane for "the fun of it."
The three boys that have been charged are Chancey Allen Luna, 16, James Francis Edwards Jr., 15 and Michael Dewayne Jones, 17. Luna and Edwards are facing charges of first-degree murder while Jones -- the driver of the car at the time of the shooting -- is facing charges of using a vehicle in the discharge of a weapon and also with accessory to first-degree murder after the fact.
Under Oklahoma law, all three will be tried in adult court, with Luna and Jones being tried as adults. They face life in prison without parole if convicted of the murder.
Pictured from left to right: Luna, Edwards and Jones. Photo courtesy of CBSNews.com:
During a hearing Tuesday, prosecutor Jason Hicks said Luna fired a .22 caliber revolver from the back seat of a car, with the shot hitting Lane in the back and killing him. Edwards was in the passenger seat, per Hicks, though his role is apparently bigger because Hicks had harsh words for him.
Via AP:
"I believe this man is a threat to the community and should not be let out," Hicks said as he requested no bond for Edwards. "He thinks it's all a joke."
Lane was a resident of Australia and had just returned to Oklahoma last week.
A-Rod held a similar role last season

Bautista makes his home in Tampa

The Angels' Ohtani faced Milwaukee in Cactus League action on Saturday
New Mexico broke the school and WAC single-game run record with a 39-0 victory over Mississippi...

It's the first Saturday slate of spring training games, and Ohtani will be taking the mound...

The Tigers are very early in their rebuild and they're counting on Miguel Cabrera to rebound...