Throwback Rumor: Robinson Cano for Matt Holliday
We're going to look back at some old hot stove rumors in our newest series, starting today with a Robinson Cano-Matt Holliday trade rumor from 2008.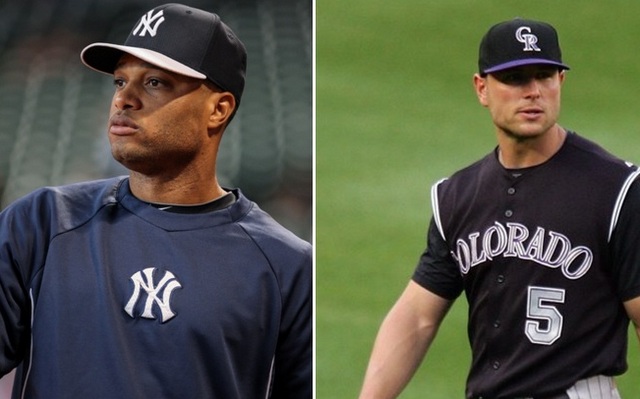 Over the next three months, we're going to hear all sorts of free agent and trade rumors as teams look to remake their rosters prior to spring training. Some rumors will make perfect sense while others will seem far-fatched. Occasionally one of these rumors will turn into an actual transaction, but most will fall by the wayside and amount to nothing.
Our newest offseason series -- the appropriately titled "Throwback Rumors" series -- is dedicated to reviving some of those old rumors and playing the "what if?" game. We don't intend to look back and laugh at something that sounds completely ridiculous in hindsight, we want to imagine what could have been had the rumor come to fruition instead.
In our first entry comes courtesy of Tim Brown at Yahoo! Sports, dated Nov. 5, 2008:
One source mentioned a potential three-way deal that would send outfielder Hideki Matsui from the New York Yankees to the Seattle Mariners for a pitching prospect, perhaps Ryan Rowland-Smith. The Yankees would package the prospect with second baseman Robinson Cano and another young player to the Rockies for [Matt Holliday].
Sounds completely ridiculous now, right? Well it didn't back then. Holliday, who was one year away from free agency and a massive nine-figure contract, was traded to the Athletics five days later for a Carlos Gonzalez-led package of three young players. Cano was coming off his worst season as a big leaguer (86 OPS+ and 0.2 WAR) and when a young Yankees player doesn't perform, he usually winds up on the trade block. It passed the sniff test at the time.
So, with that in mind, let's break down this trade piece by piece.
SEATTLE MARINERS
In 2008, the Mariners became the first team in history to lose 100 games with a $100+ million payroll. Their left fielder and top power hitter (Raul Ibanez) was a free agent and their primary DH (Jose Vidro) posted a 65 OPS+. There was a definite spot in the lineup for Matsui, especially since the club already has a strong Japanese presense thanks to Ichiro Suzuki and Kenji Johjima.
Rowland-Smith, who was then 25, had just started to establish himself as a big leaguer by pitching to a 3.55 ERA (121 ERA+) in 157 innings across 12 starts and 61 relief appearances from 2007-08. He was supposed to team up with other young hurlers like Felix Hernandez, Ryan Feierabend and Brandon Morrow to bring the club back to respectability. Nowadays, trading a 25-year-old lefty for a 34-year-old left fielder/DH with bad knees wouldn't even be considered.
Long-term, this trade would have had very little impact on the Mariners. Rowland-Smith posted a 5.34 ERA (77 ERA+) from 2009-10 before being released. Matsui hit well in 2009 (123 OPS+) but not well enough to push a 2009 Seattle club that finished 10 games out of a playoff spot over the top. He became a free agent after that season.
NEW YORK YANKEES
The Yankees missed the postseason in 2008 for the first time in 14 years. They had a new stadium opening in 2009 and a boatload of money to spend as several large contracts came off the books (Jason Giambi, Mike Mussina and Bobby Abreu, specifically), so they were expected to make noise that winter.
Cano turned 26 days before this rumor surfaced and his long-term future was in doubt after a dreadful season at the plate. The far more established Orlando Hudson was a free agent and a readily available replacement. There was some thought that trading Cano was the right move before his value dropped even further.
If the Yankees had indeed dealt Cano (and Rowland-Smith) for Holliday, the long-term impact would have been enormous. New York went on to sign CC Sabathia and A.J. Burnett in the coming weeks, but adding Mark Teixeira probably doesn't happen since that money would have likely been earmarked for a multiyear contract with Holliday. It's probably they would have headed into the season with Holliday in left, Nick Swisher at first base, Hudson at second and a non-Matsui player at DH. Considering the Bronx Bombers won the World Series in 2009, it's fair to question whether the series of moves would have led to the same result. I'm guessing the answer is no.
COLORADO ROCKIES
Since Rowland-Smith flamed out, the deal would have hinged on Cano for the Rockies. He and Troy Tulowitzki would have formed the most dynamic double play combination in baseball, maybe the most dynamic since Alan Trammell and Lou Whitaker were in their heyday with the Tigers in the 1970-90s. Colorado won 92 games and made the postseason in 2009, losing back-to-back one-run games to the Phillies before being eliminated in the NLDS. Cano could have changed everything that year.
Of course, trading Holliday for Cano means no CarGo for the Rockies. Gonzalez is not as good as Cano but he's an excellent player himself, plus he signed a multiyear contract that will keep him with the club through 2017. Cano signed a not-as-long-term deal with the Yankees and is a free agent right now, and considering the money New York has already thrown at him, it's unlikely he would have signed an even longer-term deal with Colorado. For all intents and purposes, it would have been one year of Holliday for five years of Cano rather than one year of Holliday for nine years of Gonzalez.
NET RESULT
Based on everything above, Brown's reported three-team trade scenario would have been a loss for the Yankees, had a negligible impact on the Mariners, and been a short-term gain but a long-term loss for the Rockies. At least one World Series would have been affected, but, considering the possibility of Holliday re-signing in New York, the 2011 and 2013 Fall Classics would have been impacted as well (he wouldn't have been with the Cardinals).
Obviously all of this is speculation. Cano might have become an even better player with the Rockies or he might have remained average under a different hitting coach. Rowland-Smith could have turned into a viable big league starter with a new team and avoided whatever happened in Seattle. Holliday could have been the next great Yankees superstar headed for Monument Park, or he could have been the team's latest big money flop. It's all guesswork and that's what makes it so fun. There's little doubt this would have been a franchise-altering trade on several fronts, however.
The Twins have already fortified the bullpen with Addison Reed, and now they want to address...

The Orioles likely want pitching, and the Indians have plenty of it

Halladay died in a November plane crash off the coast of Florida
The power-hitting outfielder is headed to Toronto

Martinez could add some power to a Boston lineup void of it

It's almost that time of the year again, time for the Tebow madness to return