Thursday injury update: Braves' Arodys Vizcaino to see Dr. James Andrews
Braves prospect Arodys Vizcaino is scheduled to see famed surgeon Dr. James Andrews on Friday to examine the ulnar collateral ligament in his right arm. Meanwhile, Nationals right-hander Chien-Ming Wang suffered another injury.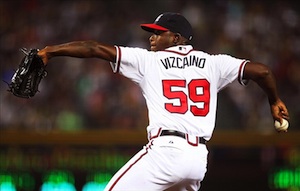 Dr. James Andrews is very, very good at his job. If I were to get hurt, I wouldn't mind seeing him. But if I were a major league general manager, I'd cry every time I heard his name. Someone better check on Frank Wren.
Braves pitching prospect Arodys Vizcaino has an appointment scheduled with Dr. Andrews on Monday, Wren told reporters (
via the Atlanta Journal-Constitution
). The 21-year-old right-hander has been shut down for the last two weeks after being diagnosed with ulnar neuritis. The team fears there is more damage to the ulnar collateral ligament, which he tore in 2010. Vizcaino didn't have surgery the last time he injured it, but he may need Tommy John surgery, which would keep him out for at least a year.
Vizacaino made his big-league debut last season, appearing in 17 games, going 1-1 with a 4.67 ERA and 17 strikeouts in 17 1/3 innings.
• Nationals right-hander Chien-Ming Wang will likely receive an MRI after stumbling trying to field a ground ball in Thursday's game against the Yankees.
In 2008, Wang was injured running the bases during an intraleague game in Houston when he was a member of the Yankees. It turns out, his clumsiness -- an oft-cited example as an argument for the designated hitter -- isn't limited to running the bases. Check out the GIF of Thursday's incident (
via Getting Blanked
):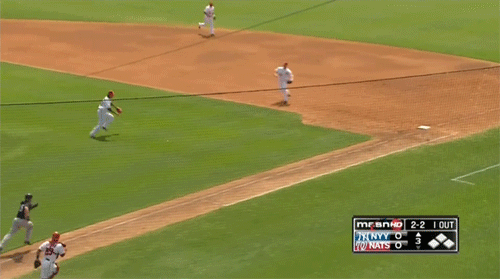 Wang suffered a strained left hamstring and a hyperextended left knee on the play. [
Washington Post
]
• The Rockies have pushed back 49-year-old Jamie Moyer's next start after he complained of stiffness in his left leg. Moyer was expected to start a minor-league game on Friday. [
Denver Post
]
• Marlins outfielder Giancarlo Stanton, already suffering from a sore left wrist, missed Thursday's game with a sore knee. Manager Ozzie Guillen told reporters it wasn't "a big deal." Stanton hasn't played since Sunday and in just four games overall. [
Palm Beach Post
]
• White Sox DH Adam Dunn missed his second game in three days with a sore neck. Dunn said his neck bothered him on Wednesday too, but still played, hitting a homer. So far this spring he's hitting .308 with two homers. [
Chicago Tribune
]
• Philip Humber of the White Sox suffered a cut on his right thumb on his throwing hand during his first inning. He went on to throw three innings despite the cut that was caused from one of his nails scratching him on changeups. He gave up five hits -- including two homers -- and three runs. [
Chicago Tribune
]
• Reds closer Ryan Madson declared himself ready to pitch in games after throwing a 30-pitch bullpen on Thursday. Madson had inflammation in his right elbow, but said it was feeling OK now. [
Cincinnati Enquirer
]
• Brewers right-hander Shaun Marcum threw his second bullpen session since being shut down with shoulder inflammation earlier this camp. Manager Ron Reonicke said he was pleased with Marcum's progress. [
Milwaukee Journal Sentinel
]
• Tigers third baseman Miguel Cabrera is OK after taking a line drive to the wrist during batting practice on Thursday. Cabrera played in the team's game against the Orioles on Thursday, going 1 for 2. [
MLB.com
]
• Yankees right-hander Freddy Garcia told reporters his right hand is bruised and he'll have to wait a couple of days before he knows when he'll be able to make his next start after taking a ball off his pitching hand on Wednesday. [
The Star-Ledger
]
• Red Sox outfielder Carl Crawford will start swinging "soon," Red Sox manager Bobby Valentine told reporters. Crawford had surgery on his left wrist in January and is expected to miss the beginning of the season. [
Providence Journal
]
• It's hardly a surprise, but A's left-hander Dallas Braden won't travel with the team to Japan. The team hopes he'll be ready by May, although he hopes to get back on the field sooner. Braden threw a 45-pitch bullpen session on Wednesday. [
San Francisco Chronicle
]
• A's right-hander Bartolo Colon was scratched from his Thursday start with a blister on his right middle finger. Colon is expected to pitch against the Mariners on Friday or in a simulated game. [
MLB.com
]
• Royals third baseman Mike Moustakas missed Thursday's game with a stomach virus. He hasn't played since getting hit by a pitch in the knee on Monday. Manager Ned Yost told reporters that Moustakas' knee felt better on Wednesday. [
MLB.com
]

The Twins have already fortified the bullpen with Addison Reed, and now they want to address...

The Orioles likely want pitching, and the Indians have plenty of it

Halladay died in a November plane crash off the coast of Florida
The power-hitting outfielder is headed to Toronto

Martinez could add some power to a Boston lineup void of it

It's almost that time of the year again, time for the Tebow madness to return