Tigers a consistent winner because Mike Ilitch decided he wanted to win
If Miguel Cabrera is healthy and Justin Verlander pitches like he can, the Tigers are a better team than the one they took to the World Series.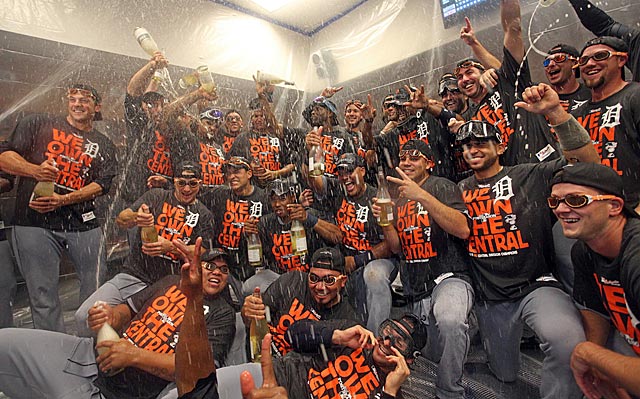 Ten years ago, the Tigers weren't just the worst team in baseball. They were one of the worst teams ever.
They were this year's Astros, only worse. They drew fewer fans than this year's Rays.
Now look at them.
They're the only team in baseball with three consecutive division titles (and one of only two teams to win back-to-back). They've been to the ALCS three times in seven years, and to the World Series twice. They've drawn 3 million fans in back-to-back years.
Amazing what happened when Mike Ilitch decided he wanted to win.
The people Ilitch put in charge -- Dave Dombrowski and Jim Leyland -- deserve a lot of the credit for the Tigers' turnaround. But everyone associated with the Tigers will tell you that it all began with a commitment from the owner.
They'll also tell you that they badly want to win a World Series. And they want to win it soon, while the 84-year-old Ilitch is still around to enjoy it.
Maybe this is the year.
The Red Sox and A's, it appears, will both finish the season with better records, but you'll find plenty of people in baseball who are picking the Tigers to return to the World Series.
It's easy to understand why. They have the power pitching that plays in October, the same rotation they rode to the World Series last year. They have hitters who can hit the good pitching you see in October. They have the most-feared hitter in the game.
Ah, but will Miguel Cabrera be healthy enough to live up to that title?
Cabrera hasn't been on the disabled list. He's going to fall just short of playing in 150 games (for what would be the 10th straight year).
But for at least two months now, he's been hurting. His production didn't suffer in August, but in September it has.
The Tigers determined that taking some time off now wouldn't help Cabrera, so he has kept playing. But what can they expect from him in the postseason?
And what can they expect from Justin Verlander, after a frustrating season in which he was simply good, but not out-of-this-world dominating?
If Cabrera hits like he can (or anything close) and Verlander pitches like he can (or anything close), the Tigers are a better team than the one they took to the World Series. Torii Hunter proved to be exactly the addition they thought he'd be, and once Victor Martinez shook off the rust that came from missing a full season, he was exactly what the Tigers had hoped he would be.
The defense has improved, with Jose Iglesias at shortstop. The lineup is deeper, especially if Jhonny Peralta can help out in left field after returning from his drug suspension.
And Leyland, as we've come to find out, is one of baseball's best postseason managers.
Leyland is still looking for his second World Series title, 16 years after he and Dombrowski won with the 1997 Marlins. The Tigers are still looking for their first title since Trammell and Whitaker and Gibson and Morris and Sparky Anderson won in 1984.
Ilitch is still looking for his first World Series title, to go with the four Stanley Cups he won with the Red Wings.
He didn't do much to deserve one in his first decade after buying the Tigers in 1992. Then came the 119-loss 2003 season, which Ilitch followed by signing first Pudge Rodriguez and then Magglio Ordonez.
He spent before the attendance increased and before the revenues went up, but because the spending eventually helped lead to winning, the people started coming, the money started flowing and Ilitch kept spending.
He pushed Dombrowski to trade for Miguel Cabrera, and then signed him long-term. When Martinez got hurt, Ilitch was the one who pushed to sign Fielder.
For a long time, it was hard to convince free agents to come to Detroit. It's changed so much last winter that Hunter decided that Detroit was exactly where he wanted to play.
Hunter has played 17 years in the big leagues. He's been to All-Star Games, and he's been to the playoffs. But like Ilitch, he's still never won a World Series.
Maybe this is the year.
Once again, the Tigers are in there with a shot.
No, you're not imagining things. This MLB offseason has been very slow compared to the last...

Francesa will retire from radio next month, so he'll have plenty of free time next summer

Get your sports fans something that they'll wear all year
Get 15 percent off any order of more than $75 at CBS Sports Shop

The Twins need help in the rotation, and they may look to the trade market to find arms

Here are the bullet-points of what went down Tuesday regarding MLB and the Braves' punishm...