Tigers agree to sign free-agent closer Joe Nathan to two-year deal
The Tigers have added their 'proven closer,' as they have agreed to sign free-agent reliever Joe Nathan to a two-year deal.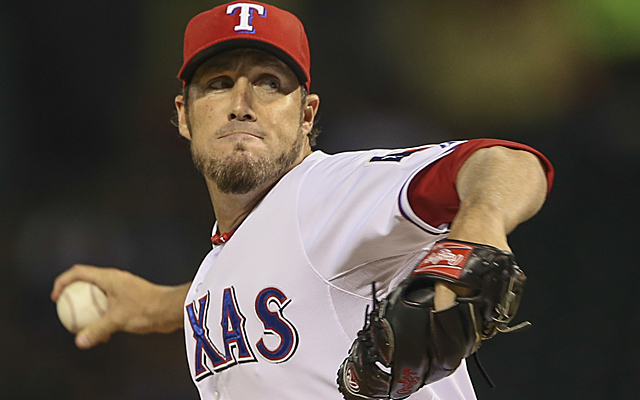 MORE: FA tracker: position players | FA tracker: pitchers
The Detroit Tigers have agreed to sign free-agent closer Joe Nathan to a two-year deal, reports Jon Heyman.
Nathan, 39, saved 43 games in 46 chances with a 1.39 ERA, 0.90 WHIP and 73 strikeouts in 64 2/3 innings pitched last season for the Rangers. He's a six-time All-Star and has been one of baseball's best closers since becoming one in 2004. His only blip on the radar was when Tommy John surgery cost him the 2010 season and rendered him less-than-effective in 2011 (which is normal the first year coming off the procedure).
The signing here makes a ton of sense for both parties. Nathan is at the point in his career where he surely only wants to play for contenders in pursuit of his first World Series ring. The Tigers' back-end of the bullpen needed bolstering, as last year's closer, Joaquin Benoit, is a free agent. Drew Smyly is surely ticketed for the rotation, too, with Doug Fister having been traded. Even if Bruce Rondon takes the huge step forward, of which he's certainly capable, Nathan gives the Tigers a go-to guy at the back who has proven reliable for the better part of a decade.
The Tigers have won three straight AL Central titles, but they haven't won it all, coming closest when they were swept by the Giants in the 2012 World Series.
As such, Tigers general manager Dave Dombrowski has been incredibly busy this offseason after his club was bounced from the ALCS by the Red Sox in six games this past season. He's already traded Prince Fielder for Ian Kinsler and moved Fister for three players Monday night.
Now with a closer in house, it appears the Tigers' biggest need is either a left fielder or third baseman, depending upon what they do with top prospect Nick Castellanos and assuming they move Miguel Cabrera back to first.
Marcell Ozuna figures to be the next Marlins star on the move

Several relievers have signed in the last two days

Several teams are interested in the switch-hitting first baseman
Neshek and the Phillies are closing on a two-year contract

And the team that first drafted Cole is interested

This scout was SUPER into Jeter