Tigers-A's ALDS Game 5 starting lineups
Ready for Game 5 of the final divisional series of the 2013 season? Here are the Tigers and Athletics lineups for the bout.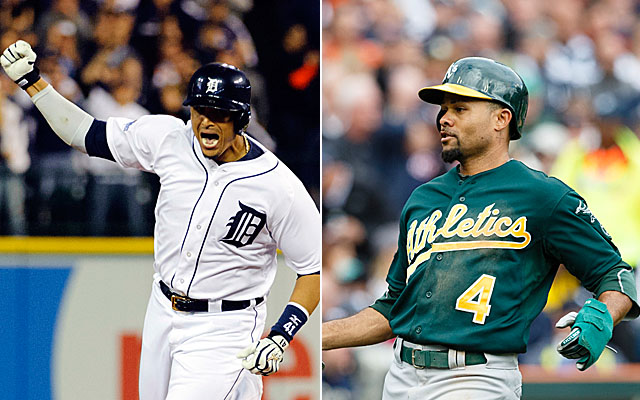 Tigers-A's Game 5 pitching breakdown: Justin Verlander vs. Sonny Gray
The Detroit Tigers visit the Oakland Athletics for Game 5 of the ALDS -- the last remaining divisional series for the 2013 playoffs. The first pitch is set for 8:07 p.m. ET/5:07 p.m. PT. We're treated to a rematch of Game 2, with Justin Verlander and Sonny Gray again getting the nod on the hill.
Here are the starting lineups.
Visiting Tigers
1. Austin Jackson , CF
2. Torii Hunter , RF
3. Miguel Cabrera , 3B
4. Prince Fielder , 1B
5. Victor Martinez , DH
6. Jhonny Peralta , SS
7. Alex Avila , C
8. Omar Infante , 2B
9. Don Kelly , LF
SP: Justin Verlander
Home A's
1. Coco Crisp , CF
2. Josh Donaldson , 3B
3. Jed Lowrie , SS
4. Yoenis Cespedes , LF
5. Seth Smith , DH
6. Brandon Moss , 1B
7. Alberto Callaspo , 2B
8. Josh Reddick , RF
9. Stephen Vogt , C
SP: Sonny Gray
This is a two-man race coming down the stretch. Who should win?

Clayton Kershaw's injury appears to have made this a one-horse race

Maxwell had not played the last few games due to concussion symptoms
L.A. manager Dave Roberts indicated that Puig's benching was related to more than one inci...

Manager Torey Lovullo said so on Monday