Tigers-Athletics ALDS Game 1 starting lineups
The last of the four LDS will finally get underway Friday night between the Tigers and A's. Here are the starting lineups.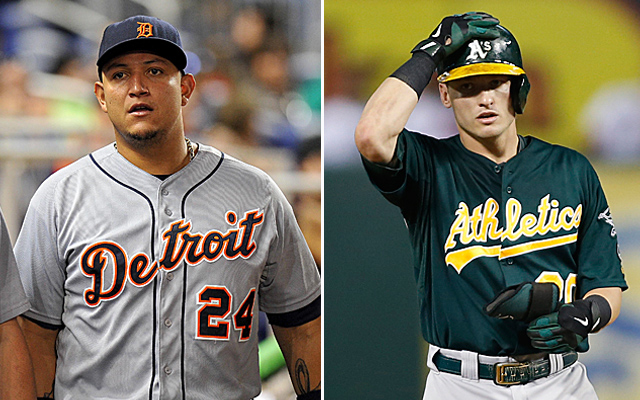 Tigers-Athletics ALDS: Game 1 pitching matchup breakdown | Who has the edge?
Game 1 of the ALDS between the Tigers and Athletics is set for 9:37 Tigers time/6:37 A's time in Oakland Friday evening. Here are the starting lineups. 
Visiting Tigers
1. Austin Jackson, CF
2. Torii Hunter, RF
3. Miguel Cabrera, 3B
4. Prince Fielder, 1B
5. Victor Martinez, DH
6. Alex Avila, C
7. Omar Infante, 2B
8. Andy Dirks, LF
9. Jose Iglesias, SS
SP: Max Scherzer
Home A's
1. Coco Crisp, CF
2. Jed Lowrie, SS
3. Josh Donaldson, 3B
4. Brandon Moss, DH
5. Yoenis Cespedes, LF
6. Josh Reddick, RF
7. Stephen Vogt, C
8. Daric Barton, 1B
9. Eric Sogard, 2B
SP: Bartolo Colon
There's no reason to run over the cases for and against Bonds, so let's have fun instead

The coveted right-hander would certainly be a fit in Milwaukee

We rate the best mustaches from random baseball cards because, why not?
Colon wants to break a Dennis Martinez record

The Twins have been rumored to be interested in Darvish all winter

Rolen is one of the best third basemen of all time, but you wouldn't know it based on this...